empowering economic growth
The 504 Process

Purchasing commercial real estate is a very big step, and for many it's a once-in-a-lifetime occurrence. That's why we work so hard to make our process as simple as possible.  Growth Corp's 504 Loan Process involves four phases.  This simplified process begins with the first phase of analyzing limited financial information about the business, borrower and project.  Phase two involves submitting a complete application for financing.  The basic application materials are no different than what a bank typically requires.  The first two phases are generally completed within 10 business days.  Phase three is the interim funding process, which generally occurs after SBA approves the project and issues a commitment for the 504 loan, with the funds being provided by the participating lender.  Phase four completes the transaction with funds provided by Growth Corp through the sale of bonds after the project is complete.
Renovate Your Current Property
Purchase Heavy Machinery or Equipment
Refinance Commercial Mortgage Debt

How Will You Grow Your Business?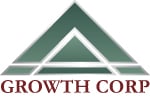 877-BEST 504
www.GrowthCorp.com
A Non-Profit Organization Focused Exclusively on Small Businesses