empowering economic growth
How Can I Use SBA 504 Financing?

BUILDING PURCHASE
The costs to acquire and improve an existing building are eligible provided that the purchase price is supported by an appraisal acceptable to SBA. For a project that is partially leased out, costs for improvements that are an integral part of the structure of the building are eligible project costs. Examples of these costs would be facade expenditures, heating, electrical, plumbing and roofing costs. However, costs in connection with finishing the interior space to be leased out are not eligible. The borrower must occupy at least 51 percent of the rentable property. The balance of the rentable property may be leased out, on a long term basis, to any third party, if the loan proceeds were not used to remodel or convert the space to be leased out.
Keep in mind…building purchases CAN include qualifying renovations!
BUILDING CONSTRUCTION
All construction costs can be considered part of the 504 project cost. If the SBA business loan involves the construction of a new building, a borrower may lease up to 20% of the square footage of the rentable property (total square footage of all buildings or facilities used for business operations) on a long term basis, provided that the borrower immediately occupies at least 60 percent of the rentable property with plans to occupy some of the additional space within three years and plans to occupy all of the remaining space (not leased out) on a long term basis within 10 years.
LAND
The project may include land, no matter how long it has been held. The value of the land will be at cost if acquired within two years of application. If the land was acquired prior to that time, the value also will be at cost unless the small business submits a professional appraisal acceptable to SBA establishing a different value. The appraisal should include the sales history of the property during the last five years. A party other than the borrower, its associates, or the present mortgagee must conduct the appraisal.
LAND IMPROVEMENTS
Land improvements integral to the project can be included as eligible project costs except those improvements that are to be paid through special tax assessments or user fees. Examples of eligible land improvements are grading, new streets including curbs and gutters, parking lots, utilities, and landscaping.
EQUIPMENT & MACHINERY
All costs associated with the purchase, transportation, dismantling, or installation of machinery and equipment can be considered part of the project cost. (If the project is only for machinery and equipment, the machinery and equipment has to have a useful life of at least 10 years). The costs of dismantling, moving, and installation of equipment may be included if these costs are part of a more comprehensive 504 project. An example would be heavy or highly calibrated equipment (such as a large printing press) which often requires specialty moving services.
FURNITURE & FIXTURES
Furniture and fixtures can be included in the project as eligible project costs if the dollar amount compared to the total project is minimal (less than 10%) and will not affect the maturity based upon a weighted average useful life.
PROFESSIONAL FEES
Expenditures for professional services and fees directly attributable and essential to the project are eligible. Examples are:
Legal expenditures for zoning changes, title searches, insurance, and recording fees
Engineering and architectural costs, as well as appraisals
Environmental costs like site assessments, Phase I and/or Phase II studies
Interest and points on the interim construction loan
Impact and permit fees and utility hook-up fees
Title insurance
Flood insurance
Recording fees
Filing fees and title searches
Abstract costs
Surveys
Certified copies of organizational documents
Settlement agent's fees
Certain other expenses may apply
504 Case Study – New Construction

A widget manufacturer that has been leasing space wants to construct a building to facilitate business expansion.

| | |
| --- | --- |
| Purchase Land | $500,000 |
| Construct Building | $1,500,000 |
| Purchase Furniture & Fixtures | $250,000 |
| Soft Costs* | $150,000 |
| Total | $2,400,000 |
*Soft costs can include interim interest and fees, professional fees, a construction contingency, appraisal and environmental costs, etc.
If a bank was willing to finance the project conventionally, it would typically lend up to 80% of the project costs at a floating interest rate with a 15 year amortization and a balloon after three to five years.  However, utilizing the 504 Loan Program, up to 90% of the project costs can be financed.  The bank lends up to 50%, thereby reducing its risk and corresponding interest rate.  Growth Corp lends up to 40% at a fixed rate for 20 years, with a down payment of only 10% from the borrower.

| | | |
| --- | --- | --- |
|   | Conventional | With 504 |
| Bank | $1,920,000 | $1,200,000 |
| Growth Corp | $0 | $960,000 |
| Borrower | $480,000 | $240,000 |
| Total | $2,400,000 | $2,400,000 |
As shown, the borrower's equity injection can be reduced by $240,000, thereby conserving cash and providing the necessary working capital to support continued growth. 
Additionally, cash flow is improved as a result of the longer maturity and potentially lower interest rates.
50%
LOCAL BANK
A bank provides a first mortgage for 
50% of the total project costs
40%
SBA 504 LOAN
 Growth Corp provides an SBA 504 Loan
for 40% of the total project costs
10%
BORROWER EQUITY
 The borrower provides a down payment of
typically just 10% of the total project costs
Higher equity requirements exist for start-ups or special purpose properties…the equity required will increase by 5% if one condition exists or by 10% if both.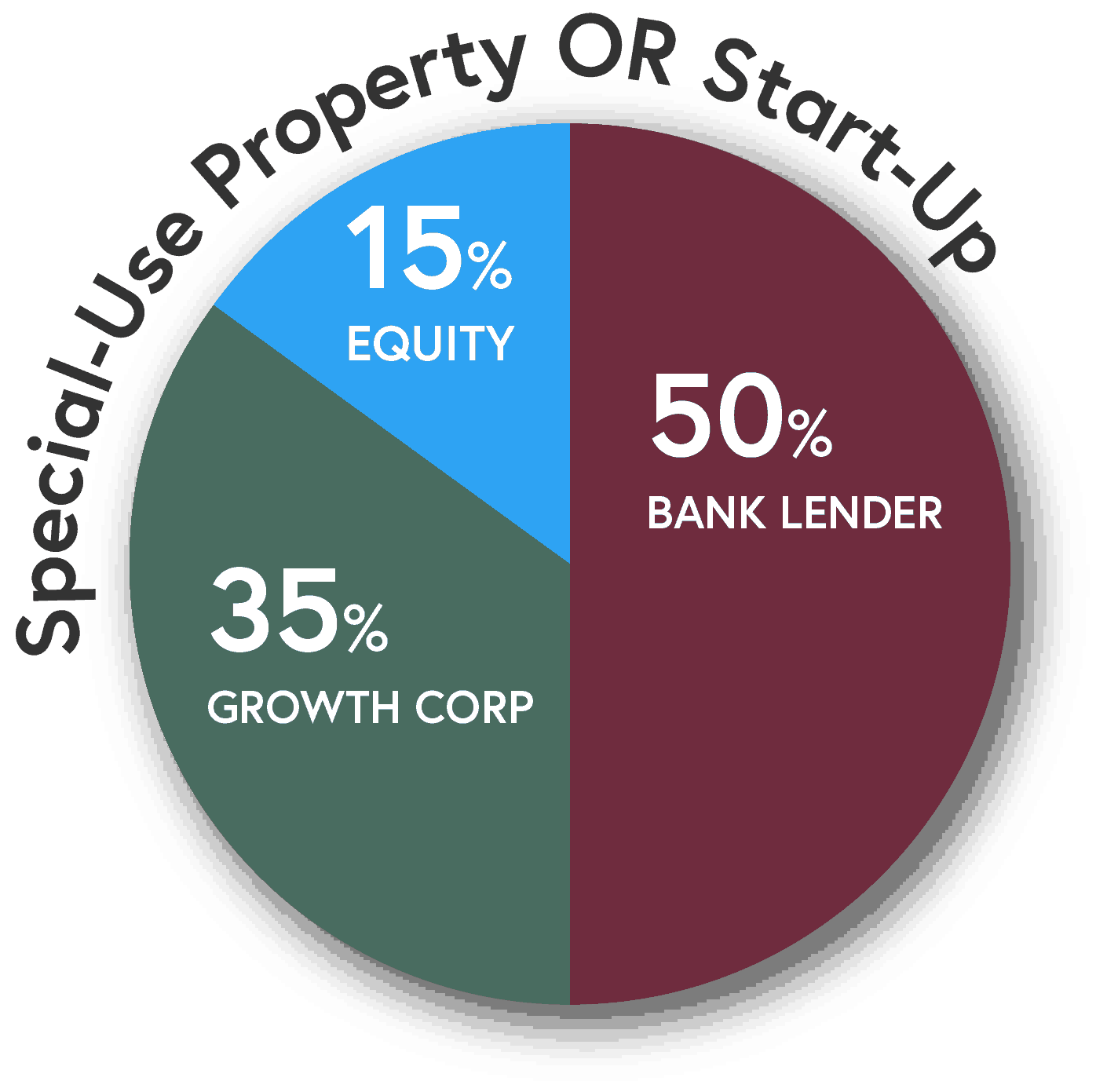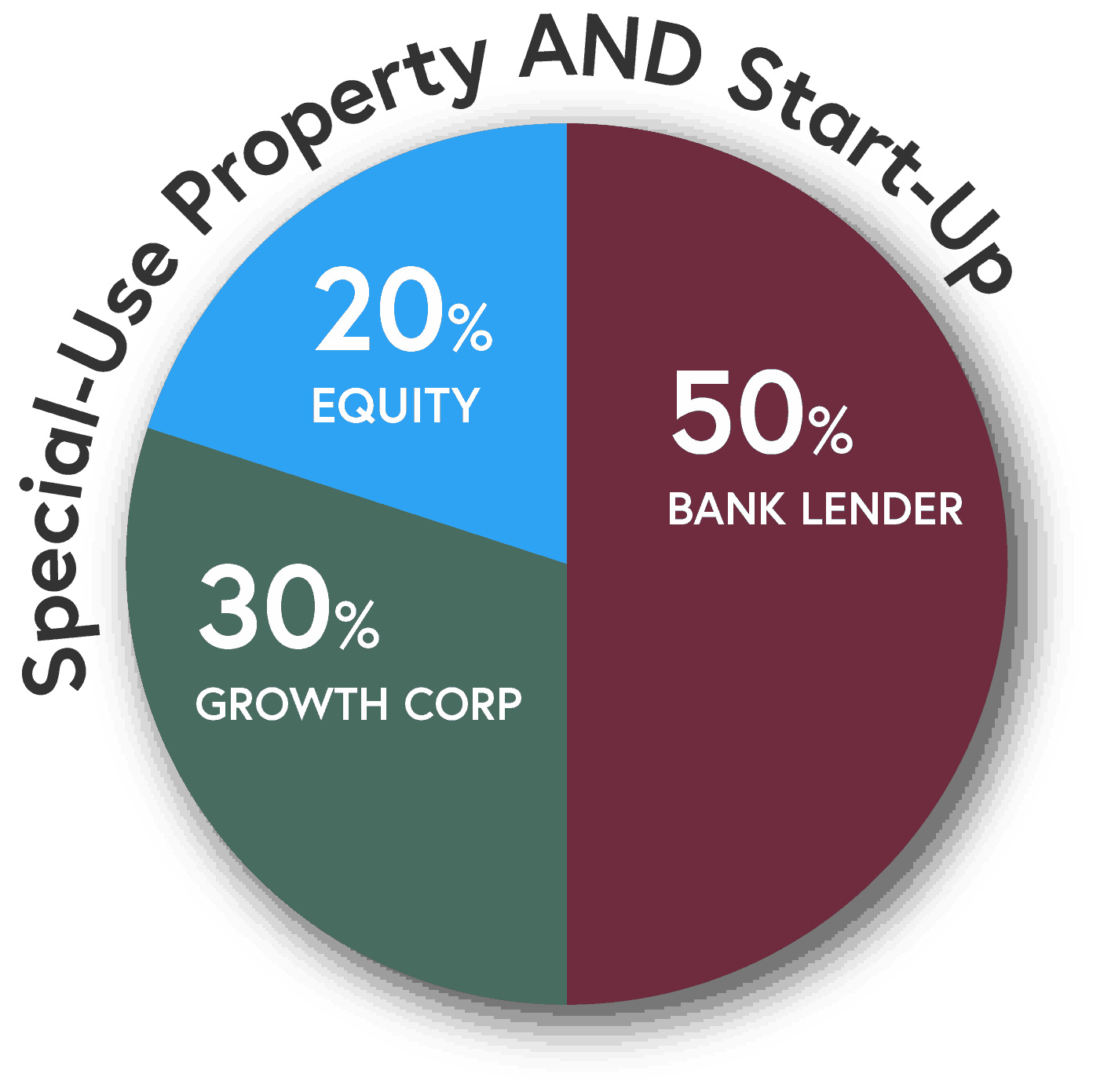 SBA 504 Loans are made in conjunction with your local bank...so you can keep your lending relationship.
Estimate your monthly 504 loan payment.
Or, Use One of Our Other Tools
Let's keep in touch…join our email list…
A Sampling of Our 504 Projects

How Will You Grow Your Business?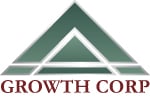 877-BEST 504
www.GrowthCorp.com
A Non-Profit Organization Focused Exclusively on Small Businesses

By using this website, you understand that Growth Corp is good, but not perfect (although we do try!). Therefore, it is possible that you may find information on this site that is no longer accurate.  Links, images, downloads, pages and blog posts may inadvertently contain information that has been superseded over the years.  You also understand that we aren't giving any legal, tax, or financial advice.  So, while we hope our site makes you love 504 Loans as much as we do, the content herein is for informational purposes only.