empowering economic growth
Benefits of Using SBA 504 Loans to
Buy, Build, or Renovate.
Low down payment requirements
For businesses looking to protect their cash flow, or facing tighter cash flow because of higher interest rates, the SBA 504 offers an advantage.  Down payments as low as ten percent.  This amounts to huge cash savings as most conventional loans require 20%, or even up to 35%, down.
Low, fixed interest rates and long loan terms
Conventional loan rates are typically only fixed for a certain period of time, usually 3-10 years.  After that, the rate is reset and could become variable.  In a rising rate environment, that means you could find yourself with a much higher rate in the future.  Conversely,  a long-term fixed-rate mortgage, such as the SBA 504, locks in today's low interest rates and eliminates concern over future interest rate hikes.  The interest rate for SBA 504 loans is well below prime and has been at record lows this year (check out the interest rate history).  By locking in this low rate, which is fully amortized over 10-, 20-, or 25-years, you'll see predictable and lower monthly payments.
No balloon payments or call provisions
A balloon loan mortgage, common in commercial real estate, is usually a short mortgage that requires a large one-time payment at the end of the term.  This can mean your payments are lower in the years before the balloon payment comes due, but you will either owe a lump sum at the end or be required to refinance the balance.  This can lead to another round of building appraisals and credit approvals to endure.  However, unlike conventional commercial real estate loans, a 504 Loan has no balloon payments.  Call provisions are similar to balloon payments in that, with a conventional loan, you may be required to maintain a specific debt-service coverage ratio as a way for lenders to lower their risk.  If you fail to meet that provision, the bank can "call in" your loan.  This means you would either have to pay off the balance, or refinance it.  The SBA 504 Loan Program has no covenants or call provisions either.  What you get is a long-term, fixed rate loan offering secure, predictable monthly payments for the life of the loan.
SBA 504 Loans finance total project costs
Let's face it, the true bottom line of an expansion project, no matter the size, is often far more than the just the cost for brick and mortar or equipment.  Soft costs and closing costs can add up.  Most conventional bank loans do not include soft costs in the financing, leaving borrowers to pay for them out of their own pocket.  However, the SBA 504 Loan Program finances total project costs.  Total project costs include not just the cost for land and building, hard construction, or equipment, but also the soft costs like moving your equipment, furniture, fixtures, closing costs and professional fees.
Businesses are incentivized to go green
The SBA 504 Green Loan program is a financing option that presents an incentive for small businesses to increase their building's sustainability through energy efficiency and/or renewable energy solutions. The program offers up to $5 million in financing per project and can receive a maximum of $16.5 million in aggregate funding. The funding can be increased to $5.5 million if public policy goals are met and can be used for multiple SBA 2nd mortgages. Loans can also be used to purchase land (including existing buildings), improve company assets, begin new construction projects, and renovate or upgrade existing buildings.  So, by spending less on your utilities, you can actually get more capital for your business improvement project!
Renovate Your Current Property
Purchase Heavy Machinery or Equipment
Refinance Commercial Mortgage Debt
Equipment Purchases
Building Acquisitions
Land Purchases
New Construction
Leasehold Improvements
Long-term fixed rates
Predictable payments
No future balloons
Low down payments
Real Estate Loans
Lines of Credit
Consolidate Multiple Loans
Obtain Working Capital
Cash-Out Available

Eliminates balloon payments
Fully amortized
Existing equity = down payment
Can provide a cash out option
New Builds w/ Sustainable Energy
Energy Efficient Upgrades
Energy Generating Equipment
Reduction of energy consumption by 10%
Increased use of sustainable design
Removes $ limit on 504 portion
Borrowers can take multiple loans
Slashes the bank's risk to 50%
Up to $5.5 million per project
50%
LOCAL BANK
A bank provides a first mortgage for 
50% of the total project costs
40%
SBA 504 LOAN
 Growth Corp provides an SBA 504 Loan
for 40% of the total project costs
10%
BORROWER EQUITY
 The borrower provides a down payment of
typically just 10% of the total project costs
Higher equity requirements exist for start-ups or special purpose properties…the equity required will increase by 5% if one condition exists or by 10% if both.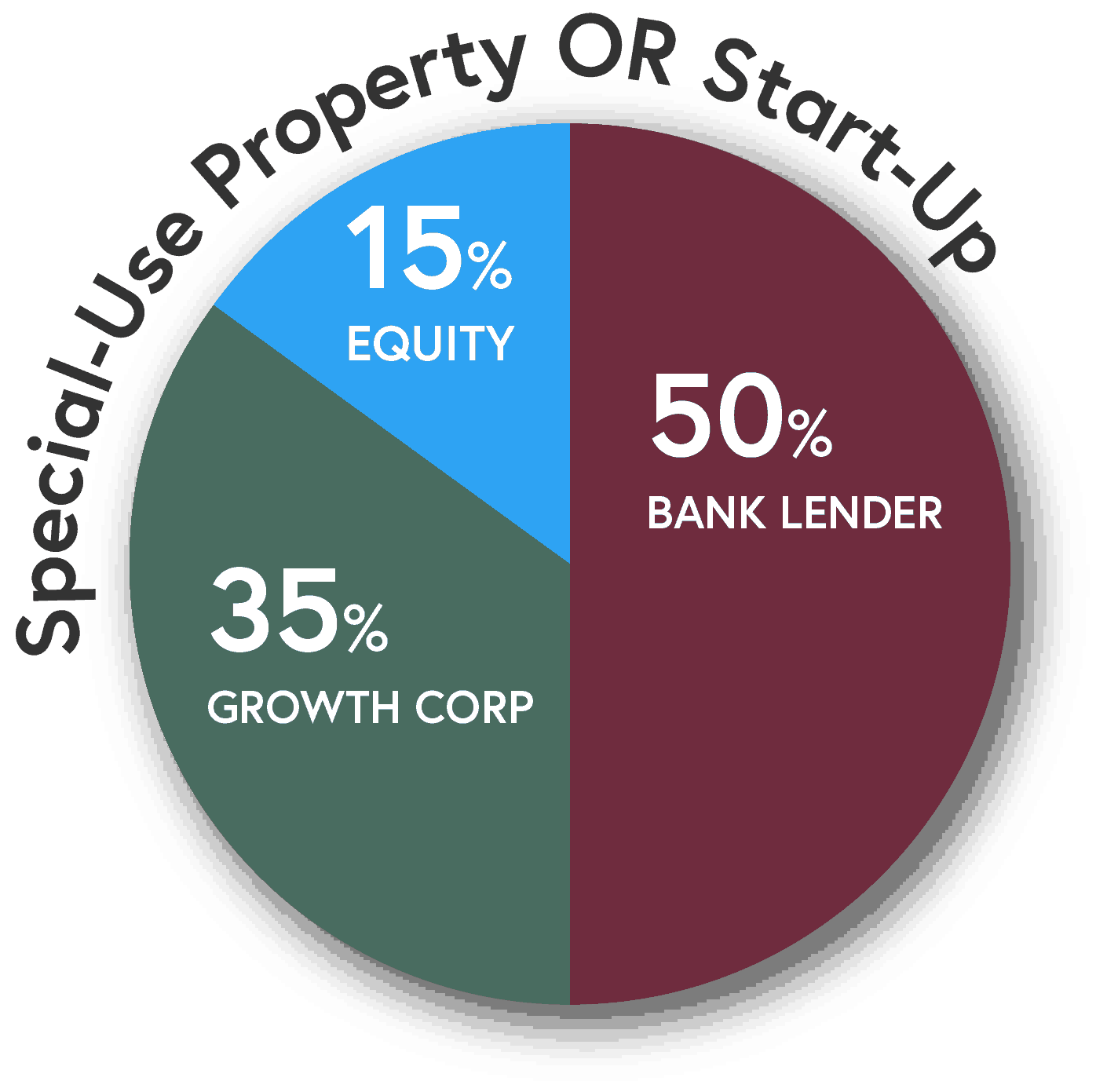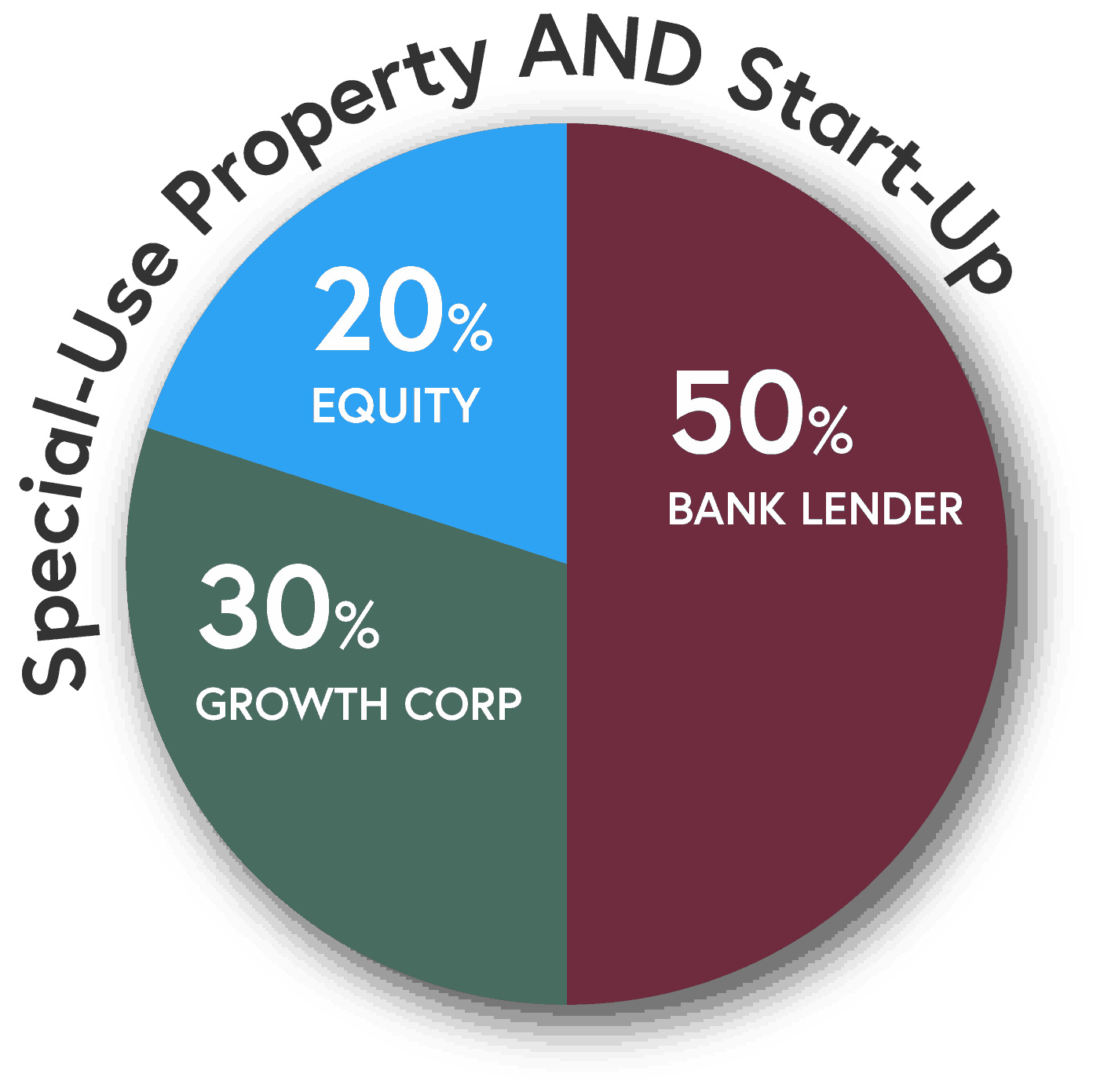 SBA 504 Loans are made in conjunction with your local bank...so you can keep your lending relationship.
504 Case Study – New Construction

A widget manufacturer that has been leasing space wants to construct a building to facilitate business expansion.

| | |
| --- | --- |
| Purchase Land | $500,000 |
| Construct Building | $1,500,000 |
| Purchase Furniture & Fixtures | $250,000 |
| Soft Costs* | $150,000 |
| Total | $2,400,000 |
*Soft costs can include interim interest and fees, professional fees, a construction contingency, appraisal and environmental costs, etc.
If a bank was willing to finance the project conventionally, it would typically lend up to 80% of the project costs at a floating interest rate with a 15 year amortization and a balloon after three to five years.  However, utilizing the 504 Loan Program, up to 90% of the project costs can be financed.  The bank lends up to 50%, thereby reducing its risk and corresponding interest rate.  Growth Corp lends up to 40% at a fixed rate for 20 years, with a down payment of only 10% from the borrower.

| | | |
| --- | --- | --- |
|   | Conventional | With 504 |
| Bank | $1,920,000 | $1,200,000 |
| Growth Corp | $0 | $960,000 |
| Borrower | $480,000 | $240,000 |
| Total | $2,400,000 | $2,400,000 |
As shown, the borrower's equity injection can be reduced by $240,000, thereby conserving cash and providing the necessary working capital to support continued growth. 
Additionally, cash flow is improved as a result of the longer maturity and potentially lower interest rates.
Let's keep in touch…join our email list…
A Sampling of Our 504 Projects

How Will You Grow Your Business?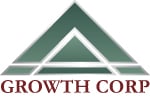 877-BEST 504
www.GrowthCorp.com
A Non-Profit Organization Focused Exclusively on Small Businesses
Join Our Email List

By using this website, you understand that Growth Corp is good, but not perfect (although we do try!). Therefore, it is possible that you may find information on this site that is no longer accurate.  Links, images, downloads, pages and blog posts may inadvertently contain information that has been superseded over the years.  You also understand that we aren't giving any legal, tax, or financial advice.  So, while we hope our site makes you love 504 Loans as much as we do, the content herein is for informational purposes only.