SBA 504 LOANS
We help
SBA 504 LOAN PROGRAM
Expanding Businesses|Creating Jobs|Investing in Communities
Current Interest Rates: 25-Yr: 2.88% | 20-Yr: 2.80% | 10-Yr: 2.84% | Refi: +0.0015%
Interest Rate History
We understand your concerns amid these ever-changing circumstances…but you are not alone.  Disaster assistance is available for small businesses facing financial hardship due to COVID-19. 
Paycheck Protection Program Update – On March 31, 2020, SBA released guidance about the Paycheck Protection Program,  an SBA loan that helps businesses keep their workforce employed during the Coronavirus (COVID-19) crisis.
Lenders may begin processing loan applications as soon as April 3, 2020.
You can apply through any existing SBA 7(a) lender or through any federally insured depository institution, federally insured credit union, and Farm Credit System institution that is participating. Other regulated lenders will be available to make these loans once they are approved and enrolled in the program. You should consult with your local lender as to whether it is participating in the program.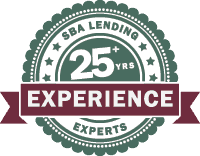 If you need a small business loan
You've come to the right place.
The 504 Loan Program is one of the best financing solutions on the market.  It provides small business owners with financing for the purchase, construction and renovation of commercial real estate and/or the purchase of long-term machinery and equipment. The best part?  Borrowers typically receive financing for up to 90% of the project cost at a low fixed interest rate, which is then locked in for 20- or 25-years (10 for equipment).  Plus, with the 504 Refinance Program, small business owners can use the long-term, fixed rate 504 Loan Program to refinance existing commercial mortgages.  
Growth Corp is authorized by the U.S. Small Business Administration to administer the 504 Loan Program to the entire state of Illinois and parts of Missouri, Indiana, Iowa and Kentucky.  We are the largest 504 Lender in Chicago, the top CDC in Illinois and a top ten lender nationwide.  So, if you're located in Chicago, St. Louis, Peoria, Bloomington, Carbondale, the Quad Cities or anywhere in between, turn to the 504 experts to help you grow.
Why SBA 504 loans are so popular: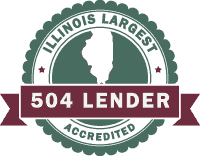 Low, Fixed Interest Rates
With the 504, borrowers take advantage of a low interest rate, which is fixed for either 10-, 20- or 25-years.
10% Down Payment
In most cases, borrowers receive a 90% advance, which preserves working capital for day-to-day business expenses.
Keep Your Current Lender
The 504 Loan Program requires a partnership between Growth Corp and a lending institution, so there's no need to give up that lending relationship you've grown comfortable with.
No Future Balloon Payments
With the 504, borrowers do not have to concern themselves with saving the large amount of cash necessary for a balloon payment.  This eliminates the need for refinancing, additional appraisals and deterioration in property values.
Includes Soft Costs
The 504 finances total project costs, including not just the costs for land, existing building, hard construction and equipment, but also soft costs like furniture, fixtures, closing costs and professional fees.
Predictable Monthly Payments
Borrowers lock in a low fixed interest rate, which gives them predictable payments and allows them to easily forecast for future years.  So there's no inflationary pressures and interest rate increases to worry about.
Estimate your monthly 504 loan payment.
Or, Use One of Our Other Tools
Let's keep in touch…join our email list…
A Sampling of Our 504 Projects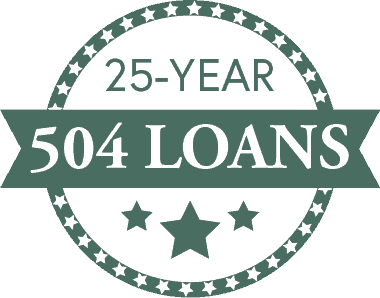 What's New?
25-Year Debentures Now Available with SBA 504
In addition to the 10-year and 20-year maturities available with 504 loans, SBA is now offering a 25-year option.  The goal of this extended maturity is to decrease the monthly payments for those small businesses looking to better manage their operating capital.
Our

mission

is to advocate for

small businesses

.
We love our communities and believe small business is the foundation of their economic prosperity.  We will do all we can to support you and your business goals.  Start-ups to seasoned businesses and everything in between can benefit from working with Growth Corp.  Here's why:
We Are An Industry Leader
We're the #1 SBA 504 Lender in Chicago and Illinois.  Growth Corp also consistently ranks as one of the top ten SBA 504 Lenders nationwide.
In Business Since 1992
We've assisted thousands of businesses spanning various industries.  In fact, our portfolio is currently in excess of $675 million.
Trusted by the U.S. SBA
SBA recognized Growth Corp as an Accredited Lender after a thorough review of its policies, procedures and prior performance.

How Will You Grow Your Business?
877-BEST 504
www.GrowthCorp.com
Central IL Office 217.787.7557   |   Chicago Office 773.880.1455  |  Southern IL Office 618.932.3786

Contact a Loan Officer