empowering economic growth
Refinance Into a Low, Long-Term Fixed Rate
The 504 Refinance Program comes with two huge advantages:  One, it offers business owners a below-market, fixed interest rate loan.  You'll enjoy a repayment period of up to 25 years with no balloon payment to worry about.  Second, a long-term fixed rate mortgage alleviates occupancy expense fluctuations.
Furthermore, when you utilize SBA 504 Refinancing, you have the option of tapping into your equity and obtaining cash for payment of many eligible business expenses.  These expenses can include items such as utilities, inventory and lines of credit.
Benefits of SBA 504 Refinancing
The small business owner's equity in the collateral often fulfills the down payment requirement
Low, fixed interest rate on 504
Long loan term – up to 25 years
Access cash in the building for salaries, rent, inventory, utilities, payables, etc.
Payment stability
Protection from balloon payments
Up to $5 million for SBA portion of loan, no limit on overall project size
Keep your lender or allow us to match you with one of our lending partners
What Kind of Rate Can I Expect?
The interest rate is fixed for 20- or 25- years, much like the standard 504 Loan Program.  However, the effective rate will be slightly higher than standard 504 loans due to higher servicing fees.
Renovate Your Current Property
Purchase Heavy Machinery or Equipment
Refinance Commercial Mortgage Debt
Equipment Purchases
Building Acquisitions
Land Purchases
New Construction
Leasehold Improvements
Long-term fixed rates
Predictable payments
No future balloons
Low down payments
Real Estate Loans
Lines of Credit
Consolidate Multiple Loans
Obtain Working Capital
Cash-Out Available

Eliminates balloon payments
Fully amortized
Existing equity = down payment
Can provide a cash out option
New Builds w/ Sustainable Energy
Energy Efficient Upgrades
Energy Generating Equipment
Reduction of energy consumption by 10%
Increased use of sustainable design
Removes $ limit on 504 portion
Borrowers can take multiple loans
Slashes the bank's risk to 50%
Up to $5.5 million per project
How SBA 504 Refinance Loans are Structured
Case Study:  504 Debt Refinance – No Cash Out

A widget manufacturer is refinancing an existing $1.8 million commercial real estate loan.  The property appraises at $2 million.
Loan Structure:
| | | |
| --- | --- | --- |
| | Portion | Amount |
| Bank | 50% | $1,000,000 |
| Growth Corp | 40% | $800,000 |
| Borrower | 10% | $200,000 |
| Total | 100% | $2,000,000 |
NOTE:  The third-party (bank) loan must be equal to, or greater than, the SBA 504 debenture amount.  The SBA piece cannot exceed 40% of the appraised value.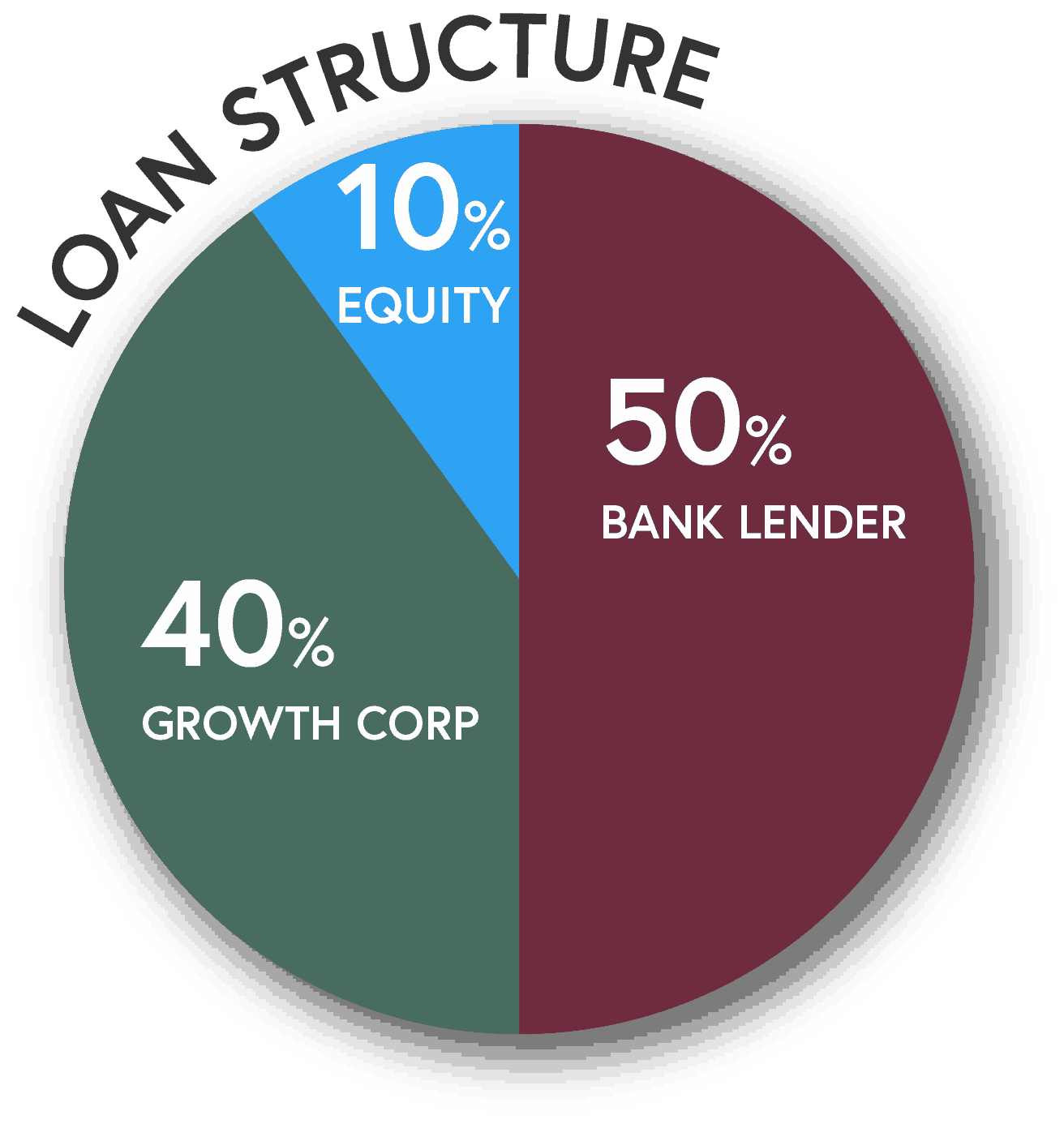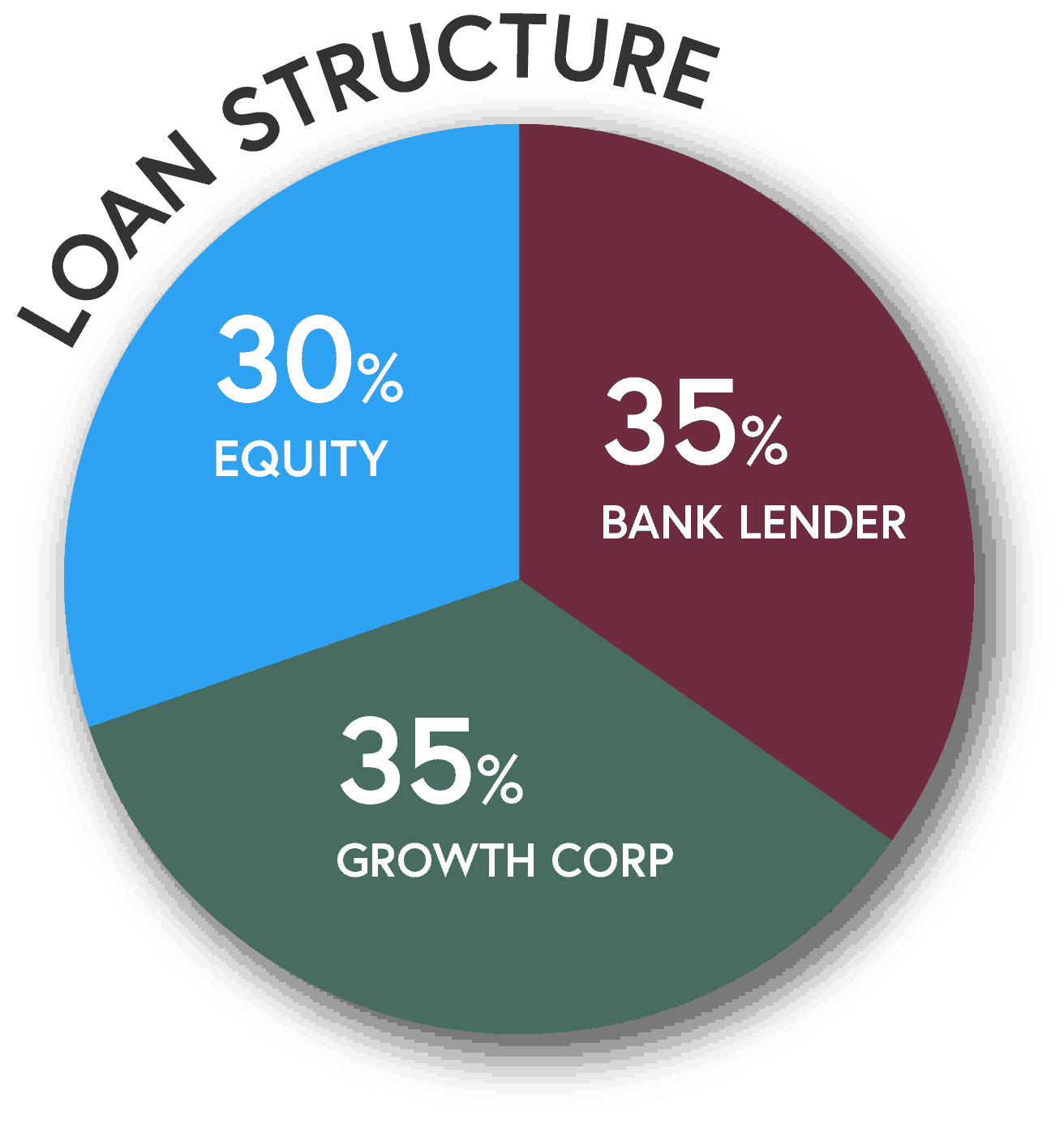 504 Debt Refinance – Cash Out

A widget manufacturer is refinancing an existing $1 million commercial real estate loan and would like to get cash out of the building for eligible business expenses.  The property appraises at $2 million.
Appraised Value:  $2,000,000
Qualified CRE Debt:  $1,000,000
Eligible Business Expenses (Cash Out):  $400,000
Loan Structure:
| | | |
| --- | --- | --- |
|   | Portion | Amount |
| Bank | 35% | $700,000 |
| Growth Corp | 35% | $700,000 |
| Borrower | 30% | $600,000 |
| Total | 100% | $2,000,000 |
NOTE:  The loan-to-value does not exceed 85% and the cash out portion does not exceed 20% of the appraised value.
Let's keep in touch…join our email list…
A Sampling of Our 504 Projects
Our

mission

is to advocate for

small businesses

.
We love our communities and believe small business is the foundation of their economic prosperity.  We will do all we can to support you and your business goals.  Start-ups to seasoned businesses and everything in between can benefit from working with Growth Corp.  Here's why:
We Are An Industry Leader
We're the #1 SBA 504 Lender in Chicago and Illinois.  Growth Corp also consistently ranks as one of the top ten SBA 504 Lenders nationwide.
In Business 30+ Years
We've assisted thousands of businesses spanning various industries.  In fact, our portfolio is currently in excess of $817 million.
Trusted by the U.S. SBA
SBA recognized Growth Corp as an Accredited Lender after a thorough review of its policies, procedures and prior performance.

How Will You Grow Your Business?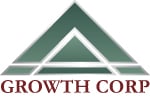 877-BEST 504
www.GrowthCorp.com
A Non-Profit Organization Focused Exclusively on Small Businesses
Join Our Email List

By using this website, you understand that Growth Corp is good, but not perfect (although we do try!). Therefore, it is possible that you may find information on this site that is no longer accurate.  Links, images, downloads, pages and blog posts may inadvertently contain information that has been superseded over the years.  You also understand that we aren't giving any legal, tax, or financial advice.  So, while we hope our site makes you love 504 Loans as much as we do, the content herein is for informational purposes only.