empowering economic growth
SBA 504 loans are a fixed-rate, long-term financing option for purchasing owner-occupied real estate and equipment.  This loan program was created by SBA to expand capital access for America's small businesses and fill a market gap in long-term financing.  Since the rates are fixed for the life of the loan, and the terms extend as long as 25 years, the 504 is one of the best financing options available for small business owners today.
If you are a small business owner, you are probably familiar with the U.S. Small Business Administration (SBA), but, unfortunately, many are unfamiliar with one of its best financing options.  The SBA established a program over 30 years ago called the 504 Loan Program.  This program works in conjunction with your bank to allow business owners to receive up to 90% financing for the acquisition, construction, improvement or expansion of commercial property or for acquiring heavy machinery or equipment.  
The program essentially consists of three key elements:  50% of the project's total cost is provided by a lending institution, usually a bank; 40% is provided through the SBA's 504 Loan Program; and 10% equity is provided by the borrower.  (Start-up businesses and single-purpose facilities require a slightly higher equity contribution.)  By requiring a smaller down payment, the 504 can help the business conserve their operating capital, while the structure of the program makes it attractive to financial institutions.  Plus, the fixed rate and long loan term insulates borrowers from rising interest rates and future balloon payments or call provisions.
With 90% loan-to-cost financing for most commercial real estate projects (inclusive of land, existing building, ground-up construction, furniture, fixtures, equipment, soft costs and closing costs), SBA 504 loans are a very powerful tool, yet they remain under-utilized because many small business owners just aren't aware this financing option exists.  Last year, 504 loans helped fuel about $5 billion in new capital investments for 6,200 businesses throughout the U.S.
Renovate Your Current Property
Purchase Heavy Machinery or Equipment
Refinance Commercial Mortgage Debt
A bank provides a first mortgage for 
50% of the total project costs
Growth Corp provides an SBA 504 Loan (as a second mortgage) for 40% of the total project
The borrower provides a down payment of typically just 10% of the total project costs
Higher equity requirements exist for start-ups or special purpose properties…the equity required will increase by 5% if one condition exists or by 10% if both.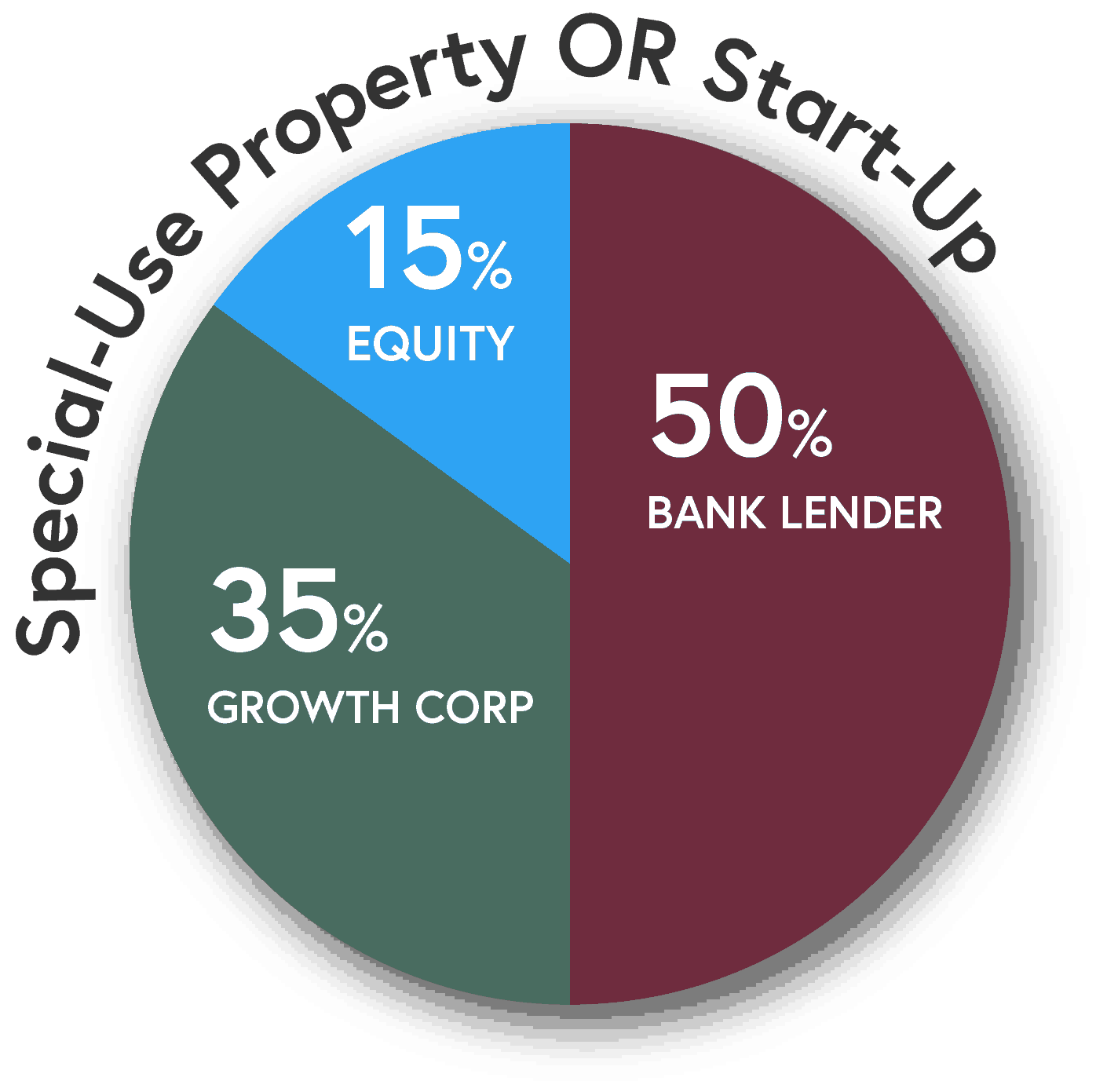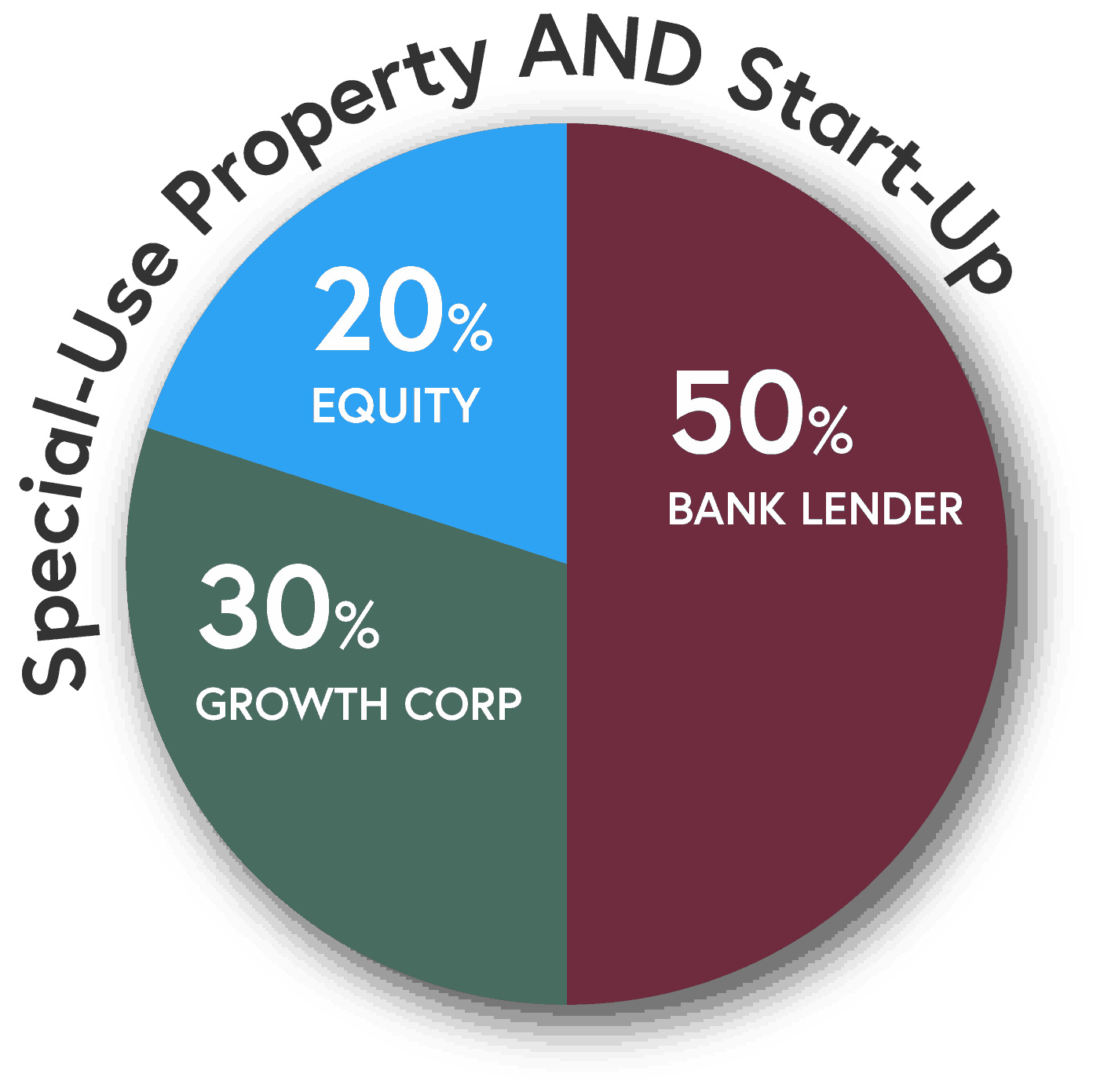 SBA 504 Loans are made in conjunction with your local bank...so you can keep your lending relationship.
Why SBA 504 loans are so popular:
Low, Fixed Interest Rates
With the 504, borrowers take advantage of a low interest rate, which is fixed for either 10-, 20- or 25-years.
10% Down Payment
In most cases, borrowers receive a 90% advance, which preserves working capital for day-to-day business expenses.
Includes Soft Costs
The 504 finances total project costs, including not just the costs for land, existing building, hard construction and equipment, but also soft costs like furniture, fixtures, closing costs and professional fees.
No Future Balloon Payments
With the 504, borrowers do not have to concern themselves with saving the large amount of cash necessary for a balloon payment.  This eliminates the need for refinancing, additional appraisals and deterioration in property values.
Keep Your Current Lender
he 504 Loan Program requires a partnership between Growth Corp and a lending institution, so there's no need to give up that lending relationship you've grown comfortable with.
Predictable Monthly Payments
Borrowers lock in a low fixed interest rate, which gives them predictable payments and allows them to easily forecast for future years.  So there's no inflationary pressures and interest rate increases to worry about.
Growth Corp is the top CDC in Illinois, the largest 504 Lender in Chicago and a top ten 504 Lender Nationwide, but we're still just a small, focused team working together every day to make the 504 process the best it can be.
We know that when it comes to 504 loans, it's about much more than just getting an approval.  It's the ease-of-mind that comes from knowing Growth Corp's team has their finger on the pulse of the process from application to funding and even beyond into long-term servicing. It's knowing you will be informed every step of the way by the point-person responsible for overseeing the closing of your loan. It's knowing that, given Growth Corp's extremely low turn-over, you'll have the same experienced team members continuing to serve you year-after-year.
SBA recognized Growth Corp as an Accredited Lender after a thorough review of its policies, procedures and prior performance. The prestigious ALP status grants Growth Corp increased authority to process and close 504 loans, which results in an expedited process for both borrowers and lending partners.  In addition, under the ALP Express Program, Growth Corp has been granted the authority to approve, authorize, close and service SBA 504 loans of $500,000 or less.
Quality, accuracy and quick turn-around times are just some of the reasons why Growth Corp is the top CDC in Illinois, the largest 504 Lender in Chicago and a top ten 504 Lender nationwide.  But, remember, we're just a small team working together every day to make the 504 Loan process the best it can be.

How Will You Grow Your Business?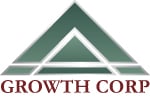 877-BEST 504
www.GrowthCorp.com
A Non-Profit Organization Focused Exclusively on Small Businesses
Join Our Email List

By using this website, you understand that Growth Corp is good, but not perfect (although we do try!). Therefore, it is possible that you may find information on this site that is no longer accurate.  Links, images, downloads, pages and blog posts may inadvertently contain information that has been superseded over the years.  You also understand that we aren't giving any legal, tax, or financial advice.  So, while we hope our site makes you love 504 Loans as much as we do, the content herein is for informational purposes only.