Need a small business loan?
You've come to the right place.

Do Your Business Plans Include
Buying a building?|Purchasing equipment?|Constructing a facility?|Renovating your property?
Have we got the financing for you!  How does a low, fixed 20-year interest rate and a down payment as low as 10% sound?
Too good to be true?  It's not.
877-BEST 504
What is the SBA 504 Loan Program?
The 504 Loan Program is one of the best financing solutions on the market.  It provides small business owners with financing for the purchase, construction and renovation of commercial real estate and/or the purchase of long-term machinery and equipment. The best part?  Borrowers typically receive financing for up to 90% of the project cost at a low fixed interest rate, which is then locked in for twenty years (10 for equipment).  Plus, with the re-launch of the Refinance Program, small business owners can use the long-term, fixed rate 504 Loan Program to refinance existing commercial mortgages.  
50%
LOCAL BANK
A bank provides a first mortgage for
50% of the total project costs
40%
SBA 504 LOAN
 Growth Corp provides an SBA 504 Loan (as a second mortgage) for 40% of the total project costs
10%
BORROWER EQUITY
 The borrower provides a down payment of typically just 10% of the total project costs
SBA 504 Loans are offered in conjunction with banks...so you can keep your local relationship.
No, not at all.  The 504 Loan Program was designed to help small businesses purchase the assets needed to grow and expand.
The U.S. Small Business Administration (SBA) specifically created the 504 Loan Program to promote economic development.  The program helps lenders provide small businesses with long-term financing to acquire and improve major fixed assets, such as owner-occupied commercial real estate and heavy machinery.  
The 504 portion cannot exceed $5 million or $5.5 million, depending on whether your business meets an approved public policy goal or is classified as a small manufacturer (NAICS codes beginning with 31, 32 or 33).  Remember, this limit is for the SBA portion only. There is no overall maximum project size.
How can I speak with someone from your lending team?
Our lending team is here to help you anytime.  We're excited to discuss your ideas and help determine if you're eligible for the 504 Loan Program.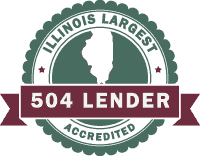 Why do thousands of businesses choose the 504 Loan Program every year?
90% Financing
Low down payment (10% in most cases) – preserves working capital
Long-Term Fixed Rates
Low, fixed interest rate on 504…fixed for either 10- or 20-years
The 504 Includes Soft Costs
Includes soft costs such as furniture, fixtures and fees
Payment Stability
No balloon payments or call provisions
Finances Leasehold Improvements
Parking lots, landscaping, signage, etc.
Provides up to $5.5 Million in Financing
Up to $5.5 million for SBA portion of loan, no limit on overall project size
Allows You to Keep Your Lender
Keep your lender or allow us to match you with one of our lending partners
Our mission is to advocate for small businesses.
We love our communities and believe small business is the foundation of their economic prosperity.  We will do all we can to support you and your business goals.  Start-ups to seasoned businesses and everything in between can benefit from working with Growth Corp.  Here's why:
We Are An Industry Leader
We're the #1 SBA 504 Lender in Chicago and Illinois.  Growth Corp also consistently ranks as one of the top ten SBA 504 Lenders nationwide.
In Business Since 1992
We've assisted thousands of businesses spanning various industries.  In fact, our portfolio is currently in excess of $675 million.
Trusted by the U.S. SBA
SBA recognized Growth Corp as an Accredited Lender after a thorough review of its policies, procedures and prior performance.
A Sampling of Our 504 Projects

How Will You Grow Your Business?