Small business financing that was actually designed to meet the needs of small businesses?  Sound too good to be true?  It's not!
The decision on when to expand and/or relocate your business is a difficult one.  Two of the most recognized hurdles you may face are:
Preservation of capital… "Do I have enough cash to expand my business?", and;
Finding appropriate financing… "What's the best deal available?"
Many businesses feel they have an inability to cash-flow an expansion because they need to retain their operating capital.  These same business owners may even inquire about applying for financing from the lending institution with which their business has an established relationship.  However, let's face it, most banks want 20-25 percent borrower equity in a project.
Wouldn't it be nice if you could reduce your equity injection to ten percent or less at the outset and get a below-prime, 25-year fixed rate?  You can with the U.S. Small Business Administration's (SBA) 504 Loan Program.
Many Are Unfamiliar With One of SBA's Best Small Business Financing Options
If you are a small business owner, you are probably familiar with the U.S. Small Business Administration (SBA), but, unfortunately, many are unfamiliar with one of its best options for capital.  The SBA established a program over 35 years ago called the 504 Loan Program.  This program works in conjunction with your bank to allow business owners to receive up to 90% financing for the acquisition, construction, improvement, or expansion of commercial property or for acquiring heavy machinery or equipment.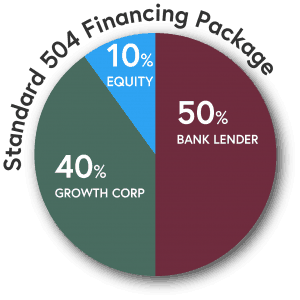 The program essentially consists of three key elements:  50% of the project's total cost is provided by a lending institution, usually a bank; 40% is provided through the SBA's 504 Loan Program; and 10% equity is provided by the borrower.  (Start-up businesses and single-purpose facilities require a slightly higher equity contribution.)
By requiring a smaller down payment, the 504 can help the business conserve their operating capital, while the structure of the program makes it attractive to financial institutions.  Plus, the fixed rate and long loan term insulates borrowers from rising interest rates and future balloon payments or call provisions.
With 90% loan-to-cost financing for most commercial real estate projects (inclusive of land, existing building, ground-up construction, furniture, fixtures, equipment, soft costs and closing costs), SBA 504 loans are a very powerful tool, yet they remain under-utilized because many small business owners just aren't aware this financing option exists.
What Small Businesses Are Eligible?
Most types of businesses are eligible to receive 504 financing.  Businesses with a successful track record can generally qualify for the 504 Loan Program if they are for-profit and average less than $5 million in annual profits and $15 million in net worth.  Qualifying projects should involve the purchase, construction or improvement of fixed assets such as land and building and/or the purchase of heavy machinery and equipment.  Projects that qualify must, according to SBA guidelines, promote economic development, which generally means the creation or retention of jobs.  The SBA's participation is limited to $5 million, but there is no limit on the overall size of the deal.  The loan amounts increase to $5.5 million for manufacturing businesses or businesses fulfilling one of the Public Policy goals.
Keep in mind, we work in conjunction with local banks…not in competition with them.
Advantages of the 504 Loan Program
Demand for 504 loans has skyrocketed the past few years.  Here are just some of the reasons why, as interest rates rise, small business owners are turning to the SBA 504.
Long-Term Fixed Interest Rates
SBA 504 loans allow business owners to secure fixed interest rates that are extremely competitive, often at or below prime.  Combined with longer repayment terms of up to 25 years and lower down payment requirements, it's hard to find a better option anywhere.  The SBA 504 allows business owners to get off the roller-coaster of variable rate loans and into predictable, long-term, fixed-rate financing.
Less Money Down
The structure of 504 loans is unique, offering lower down payments than most conventional loans…typically just ten percent.  Start-ups and single-purpose facilities require a slightly higher equity contribution.  There are three parties involved – your business banker (50%), a Certified Development Company (CDC) such as Growth Corp (40%), and you, the small business owner (10%).  With this structure, as much as 90% of the project is financed from sources outside of your own pocket.
A Path to Ownership
The 504 was designed to make building ownership possible for small business owners by pairing it with the best terms on the market.  Owning the building housing your business is often more cost-effective than soaring rental costs.  Plus, there are long-term investment benefits of owning an asset that increases in value over time, including potential tax benefits.  Furthermore…as the building owner, you're free to customize the facility to fit your needs.
Predictable Overhead Costs
By securing a fixed-interest mortgage, your monthly principal and interest payments stay the same over the life of your loan (as opposed to rent payments, which likely increase annually; or variable-rate loans, which can fluctuate with interest-rate increases).   Budgeting and long-term planning become easier with predictable, fixed monthly expenses and no future balloon payments to worry about.
Most Businesses Qualify
Most for-profit businesses are eligible to receive 504 financing.  Typical 504-eligible businesses include manufacturing, retail, industrial, professional offices, and all types of medical facilities.
Support from a Local CDC
A Certified Development Company (CDC) is a nonprofit organization that promotes economic development within its community through 504 loans.  CDCs, such as Growth Corp, are designed to help strengthen local businesses by connecting them with quality financing for fixed asset investments.  This, in turn, supports local economies, revitalizes neighborhoods, and breathes new life into communities.  Plus, CDCs work in conjunction with local banks so you can stay with the lender you already use for your business banking.
Want to Learn More?
Keep in mind, we work in conjunction with local banks…not in competition with them.
Why Growth Corp?  We know small business.  It's our passion.  We are proud to have helped thousands of businesses facilitate expansion.  As the largest 504 Lender in Illinois, we have dedicated ourselves to making the 504 Loan Program as efficient and seamless as possible.  If you want to learn more, we would be happy to meet with you. Just give us a call at 877-BEST 504 or contact any member of our Lending Team.