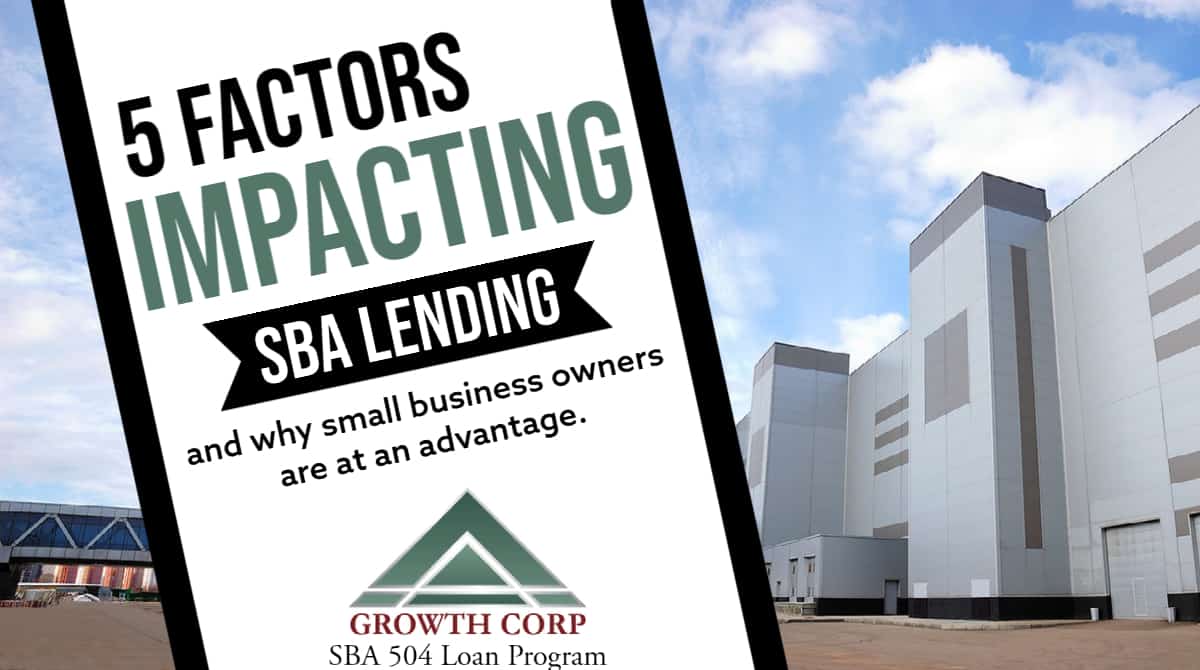 There are many factors impacting SBA lending right now and SBA's role has grown even more important in the past 18 months, having been charged with distributing various recovery resources aimed at helping small businesses strengthen, recover, hire, and grow.  This includes the Paycheck Protection Program (PPP), Economic Injury Disaster Loans (EIDL), Debt Relief Programs, Shuttered Venue Grants, and the Restaurant Revitalization Fund.  In addition, small business guidance and other resources are always available from SBA's resource partners, such as Small Business Development Centers (SBDCs), Women's Business Centers, and SCORE.
Many small business owners turn to the SBA when conventional banks say no or offer terms they cannot afford.  That's why its important to be aware of the current factors impacting SBA lending and why they are advantageous to small business owners.  
Five Factors Impacting SBA Lending:
SBA lending is up – big time

Interest rates are at historic lows

Refinancing is available to more small businesses

More business owners are buying or constructing facilities

New loan incentives are available through September 30
1 – SBA 504 Lending is Up
Access to capital is consistently one of the top challenges entrepreneurs and small businesses encounter, making the SBA 504 Loan Program a vital resource to economic growth and job creation.  We're happy to report SBA 504 lending is up 44% so far in Fiscal Year 2021…proof that quality capital is getting into the hands of entrepreneurs and small businesses are utilizing this smart financing source to grow and strengthen their businesses.
One of the SBA's top goals is to get more capital into the hands of entrepreneurs who would otherwise be unable to access loans at reasonable rates.  The 504 Loan Program has seen increased performance so far this year, with more than 8,100 loans for a total dollar amount of $6.8 billion.  And Congress is taking notice!
What are SBA 504 Loans?
SBA 504 loans, guaranteed by the U.S. Small Business Administration, provide long-term financing for the purchase of real estate, equipment, and other fixed assets. There are three parties to an SBA 504 loan—the borrower, the bank, and the SBA-approved certified development company (CDC) (Growth Corp). SBA 504 loans feature 10- to 25-year terms, low interest rates, and down payments as low as 10%.
Sometimes it takes a big investment of resources to jump start growth for your small business. Maybe there's special equipment that could save you money on labor and make you more productive.  Or, you could be considering a building next door that would make a perfect addition to your shop. On the other hand, maybe your existing facility needs a serious face-lift.  In each of these cases, an SBA 504 loan could be the perfect business financing solution.  These loans are available to for-profit businesses to purchase real estate, equipment, and machinery. You can also use them to refinance existing commercial mortgage debt or to remodel existing facilities. SBA 504 loans are very business-friendly, requiring a down payment of typically just 10% and offering 10- to 25-year terms with low, fixed interest rates.
2 – Interest Rates are at Historic Lows
With the August 2021 debenture pricing, we are seeing continued low, fixed rates for SBA 504 loans…averaging under 3%.  One of the biggest benefits of an SBA 504 loan are the low interest rates and long terms. Since the loan is government-backed, the rates and fees on an SBA 504 loan are a lot lower than what you're likely to find with a bank.  SBA 504 loan interest rates are composed of two different interest rates—the rate on the CDC portion of the loan and the rate on the bank portion of the loan. The SBA sets standard, fixed rates for the CDC portion of the loan and a list of fees associated with 504 loans, along with when they are due, can be found here.
SBA 504 loans have long repayment terms, which is part of what makes them so beneficial for small business owners.  In fact, one of the reasons SBA 504 lending is up in FY 2021 is the addition of a 25-year fixed rate loan term. A long repayment term translates to lower monthly payments for your business, which helps you conserve cash flow.  SBA 504 loan terms depend on what you're using the loan for. The term is typically 10 years if you're purchasing machinery or equipment, and 20 or 25 years if you're refinancing or constructing/purchasing/remodeling land or buildings.
3 – Refinancing is Available to More Small Businesses
SBA 504 Debt Refinancing is government-backed financing that comes with three huge advantages. One, it offers business owners a below-market, fixed rate and a repayment period of up to 25-years. Two, the down payment requirements are as low as ten percent and are often fulfilled by existing equity in the project. And three, borrowers can elect to get cash out for business expenses. Cash can be taken out for salaries, rent, repairs, maintenance, inventory, utilities, credit cards, lines of credit, etc.
On July 29, 2021, SBA enhanced and expanded opportunities to refinance qualified debt.  This allows more small businesses to be eligible for SBA 504 refinancing.  The changes are as follows:
For 504 debt refinancing with expansion –
The amount of the existing indebtedness that may be refinanced as part of a 504 Project is increased from not more than 50% to not more than 100% of the project costs of the expansion.
For 504 debt refinancing without expansion –
Reinstates an alternate job retention standard – all existing jobs measured on a full time equivalent (FTE) basis can be counted as jobs retained by the refinancing project.
Qualified Debt must be at least 6 months old before the SBA application date to be eligible for refinance, reduced from 2 years old.

Additionally, SBA is removing language allowing a loan to be eligible for 504 debt refinance if that original loan had been refinanced within 2 years of application date, as SBA believes this is no longer necessary given the reduction in the debt seasoning requirement to 6 months.
Allows the refinance of existing government guaranteed debt – existing SBA policies related to refinancing existing 504 or 7(a) loans will apply (these are the same requirements that currently exist for the 504 debt refinance with expansion program), including –
Eliminates the requirement that the borrower must be current on all payments due for not less than 1 year before the SBA application date.  Please note:  in accordance with prudent lending standards, SBA still expects the CDC to consider whether the applicant is current on all payments due and the applicant's history of delinquency in its credit analysis.
4 – More Business Owners are Buying or Constructing Facilities
Are you tired of paying rent for your business?   We're seeing more and more businesses opt out of being at the mercy of landlords.  The SBA 504 Loan provides a government-backed financing option for buying or constructing a building…and often saves business owners money in the process:
There are many reasons you should consider buying or constructing a building for your business, but here are the top four:
Equity: with every monthly payment, you are building equity rather than putting money in your landlord's pocket
Tax Benefits: There are tax benefits to owning in every state.  Please do consult your tax professional for more specific tax benefits.
Stability: Gain peace of mind knowing what your occupancy costs will be for 25 years.
Preserves Cash:  in many cases, the monthly payment to own your business's building is less than renting. Small business owners can use the additional working capital that resulted from buying a building for their business for other things that can help grow their company like to buy inventory, hire new employees, equipment financing, or invest in other strategies to grow or improve the business.
The SBA 504 Program was designed to make building ownership possible for small business owners by pairing it with the best terms on the market. It is the most affordable way to purchase a building – and now, with record low interest rates and loan forgiveness, you will not find a more optimal time to take advantage of the program.  Plus, when the SBA 504 Program is utilized for a building purchase or new construction, mortgage payments are often comparable to rent payments.
Let's take a look at how the Small Business Administration's (SBA) 504 loan can help you buy or build your own facility:
Low down payment requirements:  for businesses looking to protect their cash flow, or facing tighter cash flow because of higher interest rates, the SBA 504 offers an advantage.  Down payments as low as ten percent.  This amounts to huge cash savings as most conventional loans require 20%, or even up to 35%, down.
Low, fixed interest rates and long loan terms:  conventional loan rates are typically only fixed for a certain period of time, usually 3-10 years.  After that, the rate is reset and could become variable.  In a rising rate environment, that means you could find yourself with a much higher rate in the future.  Conversely,  a long-term fixed-rate mortgage, such as the SBA 504, locks in today's low interest rates and eliminates concern over future interest rate hikes.  The interest rate for SBA 504 loans is well below prime and has been a record lows this year.  By locking in this low rate, which is fully amortized over 10-, 20-, or 25-years, you'll see predictable and lower monthly payments.
No balloon payments or call provisions:  a balloon loan mortgage, common in commercial real estate, is usually a short mortgage that requires a large one-time payment at the end of the term.  This can mean your payments are lower in the years before the balloon payment comes due, but you will either owe a lump sum at the end or be required to refinance the balance.  This can lead to another round of building appraisals and credit approvals to endure.  However, unlike conventional commercial real estate loans, a 504 Loan has no balloon payments.  Call provisions are similar to balloon payments in that, with a conventional loan, you may be required to maintain a specific debt-service coverage ratio as a way for lenders to lower their risk.  If you fail to meet that provision, the bank can "call in" your loan.  This means you would either have to pay off the balance, or refinance it.  The SBA 504 Loan Program has no covenants or call provisions either.  What you get is a long-term, fixed rate loan offering secure, predictable monthly payments for the life of the loan.
SBA 504 Loans finance total project costs:  let's face it, the true bottom line of an expansion project, no matter the size, is often far more than the just the cost for brick and mortar or equipment.  Soft costs and closing costs can add up.  Most conventional bank loans do not include soft costs in the financing, leaving borrowers to pay for them out of their own pocket.  However, the SBA 504 Loan Program finances total project costs.  Total project costs include not just the cost for land and building, hard construction, or equipment, but also the soft costs like moving your equipment, furniture, fixtures, closing costs and professional fees.
Businesses are incentivized to go green:  the SBA 504 Green Loan program is a financing option that presents an incentive for small businesses to increase their building's sustainability through energy efficiency and/or renewable energy solutions. The program offers up to $5 million in financing per project and can receive a maximum of $16.5 million in aggregate funding. The funding can be increased to $5.5 million if public policy goals are met and can be used for multiple SBA 2nd mortgages. Loans can also be used to purchase land (including existing buildings), improve company assets, begin new construction projects, and renovate or upgrade existing buildings.  So, by spending less on your utilities, you can actually get more capital for your business improvement project!
5 – New Loan Incentives Extend through September 30 or Until Funds are Exhausted
Put simply, there's nothing else on the market quite like the 504 Loan Program.  Temporary incentives for new borrowers looking to refinance include significant fee saving and 3 months of payment subsidies made possible by the Economic Aid Act.  Add to that the ability to lock in low, fixed rates for up to 25-years with minimal down payment requirements, and this truly becomes a once-in-a-lifetime opportunity for refinancing.  But don't wait…these incentives are only temporary.
Here are the key details of the Covid Relief incentives for new borrowers as it relates to the SBA 504 Loan Program.  These incentives elevate the 504 to an even more attractive product:
Temporary Fee Elimination
The legislation eliminates the:
1.5% CDC Processing Fee
0.5% Third Party Lender Participation Fee
in debenture pricing for new refinance loans approved through September 30, 2021 (or until the funds are exhausted).
3 Months of Payment Subsidies
New refinance loans approved through September 30, 2021, will receive three months of payment assistance, capped at $9,000 per borrower per month, subject to the availability of funds.
Will it Work for You?
Most for-profit businesses are eligible to receive 504 financing, so long as they average less than $5 million in annual after-tax profits and $15 million in net worth.  Additionally, most national, regional, and community banks participate in the program so you can likely stay with the lender you already use for your business banking.
Whether you're looking to access cash, control overhead expenses, or expand to meet increased demand, the 504 has you covered and can help pave the way forward.  The 10% down payment is low compared to conventional loans. Plus, SBA 504 loans come with some of the lowest interest rates around.
Want to Learn More?
If you run a small to medium sized business in and need financing to buy or construct a building or to purchase machinery/equipment, Growth Corp's team of professionals will work with you directly to provide the best financing strategy for reaching your goal.  Contact any member of our Lending Team today!