With the September 2019 debenture pricing, we are seeing very low interest rates for SBA 504 loans.  Also, SBA 504 effective rates are sharply lower than Prime Rate despite the Federal rate cut in July.  While no one knows where interest rates will go, the fiscal agent, Eagle Compliance, LLC,  has indicated they expect SBA 504 rates to remain relatively low (although subject to corrections) as events in the markets play out.
September 2019 Debenture Pricing
25-YR:  3.46%  |  20-YR:  3.36%  |  10-YR:  3.55%  |  REFI:  +0.04%
The affordability of Small Business Administration (SBA) loans attracts many small businesses that may not otherwise be able to obtain affordable financing.  With the SBA 504 Loan Program, typically, small business borrowers make a 10% down payment, a bank or credit union finances 50% of project costs in the first lien position, and a CDC finances 40% of project cost in the second lien position that is guaranteed by the federal government. This loan program, with 10, 20, and 25-year fixed rate options, is used for commercial fixed assets (land, property, construction, or equipment) with total project costs from approximately $100,000 to approximately $15,000,000.
Many people are asking if these great financing terms will stick around.  The best indicator we have is to look back.  We have compiled a fifteen year rate history (SBA 504 Rate History-Aug19) for 20-year loans that helps visualize the ups and downs.  To see the history of the 25-yr and 10-year as well, please refer to the tabs on our Rates page.
The chart below depicts how the 20-Year and 25-Year interest rates are stacking up to Prime.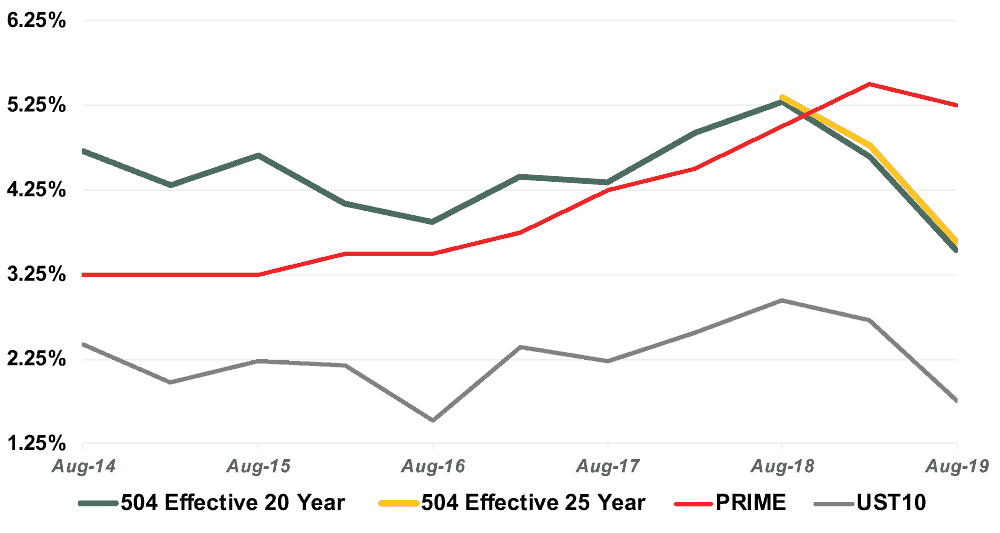 SBA Has Expanded Loan Availability
There is plenty of money available for lending.  In fact, the SBA has recently displayed significant effort in making the 504 Loan Program available to even more businesses.  With higher loan limits, expanded eligibility standards, and a new debt refinance option, more businesses are now able to utilize the 504 than ever before.  Plus, the 504 offers 90% loan-to-cost financing for most commercial real estate projects (inclusive of land, existing building, ground-up construction, furniture, fixtures, equipment, soft costs and closing costs), SBA 504 loans are a very powerful tool, yet they remain under-utilized because many small business owners just aren't aware this financing option exists.  Last year, 504 loans helped fuel just shy of $5 billion in new capital investments for 5,800 businesses throughout the U.S.
For more information:  SBA 504 Expansion Financing
How to Get Started
Contact our team of qualified lenders, who are experts at helping small business owners get approved for SBA 504 loans that can help them compete, grow and succeed.