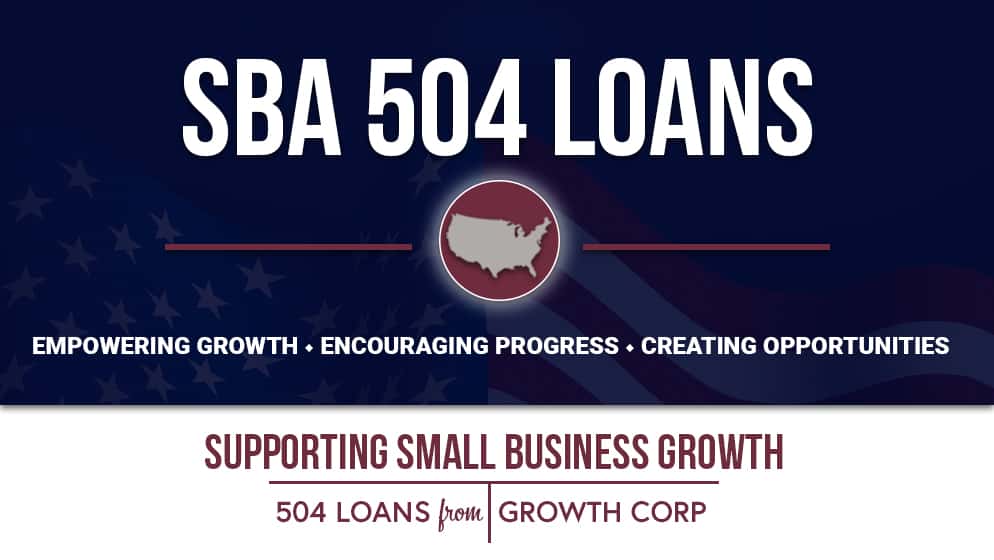 America has over 30 million small business owners. These innovative entrepreneurs are the engine of job creation and economic growth in our country. The U.S. Small Business Administration (SBA) ensures these businesses have the tools and resources necessary for starting and expanding businesses, kick-starting growth and creating good jobs.
One of SBA's top priorities is to get capital flowing to small businesses. SBA's array of loan programs were created to meet the needs of varying markets and entrepreneurs by ensuring access to quality capital on reasonable terms for small businesses.
Many Are Unfamiliar With One of SBA's Best Financing Options
If you are a small business owner, you are probably familiar with the U.S. Small Business Administration (SBA), but, unfortunately, many are unfamiliar with one of its best options for capital.  The SBA established a program over 30 years ago called the 504 Loan Program.  This program works in conjunction with your bank to allow business owners to receive up to 90% financing for the acquisition, construction, improvement or expansion of commercial property or for acquiring heavy machinery or equipment.
While once an under-utilized source of capital, Entrepreneurs are discovering SBA 504 loans are a way to level the playing field when financing an expansion of their business.
With 90% loan-to-cost financing for most commercial real estate projects (inclusive of land, existing building, ground-up construction, furniture, fixtures, equipment, soft costs and closing costs), SBA 504 loans are a very powerful tool for kick-starting growth, yet they remain under-utilized because many small business owners just aren't aware this financing option exists.  Last year, 504 loans helped fuel about $5 billion in new capital investments for 6,200 businesses throughout the U.S.
12 benefits that prove SBA 504 Loans were specifically designed to help businesses expand and prosper
SBA 504 Loans from Growth Corp feature:
Low down payments (10% in most cases)
Low, fixed interest rate on the 504 portion
Long loan terms
The ability to include furniture, fixtures and fees
An option for refinancing commercial debt
Payment stability
Preservation of working capital
Protection from balloon payments
The ability to include leasehold improvements
Up to $5 million for SBA portion of the loan, and no limit on the overall project size
The option of using the 504 Loan Program multiple times to continue expansion
The ability to keep your current bank/lender
Almost All For-Profit Businesses Qualify
The 504 Loan Program is a financing tool for economic growth and development that provides small to medium sized businesses with long-term, fixed rate loans to help them acquire major fixed assets for expansion or modernization.  These loans are most frequently used to acquire land, buildings, machinery or equipment.
The loan itself is a partnership between you, your CDC (such as Growth Corp), and a local bank.  The breakdown typically looks like this:
50% of the project's total cost will come from a conventional lender (your bank). You and your lender will determine the conditions of that loan, including the amount.  This loan is the first mortgage.
40% of the project's total cost will come from a CDC (Growth Corp) with a 10-year or 20-year fixed rate loan guaranteed by SBA. This loan is the second mortgage.
The remaining 10% of the project's total cost will come from you, the borrower. Certain types of facilities are classified as "single-purpose" facilities and may require additional equity, but most projects fall into the 50-40-10 split.
Since 1996, the 504 Loan Program has facilitated over $151 billion in total expansion financing.
Founded in 1992, Growth Corp is the largest provider of SBA 504 commercial real estate financing in Illinois. 
Growth Corp is a non-profit development company certified by the U.S. Small Business Administration (SBA) to originate SBA 504 loans in Illinois and its surrounding areas.  Driven by a passion for helping small businesses grow, Growth Corp is the largest SBA 504 Lender in Illinois and one of the top ten Certified Development Companies in the country.  With a current portfolio in excess of $675 million, Growth Corp has helped thousands of small and medium-sized businesses get the financing they need.
Why Growth Corp?
We know your success depends on having access to expansion capital.  We offer affordable and accessible expansion capital to grow your business.  Our experienced staff takes pride in making a difference in the lives of small business owners and their employees.  Start-ups to seasoned businesses and everything in between can benefit from working with Growth Corp.  Here's why:
We're the #1 SBA 504 Lender in Chicago and Illinois.  Growth Corp also consistently ranks as one of the top ten SBA 504 Lenders nationwide.
SBA recognized Growth Corp as an Accredited Lender after a thorough review of its policies, procedures and prior performance.  The prestigious ALP status grants Growth Corp increased authority to process and close 504 loans, which provides expedited processing of loan approvals and closings.
We simplify the loan approval process.  Our team coordinates the entire process from application through closing, funding and servicing, making it seamless for you and your bank lender.
We are SBA 504 Experts.  Our responsive and educated staff focuses almost exclusively on SBA 504 loans.  We've got the process down to a science!
We've worked with thousands of businesses, spanning various industries.  That means, there's not much we haven't seen.  Your goals, project structure and business type will likely be familiar to us and we'll understand your unique situation.
Our mission is to advocate for small business.  We love our communities and believe small business is the foundation of their economic prosperity.  We will do all we can to support you and your business goals.
If you run a small to medium sized business in and need financing to enhance your existing business or construct/purchase a new building, Growth Corp's team of professionals will work with you directly to provide the best financing strategy for reaching your goal.  Contact any member of our Lending Team today!