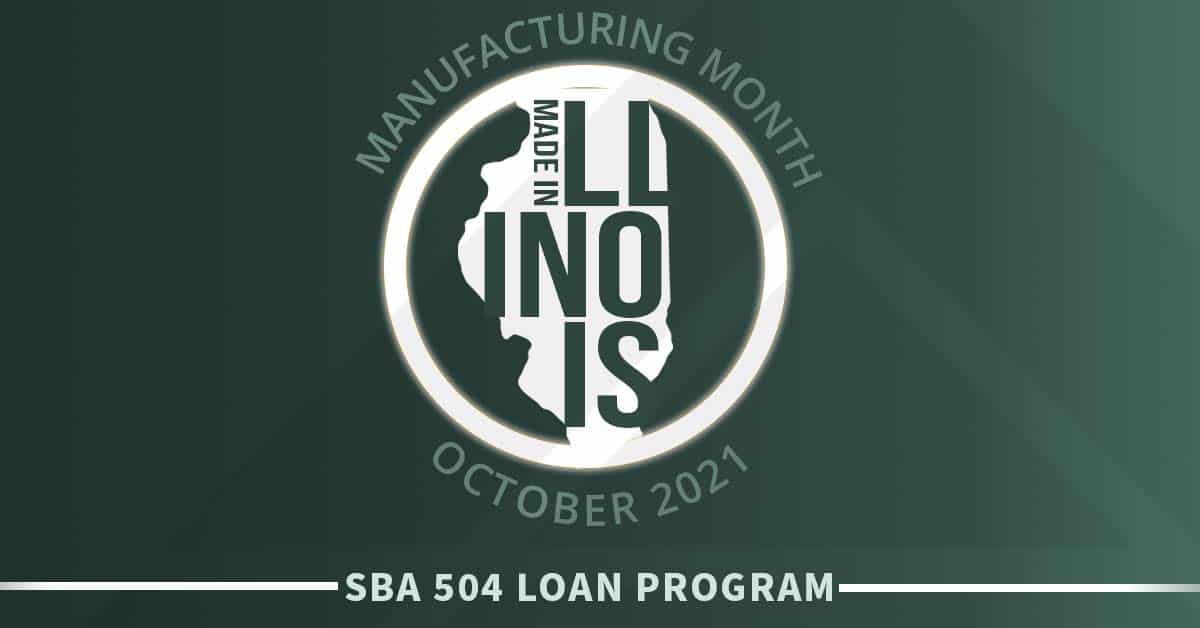 October is Manufacturing Month, which offers the chance for us to celebrate and highlight the manufacturing industry's many contributions to the state and nation.  According to the Illinois Manufacturers' Association, "The manufacturing industry is a powerhouse in our state's economy, contributing more than $304 billion in annual economic output each year and employing more than 550,000 hard working men and women on factory floors in every part of the state. These are good paying, middle-class jobs that help anchor communities and strengthen families."
For years, manufacturing companies looking to grow and expand their operations have found a powerful and supportive ally in the Small Business Administration (SBA). Its SBA 504 loan program is designed to meet the needs of these powerhouses by providing access to attractively priced financing options not available through conventional sources.
Here are three ways the 504 maximizes stability, capacity, and cash flow for manufacturering companies:
Provides Manufacturers with Access to Property Ownership
The SBA 504 loan program is an economic development initiative administered by SBA. This public-private partnership provides a long-term fixed rate lending solution for small business owners to buy, expand or refinance major fixed assets – such as land, commercial real estate, equipment, and machinery. The program requires three key players – a small business borrower, a Certified Development Company (CDC), like Growth Corp, and a third party lender (i.e. bank or credit union).
For a manufacturer looking to purchase their facility, the typical loan structure would involve the third party lender providing 50% of the financing, the CDC providing up to 40% of the financing backed by a 100% SBA-guaranteed debenture, and the applicant putting down 10% as equity. These borrower-friendly terms provide manufacturers a pathway to ownership and growth:
Low down payment – up to 90% financing for established businesses
Below-market interest rates – lower and more affordable monthly mortgage payments, freeing up capital reinvest in the business (rates currently among the lowest in program history!)
Long-term rates 10, 20, or 25 year fixed – no future balloon payments to worry about
An additional benefit for manufacturers is that the maximum SBA loan amount per project (debenture) is $5.5 million as opposed to $5 million for all other industries.
Provides Manufacturers with Flexibility to Expand and Customize
Building ownership is just the start of the SBA 504 loan. The structure of the program allows borrowers to not only purchase commercial real estate, but to make critical updates that allow manufacturers to meet new demand. 504 loans funds can be used for:
Expansion, construction, and renovation of a new or existing facility – personalized for optimum efficiency, safety, and flexibility to grow
Heavy fixed equipment to expand capacity and streamline operations
Upgrades and modernizations to reduce energy use or offset that consumption through the use of renewable energy
Provides Manufacturers with Access to Existing Equity
For manufacturer business owners who already purchased their facility with a conventional loan (mortgage must be at least two years old), the SBA 504 Refinance Loan is a great option to save and improve cash flow. In addition to the lower monthly mortgage payments, fixed 20- or 25-year low interest rate, and payment predictability of the 504 Loan Program, Refinance loans allow you to take cash out for eligible expenses. The cash out piece ranges up to 20% of the appraised value of the property. Eligible expenses for cash out funds include:
Salaries (non-owners)
Rent
Utilities
Inventory
Business line of credit and business credit card debts
Manufacturers See Significant Benefits from SBA 504 Loans
Manufacturing firms actually stand to gain quite a bit with 504 loans.
Long loan terms of 20- or 25-years for real estate and 10 years for equipment.
Low, fixed interest rates for the life of the 504 loan
Manufacturers may be eligible for up to $5.5 million per project on the SBA second mortgage portion of the loan.  There is no limit overall on project size.
There is no limit on the number of SBA 504 loan projects allowed to manufacturers so long as the aggregate amount is below $16.5 million.  So, a growing, small manufacturer could use the program to purchase a new facility, finance various pieces of new equipment and open an additional facility.  Funds for small manufacturing projects are not limited by SBA's lending limits of $5 million per borrower.
SBA financing is total project cost financing.  This means it includes land, construction/renovations, equipment, furniture/fixtures, soft costs and closing costs.  Financing total project costs is a clear advantage as it allows borrowers to preserve capital and use it to grow their business in other ways.
SBA 504 Loan Restrictions
While SBA 504 loans do have some incredible benefits, there are also certain restrictions on how these funds can be used. For instance, you cannot lease equipment with the loan, you can only purchase it. You also cannot use the funds as working capital. Other loans can be used for this purpose if necessary.
The Bottom Line
An SBA 504 loan is one of the first types of financing you should consider if you plan to purchase commercial real estate or long-term equipment.  The low interest rates, long repayment terms and low-down payment requirements takes the pressure off business cash flow and instead preserves it for working capital.
About Growth Corp
Small Business Growth Corporation (Growth Corp) is a nonprofit, mission-based lender dedicated exclusively to connecting small businesses with quality expansion capital through administration of the SBA 504 Loan Program. With a commitment to economic development, job creation and the small business sector, Growth Corp is ranked a Top 10 National CDC for SBA 504 loan volume and is Illinois' largest 504 loan provider.  In fact, Growth Corp's substantial portfolio ($740+ million) is particularly impressive because every dollar was utilized by Midwest entrepreneurs to open and expand their small businesses.  Contact any member of our lending team today!