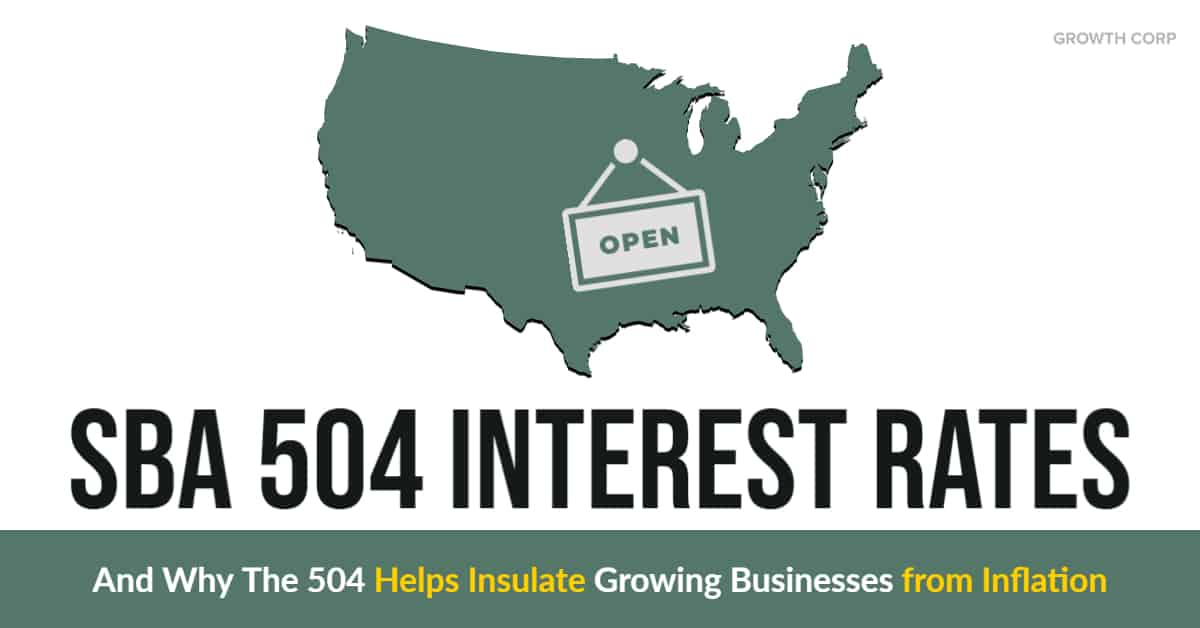 With so much talk recently about interest rates and inflation, let's take a moment to address some frequently asked questions about how SBA 504 interest rates are determined and why they can help insulate small business owners from inflation.
Created over 30 years ago, the Small Business Administration (SBA) 504 Loan Program is an economic development tool that provides small businesses with long-term, fixed rate financing.  These loans are most frequently used to acquire land, buildings and/or equipment; to construct, expand and/or renovate buildings; or to refinance commercial mortgages.  A 504 loan can be a 10-, 20- or 25-year term, which is beneficial for small business owners.  Pairing the fixed rate aspect with these term lengths gives small business owners stability, allowing them to budget and manage cash flow without concerns about rising rates or balloon payments.
How are 504 Loans Structured?
504 Loans typically offer 90% financing, with some variances for start-ups or special-use properties.
50% of the total project costs come from a financial institution, usually a bank, and the bank gets first lien position on the assets.
40% of the total project costs come from the SBA 504 Loan Program via a Certified Development Company (i.e. Growth Corp). The 504 loan is backed by a 100 percent SBA-guaranteed debenture and the CDC gets second lien position behind the bank.
10% of the total project costs come from the borrower's down payment.
The bank's portion of the financing is offered with either a fixed or variable rate and is typically amortized over a minimum of seven years. Bank rate, term, and fees are negotiable between the borrower and the bank. The interest rates on the bank's portion of the loan are not set by SBA. However, because the bank gets first lien position and receives an SBA guarantee on approximately 40% of the loan, the bank's rates tend to be lower than with conventional commercial loans. It's important to note…SBA does not provide a loan guarantee for the bank-funded portion of the financing.
The CDC's portion of the financing comes with a fixed rate and a term of either 20 or 25 years for real estate and 10 years for equipment. The interest rate for this portion is determined when SBA sells the debenture to Wall Street investors to fund the loan.
Where Does the Money for 504 Loans Come From?
Despite a lot of misconceptions, 504 Loans do not actually come directly from the SBA. Instead, private investors—usually institutional investors such as pension funds, insurance companies, and large banks—buy your loan from the CDC in a monthly sale of SBA 504 loan debt. That debt is a debenture. Here's how it works: first, a Certified Developmment Company (CDC), such as Growth Corp, helps prepare your loan application and submits it to SBA for approval. Once approved, the loan is administered by your CDC, guaranteed by the SBA, and, after completion of your project, is pooled and sold on Wall Street to investors. The federal guarantee is a big selling point for the investors buying these debentures, since it makes the arrangement very safe for them—the loans have the "full faith and credit" of the U.S. government behind them.
The investors receive interest on the debt semi-annually, which comes from the interest you pay on your loan. The size of the interest the investors receive is the debenture rate. The debenture rate in April 2022 was 3.38% for 20-year debentures. Investors also like 504 loan debentures because they pay a high rate by the standards of fixed-yield investments…higher than U.S. Treasury bonds but with the same level of safety. Also, their rate hardly varies, and this predictability is another plus.
When Are SBA 504 Interest Rates Determined?
The exact interest rate on your loan is determined only after it has been funded…that is, after the sale of the debenture. While this may not immediately make sense, there is actually a simple reason for it…no one knows what the exact debenture rate will be until the sale actually takes place. The process of figuring this out goes like this:
The SBA has contracts with major financial institutions to handle the technical aspects of the loan process. The first of these is called the fiscal agent. Eagle Compliance is responsible for the marketing, pricing and sale of the debentures sold to investors to fund the SBA 504 Loan Program. Representing borrowers' interests, it reaches an agreement with the Underwriters on the sale price of the debentures, which will be expressed as an increment over the rate for Treasury bills. This is when the rate of your loan is determined.
Then, the Underwriter pays for the debentures with funds from investors. Those funds go to Wells Fargo Corporate Trust Services, as agent for Guidehouse, which is the central servicing agent. They do the accounting and processing of all 504 loan payments. You'll make your 504 loan payments to them. (Wells Fargo does not provide services directly to borrowers, so questions about your loan should always be addressed to your CDC's servicing department.)
In April 2022, the bonds that were pooled to fund the 20-year 504 loans were sold to investors at 3.38%, resulting in an effective rate (fees included) of 4.62%, locked in for the 20-year lifespan of the 504 loan.
Keep in mind, the monthly interest rate for 504 loans is the same nationwide. All CDC's, and all 504 borrowers with loans funding in a given month, receive the same effective rate.
Keep in mind, the monthly interest rate for 504 loans is the same nationwide. All CDC's, and all 504 borrowers with loans funding in a given month, receive the same effective rate.
Is It One Monthly Payment or Two?
Borrowers make two monthly loan payments, one to the bank and one to the Central Servicing Agent.
Is Interim Financing Necessary?
Usually, yes, because there is often a delay between the closing and the funding of an SBA 504 loan. Since the 504 loan is funded through a bond sale after the closing has taken place, the documentation of project completion must first be sent to the SBA District Office for submission in the next available bond pool. Based on the date of closing and the submission schedule of the District Office, the time period could be as little as 5 weeks or up to two or three months, especially for 10-year 504 loans that only have bond sales every-other month.
In most cases, the bank involved in the project provides an interim loan and handles the disbursement of those funds for the project. The bank also typically waits until the SBA has approved the 504 loan and issues a Debenture Authorization before they close on their interim loan. With the bank covering the interim financing until the SBA 504 loan funds, they could be looking at up to a 90% loan-to-value (for 50/40/10 structures). While the interim loan can have additional collateral tied to it to protect the bank, some banks might not want to have that high of an exposure even on a short-term basis. In those cases, there are national non-bank lenders that specialize in providing the interim financing for a 504 loan. While that ultimately might cost the borrower additional money for fees and higher interim interest rates, it is an alternative option.
Once the 504 loan funds, the money is wired to the bank (or non-bank interim lender) to pay off the principal amount of the interim loan. The length of the interim financing depends on the nature of the project. Turnkey projects typically involve the shortest interim financing period. However, for ground-up construction projects, that interim financing period could last up to a year or even more.
Does the 504 Work Well for Small Business Owners?
Yes! The system has been in place for more than 30 years and is finely tuned to create value for all those involved: investors have access to an attractive investment instrument, the SBA accomplishes their goals of providing funding and creating prosperity for small business and, best of all, borrowers get to grow their business thanks to easily accessible and affordable financing. Thousands of small businesses have taken advantage of the SBA 504 Loan Program, correlating to billions of dollars.
How Does the 504 Loan Program Help Insulate Business Owners from Inflation?
It's no secret that when interest rates rise, banks charge more for business loans.  Therefore, small businesses will likely flood to the SBA 504 loan program to either refinance their variable rate loans or to lock in today's low, long-term fixed rate as a smart way to finance their expansion plans.  The 504 offers a great opportunity for fixing occupancy costs well into the future.  Here's how:
Long-term Fixed Rates – one of the biggest benefits of an SBA 504 loan are the low, fixed interest rates and long loan terms. Since the loan is government-backed, the rates and fees on an SBA 504 loan are a lot lower than what you're likely to find with a conventional loan.  What this really means for you as the borrower is that through the SBA 504 program, you secure long-term, fixed-interest rates that are extremely competitive (often at or below prime). When you factor in the longer repayment terms (up to 25 years) and the reduced owner-equity requirement (usually 10% for SBA 504), it's hard to find a better option anywhere.
Low Down Payment Requirements – For businesses looking to protect their cash flow, or facing tighter cash flow because of higher interest rates, the SBA 504 offers another advantage.  Down payments as low as ten percent.  This amounts to huge cash savings as most conventional loans require 20%, or even up to 35%, down.
No Balloon Payments or Call Provisions – A balloon loan mortgage, common in commercial real estate, is usually a short mortgage that requires a large one-time payment at the end of the term.  This can mean your payments are lower in the years before the balloon payment comes due, but you will either owe a lump sum at the end or be required to refinance the balance.  This can lead to another round of building appraisals and credit approvals to endure.  However, unlike conventional commercial real estate loans, a 504 Loan has no balloon payments.  Call provisions are similar to balloon payments in that, with a conventional loan, you may be required to maintain a specific debt-service coverage ratio as a way for lenders to lower their risk.  If you fail to meet that provision, the bank can "call in" your loan.  This means you would either have to pay off the balance, or refinance it.  The SBA 504 Loan Program has no covenants or call provisions either.  What you get is a long-term, fixed rate loan offering secure, predictable monthly payments for the life of the loan.
Closing Costs, Soft Costs, and Other Fees Can Be Rolled In –

All loans come with closing costs, which include appraisals, loan origination fees, etc.  These expenses can add up quickly.  Conventional financing typically requires all closing costs to be paid upfront, but SBA 504 loans allow you to roll them into the loan, thus preserving your cash. Not to mention, if you are expanding your business, the cost of equipment, furniture and fixtures, parking lots, architectural fees, etc. can also be rolled into the loan, saving you even more.
What Can a 504 Loan Be Used For?
Acquisition of real estate (land and buildings)
Acquisition of equipment
Construction and renovation costs
Soft costs – the ability to include furniture, fixtures, and fees
Refinancing conventional loans
There is no limit to the total project cost with a 504 Loan. The SBA portion (40 percent of the total project cost) is capped at $5,000,000 or $5,500,000 for manufacturing projects or projects that implement green efficiencies.
Sometimes it takes a big investment of resources to jump start growth for a small business. Maybe there's special equipment that could increase productivity.  Or, a building next door that would make a perfect addition to an existing shop. Or, maybe an existing facility needs a serious face-lift.  In each of these cases, an SBA 504 loan could be the perfect business financing solution.  These loans are available to for-profit businesses to purchase real estate, equipment, and machinery. They can also be used to refinance existing commercial mortgage debt or to remodel existing facilities. SBA 504 loans are very business-friendly, requiring a down payment of typically just 10% and offering 10- to 25-year terms with low, fixed interest rates.
If you are interested in a loan, or have questions about it, don't hesitate to contact Growth Corp. Growth Corp's 504 loan experts will be happy to answer all of your questions, as well as to help guide you through the 504 loan process. Growth Corp has been a high-volume 504 loan provider for over 25 years and is an Accredited Lender with SBA.