But there's a solution!  Whether you're just opening your first practice, or are ready to open a second, third or even tenth medical office, the SBA 504 Loan Program is ideally suited to help you.  "SBA 504 loans are a great tool for medical professionals," said Doug Kinley, President of Small Business Growth Corporation (Growth Corp).  "We've worked with countless medical and healthcare businesses in our 30 years as a Certified Development Company.  It works for them because, in contrast to conventional financing, the 504 offers attractive financing terms and down-payments as low as ten percent."
Why SBA 504 Loans Are Perfect for Buying or Expanding Medical Practices
Consider this:
SBA 504 loans can finance any hard asset, such as the purchase of real estate, purchase of land, construction of a new building, purchase and renovation of an existing building and/or the purchase of new equipment.  Plus, as long as there is owner-occupied commercial real estate, the loan can include total project costs, such as:  appraisals, architectural costs, surveys, furniture, office equipment, phones, security systems, landscaping, parking lots, signage, etc.  Basically anything involved in the real estate.  Takeaway:  financing total project costs reduces upfront, out-of-pocket expenses and allows medical professionals to preserve their cash.
504 loans can offer 90 percent loan-to-cost financing. While conventional loans typically require a 20-30 percent down-payment, the 504 typically finances 90% of the total project costs, including the land, construction/renovations, soft costs and closing costs.  Takeaway:  90% financing is a clear advantage as the medical professional is able to preserve capital and use it to grow their practice in other ways.
The SBA 504 Loan Program provides low, long-term interest rates. The historical five-year average interest rate for 504 loans is 4.46%.  The low rates are then fixed for 20-years for real estate purchases or 10-years for new equipment.  Takeaway:  The long loan amortizations allow for smaller monthly payments thereby minimizing the impact on business cash flow.
The low, fixed interest rates being offered by the SBA 504 Loan Program for a building purchase can help medical professionals, by a wide margin, to beat the high lease rates and unpredictability offered by today's leasing market.
Top 4 Reasons To Buy or Construct a Building
There are many reasons you should consider buying or constructing a building for your business, but here are the top four:
Equity: with every monthly payment, you are building equity rather than putting money in your landlord's pocket
Tax Benefits: There are tax benefits to owning in every state.  Please do consult your tax professional for more specific tax benefits.
Stability: Gain peace of mind knowing what your occupancy costs will be for 25 years.
Preserves Cash:  in many cases, the monthly payment to own your business's building is less than renting. Small business owners can use the additional working capital that resulted from buying a building for their business for other things that can help grow their company like to buy inventory, hire new employees, equipment financing, or invest in other strategies to grow or improve the business.
The SBA 504 Program was designed to make building ownership possible for small business owners by pairing it with the best terms on the market. It is the most affordable way to purchase a building.  Plus, when the SBA 504 Program is utilized for a building purchase or new construction, mortgage payments are often comparable to rent payments.
Consider a 504
A Small Business Administration 504 loan is a sound option for medical offices looking to purchase a building for their business. Whether you're expanding to a new location or would prefer to own rather than lease, the 504 loan can offer unbeatable terms.
Highlights of the SBA 504 loan include:
Low down payment: Paying only 10% of the purchase price allows business owners to conserve working capital.
Low, long-term fixed interest rate:  A fixed-rate loan fully amortized over 25 years means your monthly payment stays the same, and there is no balloon payment at the end of the term.
No additional collateral: The only collateral required is the subject property.
No loan limit: You can think big.
Support: Business owners who utilize the SBA 504 program get ongoing support from a certified development company. The CDC guides business owners through the loan process, helps with the paperwork and application, and is a partner through the life of the loan.
Versatility: While the SBA 504 loan is most commonly used for real estate, it also can be used to renovate existing facilities, purchase equipment with a service life of 10 years and refinance commercial real estate debt.  It also includes total project costs, so fees, furniture, and fixtures can be included as well.
SBA 504 Loan Structure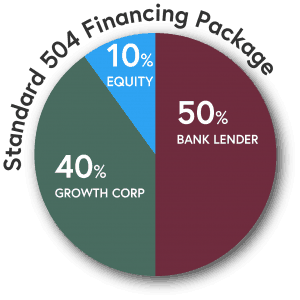 Typical structures for the 504 Loan Program involve a partnership between a non-profit CDC (such as Growth Corp), a participating bank, credit union or other lending institution and the borrower.
40% of the total project cost is provided by a non-profit CDC
50% of the total project cost is provided by a participating lender (typically a bank)
10% of the total project cost is provided by the applicant small business borrower
Who Qualifies?
Whether you're just opening your own medical practice, or are ready to open a second, third or even tenth office, we're here to help.  We've worked with thousands of professionals just like you and we understand the expenses that go into purchasing and furnishing high-end professional offices.  Many different types of professionals utilize the 504, such as:
Doctor's Offices
Veterinarian Offices
Dentists
Attorneys
Accountants
Chiropractors
Architects
Graphic Designers
Physical Therapists
Growth Corp is a Partner to Community Banks
We know the focus of community banks is supporting the community and entrepreneurial sector.  And so is ours!  The 504 Loan Program is a partnership with community banks that offers many benefits:
Banks reduces their risk to 50%
Banks gets first lien position on a 504 loan structure
When clients are struggling with pending balloons, Growth Corp's 504 offers refinancing options
Banks can offer their clients a low, fixed rate product with a long loan term
SBA lending helps Banks fulfill CRA, Rural and Public Policy goals
Remember, SBA 504 Loans are offered in conjunction with local banks…not in competition with them.
Learn More
If you're a medical professional with dreams of purchasing or expanding your medical practice, discuss the SBA 504 Loan Program with your local financial institution or the experts at Growth Corp.  What you're able to achieve with the assistance of the SBA 504 Loan Program may just surprise you!