To contact SBA directly about Disaster Assistance Programs, call 800-659-2955 or email disastercustomerservice@sba.gov
Are you an Existing 504 Borrower?
If you have questions or concerns about how this may impact your SBA 504 Loan, feel free to reach out to our Servicing Team at 217-241-3000 or contact:

Randy Neumann | 217-241-3636 | neumann@growthcorp.com
Becky Minett | 217-241-4638 | minett@growthcorp.com
Braden Pope | 217-241-3635 | pope@growthcorp.com
The Economic Injury Disaster Loan Program is a direct loan from the U.S. Treasury and applications are submitted directly to SBA at:  https://covid19relief.sba.gov/#/  
The Paycheck Protection Program is administered by lending institutions (banks, credit unions, etc.) and applications are submitted directly through the lender of your choice.  Find a lender here.
For more information about these, and other federal disaster assistance, go to SBA's website, call 1-800-659-2955, or email SBA directly at:
disastercustomerservice@sba.gov
federal disaster assistance options
The deadline to apply for the Paycheck Protection Program was August 8, 2020.
The Paycheck Protection Program (PPP) is a special 100% guaranteed 7(a) loan program that will provide cash-flow assistance to employers who maintain their payroll during this emergency.  Program Details:
SBA approved banks will administer the program.  Contact your local lender for more details and to see if they will be participating.
Funds can be used for payroll costs, including salaries and wages, benefits, state and local taxes, mortgage interest, rent and utilities, etc.
Forgiveness may be available for up to 8 weeks of payroll based on employee retention and salary levels
The amount of PPP loan that is forgiven is not taxable for Federal income tax purposes
Borrowers can apply for both EIDL loans/grants and PPP loans, but the use of funds cannot be for the same purpose.
For additional details, check out these Frequenty Asked Questions (PPP)
Go to SBA's dedicated webpage:  Paycheck Protection Program.
Eligible businesses that have suffered substantial economic injury as a result of Coronavirus (COVID-19) can apply for up to $2 million in low-interest Economic Injury Disaster Loans.
Program Details:
This loan comes directly from the U.S. Treasury.  Applicants do not go through a bank or DCD to apply, but instead apply directly to SBA.   https://covid19relief.sba.gov/#/
Funds can be used for fixed debts, payroll, accounts payable and other bills that could have been paid had the disaster not occured.
Interest rates for this disaster are 3.75% for small businesses and 2.75% for nonprofits with terms up to 30 years.
There is no obligation to take the loan if offered and no cost to apply
The CARES Act, provides the opportunity to get up to a $10,000 Advance on an Economic Injury Disaster Loan (EIDL). This Advance may be available even if your EIDL application was declined or is still pending and will be forgiven.
The turnaround time is unknown at this point.  In the past, SBA tried to process submitted applications within two weeks.  However, that was in response to disasters confined to a specific geographic location, such as a county or state.  With the entire country affected by this crisis, it is unknown what the turnround time will be for submitted EIDL applications.
SBA's Debt Relief Program will provide immediate relief to small businesses with non-disaster SBA loans, in particular 7(a), 504, and microloans. Under it, SBA will cover all loan payments on these SBA loans, including principal, interest, and fees, for six months.
Program Details:
The six months of debt relief is not a loan or a deferment.  The payments will be forgiven.
You do not have to apply for this…it is automatic.
SBA will pay the principal, interest and any associated fees that are owed on a 504 loan in good standing (in regular servicing status) for the 6-month period beginning April 1, 2020.
For 504 Loans, the debt relief only applies to the 504 portion of the financing.  The first mortgage loan is through a bank, so borrowers should contact their lender if they need assistance with the first mortgage.
The Express Bridge Pilot Program allows SBA Express Lenders authority to deliver expedited SBA-guaranteed financing on an emergency basis for disaster-related purposes.
Program Details:
If you, like many small business owners, need a business counselor to help guide you through this uncertain time, you can turn to your local Small Business Development Center (SBDC), Women's Business Center (WBC), or SCORE mentorship chapter.
Program Details:
To find a local resource partner, click here.
Counseling is free and training is low-cost.  Mentorship through SBDC's and SCORE is always free.
In addition, the Minority Business Development Agency's Business Centers (MBDCs), which serve minority business enterprises of all sizes, will also receive funding to hire staff and provide programming to help their clients respond to COVID-19. Not every state has a MBDC. To find out if there is one that services your area, visit this site.
Illinois Disaster Assistance options
(September 15, 2020) – Governor Pritzker announced the latest in a series of grants made available for small businesses in Illinois suffering losses as a result of the ongoing COVID-19 pandemic as well as communities impacted by recent civil unrest. 
A $220 million second round of BIG aims to provide relief for all types of small businesses, but with a particular focus on businesses downstate, in disproportionately impacted areas (DIAs), and for heavily impacted industry and regions – representing businesses that have been unable to reopen or operating at a severely diminished capacity since the spring.  Applications for the second round of Business Interruption Grants (BIG) will be available September 17, 2020, through the Illinois Department of Commerce and Economic Opportunity (DCEO).
The Illinois Department of Commerce & Economic Opportunity (DCEO) is also working with partners to launch emergency assistance programs for Illinois small businesses.  Read more about those initiatives.
MAKING THE BEST OF DIFFICULT TIMES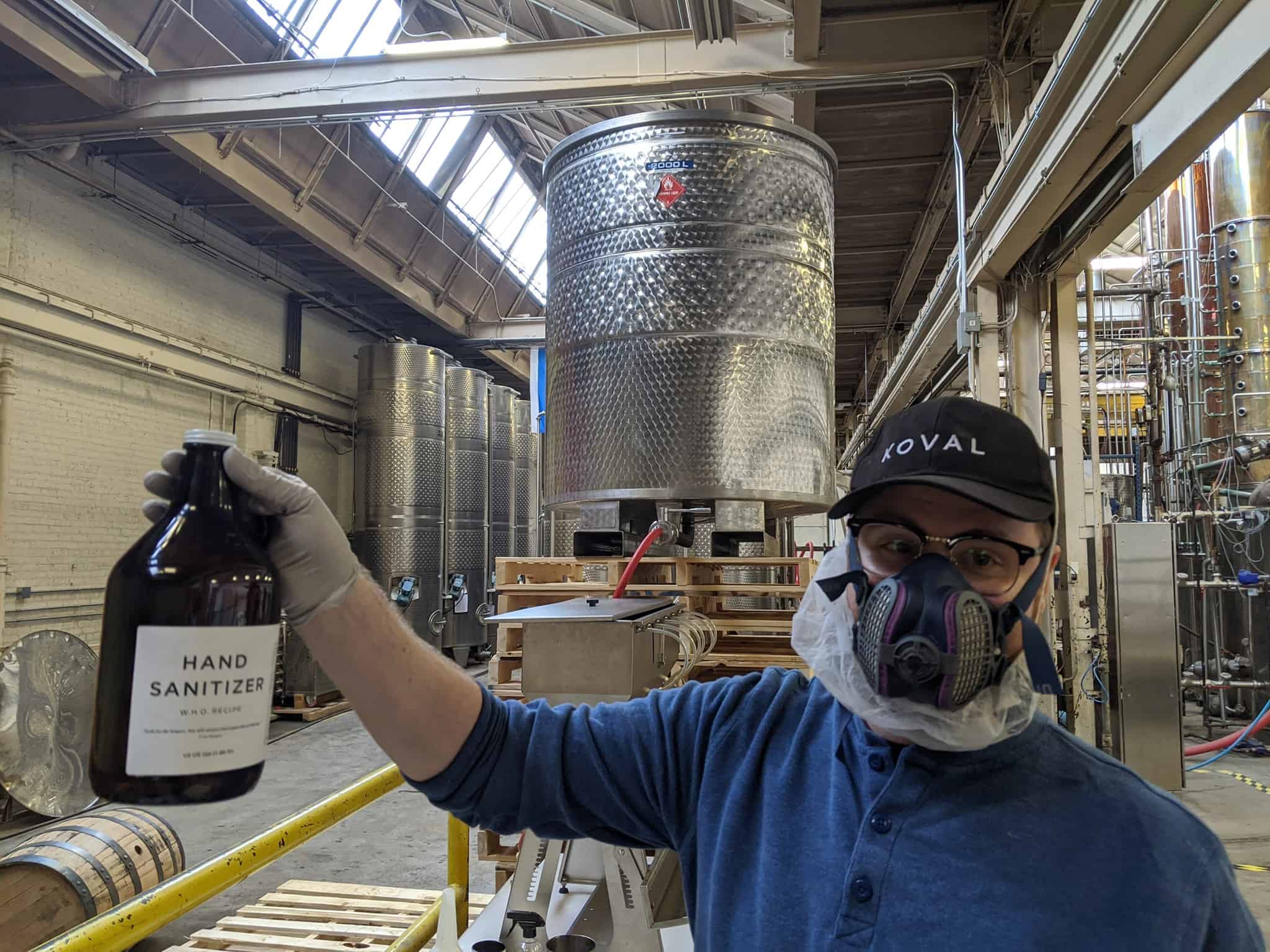 Chicago, IL
Koval Distillery refocused their production away from whiskey to making hand sanitizer for the medical community, retirement homes and those on the front lines. They've already provided over 2,000 gallons.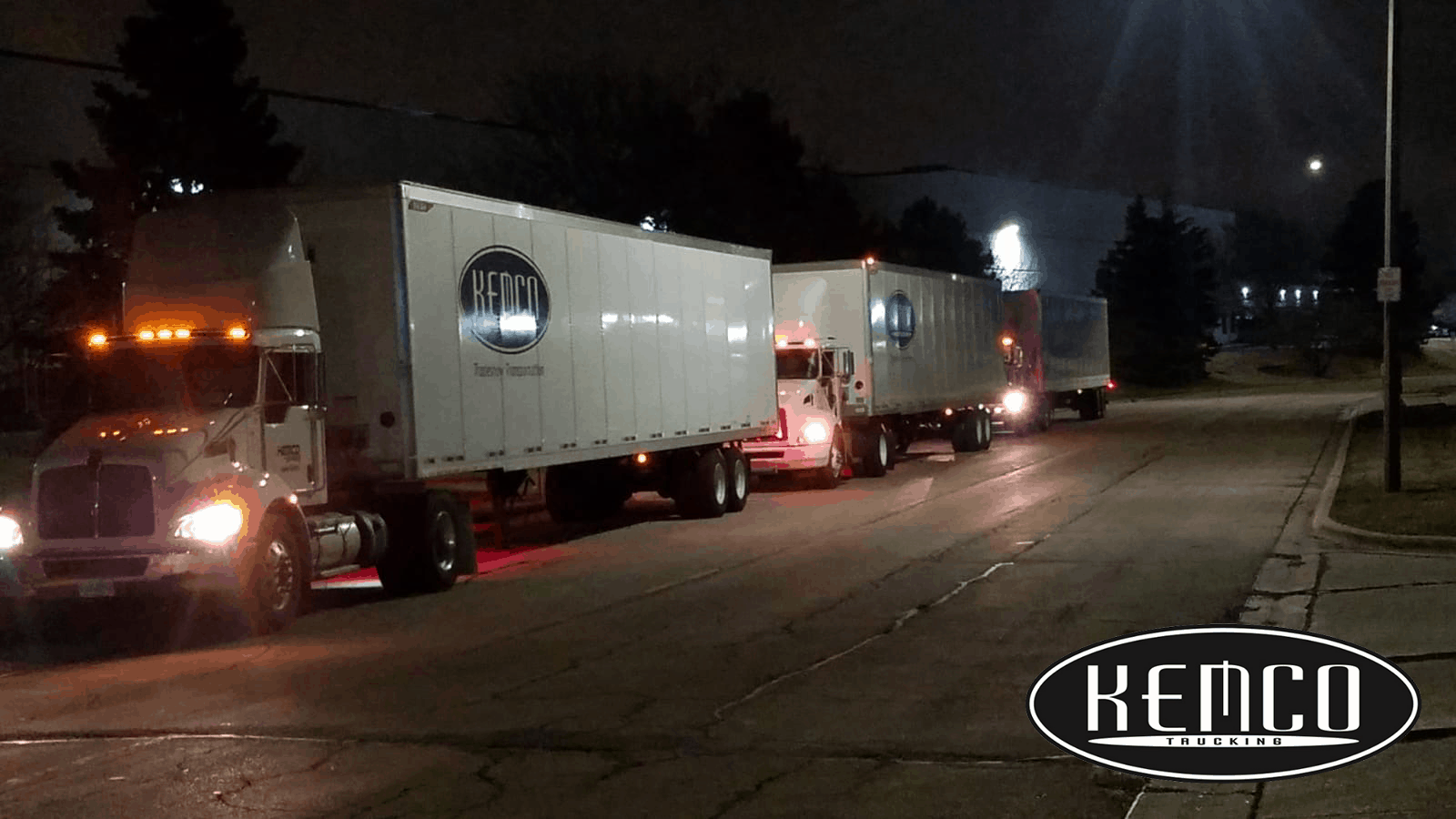 Elk Grove Village, IL
Kemco is helping to transport COVID-19 supplies.  The company even transported much needed supplies provided by the National Guard to McCormick Place's make-shift hospital.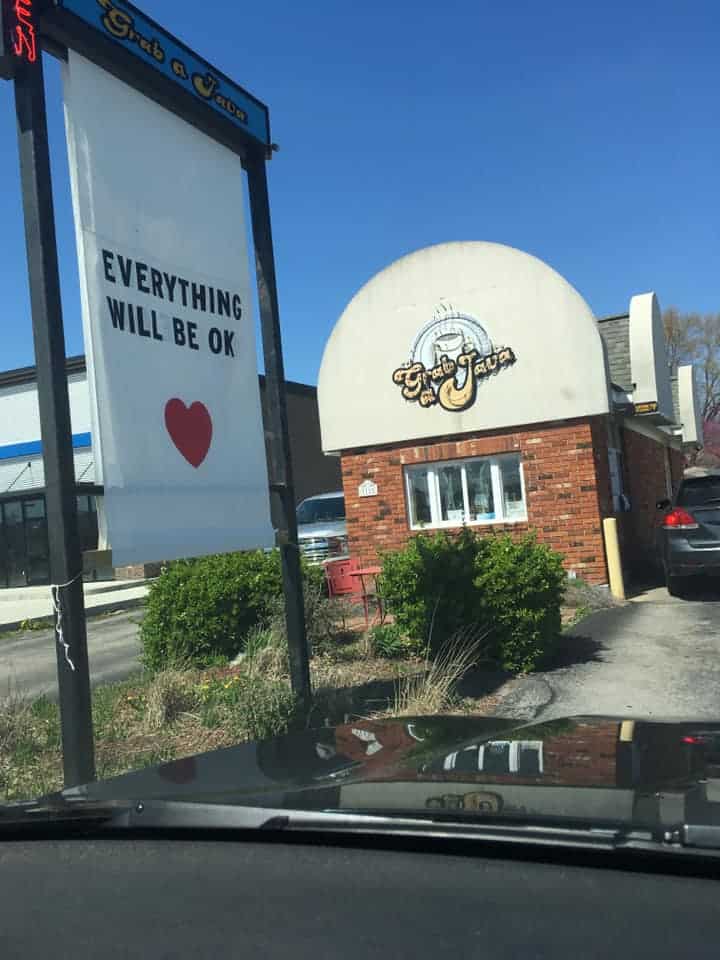 Grab-a-Java is reminding us that "Everything Will Be Ok"
Springfield, IL
Grab-a-Java, a local coffee shop with two locations in Springfield, is using art to remind everyone "everything will be ok".  In addition, the coffee shop is staying open to keep all the essential workers fueled and doing all they can to protect their customers and employees from the spread of COVID-19.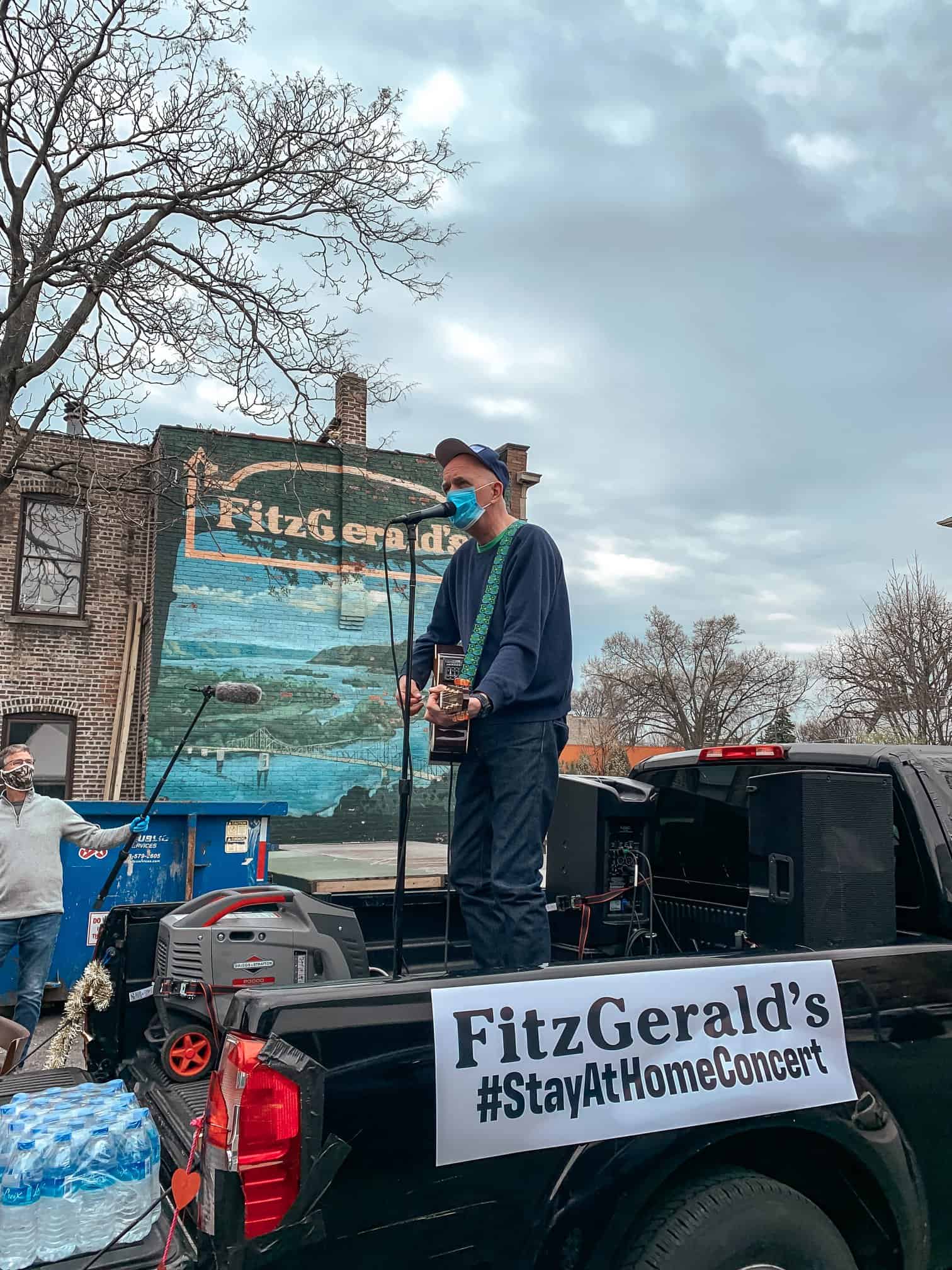 Berwyn, IL
Since Fitzgerald's is closed, they are holding a series of "Stay At Home Concerts", during which an artist rides around in a pickup truck throughout the neighborhoods performing music and taking song requests.  This is also available as a live stream and they are accepting donations for their staff via Venmo.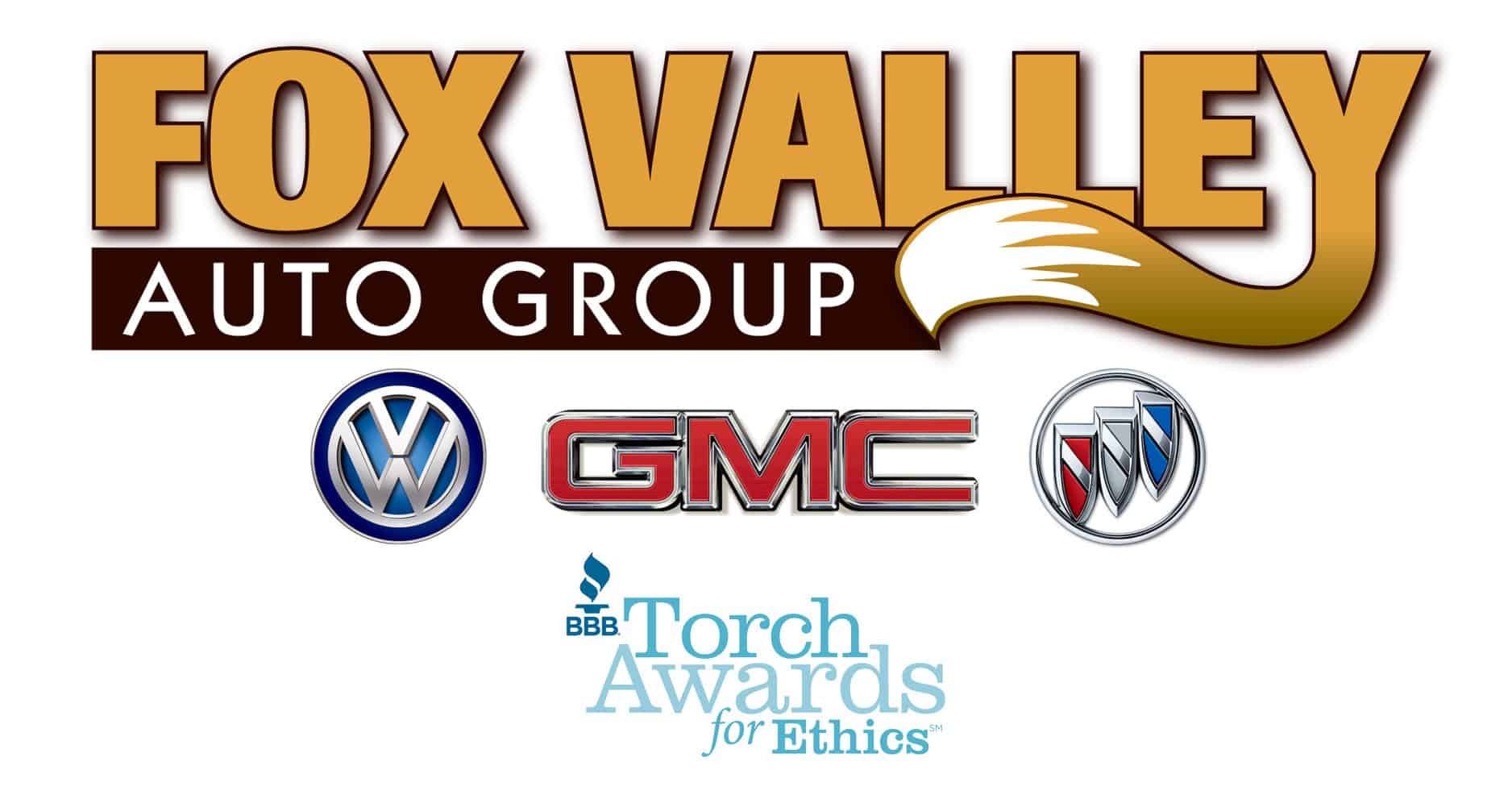 St. Charles, IL
Fox Valley Auto Group stepped up during this pandemic by providing their loaner vehicles as a form of free, safe and reliable transportation for health care workers on the frontline.  They completely sanitized the cars and provided a full tank of gas so health care workers can use them at no charge.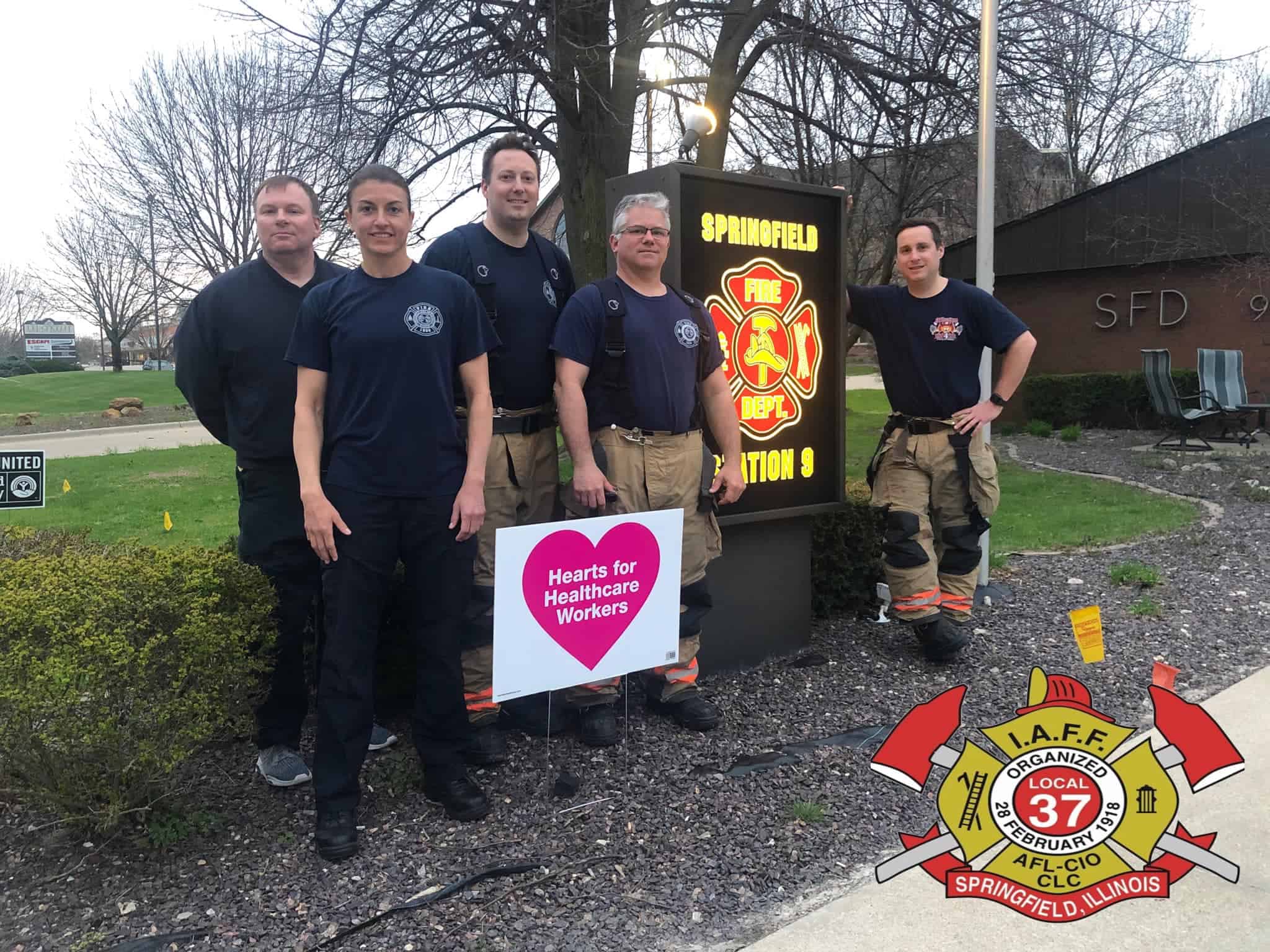 Springfield, IL
Ace Sign Co.'s mission to not only show their support through an inspiring community-wide display of signs, but to also provide funds to the foundations that represent those hospitals on the front lines of the current pandemic facing America.
Growth Corp and SBA 504 Lending
SBA Loans continue to be available and no disruption in lending is expected.  Growth Corp is open for business and we do not foresee any interruptions in service.  However, we have asked our staff to limit face-to-face meetings.  Email and virtual meetings will be utilized as much as possible during these uncertain times.
Concerns/Questions About Your Existing 504 Loan
If you have questions or concerns about how this may impact your SBA 504 Loan, feel free to reach out to Growth Corp's Servicing Team at 217-241-3000 or contact any member of our Servicing Team:
Randy Neumann | 217-241-3636 | neumann@growthcorp.com
Becky Minett | 217-241-4638 | minett@growthcorp.com
Braden Pope | 217-241-3635 | pope@growthcorp.com
WOULD AN SBA 504 REFINANCE LOAN HELP ME?
Possibly.  Instead of borrowing additional money through government loan programs, it might be beneficial to tap into equity you already have. Interest rates are at historic lows right now. Add to that six months of debt relief, and this may be a great time to refinance using an SBA 504 Loan.  Consider this:
Cash-out Refinance – Eligible borrowers can obtain up to 20% of the appraised value on their assets to use towards future operating expenses (cash-out). The maximum loan-to-value for this option in 85% of the borrower's real estate and equipment based on acceptable appraisals.
Consolidate Debt – Borrowers can often consolidate total debt obligations at a lower overall interest rate. Not only can this ease the burden of having loan obligations to several different lenders, it can also improve the borrower's monthly debt service requirements.
Extended Maturity Dates – SBA 504 Refinancing offers terms up to 25 years and rates fixed for the life of the loan. Converting short-term debt into long-term financing can materially improve cash-flow.
No Out of Pocket Expenses – SBA 504 Refinancing allows borrowers to roll the ordinary closing costs and expenses into the loan.
NOTE: To be eligible for a 504 Refinance, the debt to be refinanced must have been for commercial real estate or equipment, be at least 24 months old and not be a government loan.
Benefits
The borrower's equity in the collateral often fulfills the down payment requirement
Low, fixed interest rate on 504
Long loan term – up to 25 years
Access cash in the building
Payment stability
Protection from balloon payments
Up to $5 million for SBA portion of loan, no limit on overall project size
Keep your lender or allow us to match you with one of our lending partners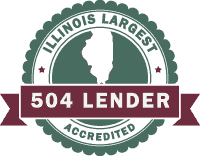 $1.3B Refinanced since 2017
Thousands of businesses have utilized a 504 Refi
Growth Corp is the Top 504 Refi Lender in the U.S.
Our

mission

is to advocate for

small businesses

.
We love our communities and believe small business is the foundation of their economic prosperity.  We will do all we can to support you and your business goals.  Start-ups to seasoned businesses and everything in between can benefit from working with Growth Corp.  Here's why:
We Are An Industry Leader
We're the #1 SBA 504 Lender in Chicago and Illinois.  Growth Corp also consistently ranks as one of the top ten SBA 504 Lenders nationwide.
In Business Since 1992
We've assisted thousands of businesses spanning various industries.  In fact, our portfolio is currently in excess of $675 million.
Trusted by the U.S. SBA
SBA recognized Growth Corp as an Accredited Lender after a thorough review of its policies, procedures and prior performance.

How Will You Grow Your Business?