Current Interest Rates: 25-Yr: 2.88% | 20-Yr: 2.80% | 10-Yr: 2.84% | Refi: +0.0015%
Interest Rate History
We understand your concerns amid these ever-changing circumstances…but you are not alone.  Disaster assistance is available for small businesses facing financial hardship due to COVID-19. 
Paycheck Protection Program Update – On March 31, 2020, SBA released guidance about the Paycheck Protection Program,  an SBA loan that helps businesses keep their workforce employed during the Coronavirus (COVID-19) crisis.
Lenders may begin processing loan applications as soon as April 3, 2020.
You can apply through any existing SBA 7(a) lender or through any federally insured depository institution, federally insured credit union, and Farm Credit System institution that is participating. Other regulated lenders will be available to make these loans once they are approved and enrolled in the program. You should consult with your local lender as to whether it is participating in the program.
Federal Disaster Assistance options
Coronavirus (COVID-19) has had a significant impact on many businesses. As a result, State and Federal initiatives, including the CARES Act, are being set up to assist business owners with the challenges caused by this crisis.
Paycheck Protection Program
The Paycheck Protection Program (PPP) is a special 100% guaranteed 7(a) loan program that will provide cash-flow assistance to employers who maintain their payroll during this emergency.
PPP has a host of attractive features, such as forgiveness of up to 8 weeks of payroll based on employee retention and salary levels, no SBA fees, and six months of payment deferral.
Lenders may begin processing loan applications as soon as April 3, 2020.  For additional details, check out SBA's dedicated webpage:  Paycheck Protection Program.
Debt Relief Program
This program will provide immediate relief to small businesses with non-disaster SBA loans, in particular 7(a), 504, and microloans. Under it, SBA will cover all loan payments on these SBA loans, including principal, interest, and fees, for six months. This relief will also be available to new borrowers who take out loans within six months of the President signing the bill into law.
The Central Servicing Agent has informed our trade association (NADCO) that borrower's accounts will NOT be debited on April 1, 2020, for payment on their 504 loans.
Under the CARES Act, SBA will pay the principal, interest and any associated fees that are owed on a 504 loan (in regular servicing status) for the 6-month period beginning April 1, 2020.
At this time we don't know if the payment will still show up in your account as a pending item. We understand if this is cause for concern, however we were informed the payment is not going to process as normal. Thank you for your patience as we await additional guidance.
Economic Injury Disaster Loans
Eligible businesses can apply for up to $2 million in low-interest Economic Injury Disaster Loans.  To see if your state has been declared a disaster, check the running list of Presidential and SBA Declared Disasters on SBA's website.
On March 27, 2020, President Trump signed into law the CARES Act, which provided additional assistance for small business owners and non-profits, including the opportunity to get up to a $10,000 Advance on an Economic Injury Disaster Loan (EIDL). This Advance may be available even if your EIDL application was declined or is still pending and will be forgiven.
If you wish to apply for the Advance on your EIDL, please visit www.SBA.gov/Disaster as soon as possible to fill out a new, streamlined application. In order to qualify for the Advance, you need to submit this new application even if you previously submitted an EIDL application. Applying for the Advance will not impact the status or slow your existing application.
Keep in mind…given the growing demand for these loans, your best bet might be to download the application instead of applying online.  You can then upload them to SBA or mail them in.
Small Business Counseling
If you, like many small business owners, need a business counselor to help guide you through this uncertain time, you can turn to your local Small Business Development Center (SBDC), Women's Business Center (WBC), or SCORE mentorship chapter. These resource partners, and the associations that represent them, will receive additional funds to expand their reach and better support small business owners with counseling and up-to-date information regarding COVID-19.
There will soon be a joint platform that consolidates information and resources related to COVID-19 in order to provide consistent, timely information to small businesses. To find a local resource partner, click here.
In addition, the Minority Business Development Agency's Business Centers (MBDCs), which serve minority business enterprises of all sizes, will also receive funding to hire staff and provide programming to help their clients respond to COVID-19. Not every state has a MBDC. To find out if there is one that services your area, visit this site.
Illinois Disaster Assistance options
The Illinois Department of Commerce & Economic Opportunity (DCEO) is also working with partners to launch emergency assistance programs for Illinois small businesses. 
Read more about those initiatives.
Growth Corp and SBA 504 Lending
SBA Loans continue to be available and no disruption in lending is expected.  Growth Corp is open for business and we do not foresee any interruptions in service.  However, we have asked our staff to limit face-to-face meetings.  Email and virtual meetings will be utilized as much as possible during these uncertain times.
Concerns/Questions About Your Existing 504 Loan
If you have questions or concerns about how this may impact your SBA 504 Loan, feel free to reach out to Growth Corp's Servicing Team at 217-241-3000 or contact any member of our Servicing Team:
Randy Neumann | 217-241-3636 | neumann@growthcorp.com
Becky Minett | 217-241-4638 | minett@growthcorp.com
Braden Pope | 217-241-3635 | pope@growthcorp.com
WOULD AN SBA 504 REFINANCE LOAN HELP ME?
Possibly.  Instead of borrowing additional money through government loan programs, it might be beneficial to tap into equity you already have. Interest rates are at historic lows right now. Add to that six months of debt relief, and this may be a great time to refinance using an SBA 504 Loan.  Consider this:
Cash-out Refinance – Eligible borrowers can obtain up to 20% of the appraised value on their assets to use towards future operating expenses (cash-out). The maximum loan-to-value for this option in 85% of the borrower's real estate and equipment based on acceptable appraisals.
Consolidate Debt – Borrowers can often consolidate total debt obligations at a lower overall interest rate. Not only can this ease the burden of having loan obligations to several different lenders, it can also improve the borrower's monthly debt service requirements.
Extended Maturity Dates – SBA 504 Refinancing offers terms up to 25 years and rates fixed for the life of the loan. Converting short-term debt into long-term financing can materially improve cash-flow.
No Out of Pocket Expenses – SBA 504 Refinancing allows borrowers to roll the ordinary closing costs and expenses into the loan.
NOTE: To be eligible for a 504 Refinance, the debt to be refinanced must have been for commercial real estate or equipment, be at least 24 months old and not be a government loan.
Benefits
The borrower's equity in the collateral often fulfills the down payment requirement
Low, fixed interest rate on 504
Long loan term – up to 25 years
Access cash in the building
Payment stability
Protection from balloon payments
Up to $5 million for SBA portion of loan, no limit on overall project size
Keep your lender or allow us to match you with one of our lending partners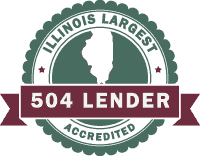 $1.3B Refinanced since 2017
Thousands of businesses have utilized a 504 Refi
Growth Corp is the Top 504 Refi Lender in the U.S.
Our

mission

is to advocate for

small businesses

.
We love our communities and believe small business is the foundation of their economic prosperity.  We will do all we can to support you and your business goals.  Start-ups to seasoned businesses and everything in between can benefit from working with Growth Corp.  Here's why:
We Are An Industry Leader
We're the #1 SBA 504 Lender in Chicago and Illinois.  Growth Corp also consistently ranks as one of the top ten SBA 504 Lenders nationwide.
In Business Since 1992
We've assisted thousands of businesses spanning various industries.  In fact, our portfolio is currently in excess of $675 million.
Trusted by the U.S. SBA
SBA recognized Growth Corp as an Accredited Lender after a thorough review of its policies, procedures and prior performance.

How Will You Grow Your Business?
877-BEST 504
www.GrowthCorp.com
Central IL Office 217.787.7557   |   Chicago Office 773.880.1455  |  Southern IL Office 618.932.3786

Contact a Loan Officer