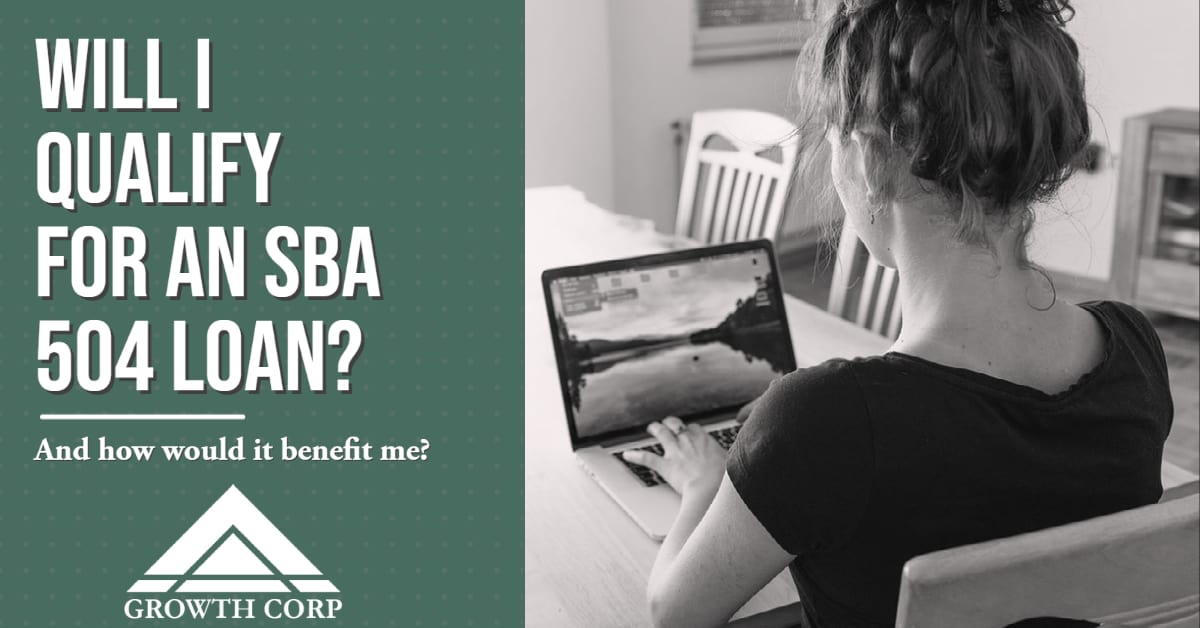 Maybe you've heard of the SBA 504 Loan Program, but aren't quite sure who qualifies.  The good news is…most for-profit small businesses qualify!
The purpose of all SBA loan programs is to provide businesses like yours with access to funding under reasonable terms…but the 504 loan terms were specifically designed to help grow and strengthen small businesses.  To accomplish this, they extend financing with longer payment terms and competitive rates, keeping money in your pocket and stimulating the economy.
SBA 504 loans, guaranteed by the U.S. Small Business Administration, provide long-term financing for the purchase of real estate, equipment, and other fixed assets. There are three parties to an SBA 504 loan—the borrower, the bank, and the SBA-approved certified development company (CDC) (Growth Corp).  Check out who qualifies and why sba 504 terms are ideal for small businesses.
How can a small business qualify for SBA 504 financing?
To be eligible for the SBA 504 loan program, a small business must:
have fewer than 500 employees
be located in the United States
be a for-profit business
have a tangible net worth of not more than $15 million and average net income after taxes (two years prior to application) of not more than $5 million
be owner-occupied
if a manufacturing company, meet the definition of a small to mid-sized manufacturer as classified in the North American Industry Classification System, sectors 31-33.
The 504 Loan Program is a financing tool for economic growth and development that provides small to medium sized businesses with long-term, fixed rate loans to help them acquire major fixed assets for expansion or modernization.  These loans are most frequently used to acquire land, buildings, machinery or equipment.
The loan itself is a partnership between you, your CDC (such as Growth Corp), and a local bank.  The breakdown typically looks like this:
50% of the project's total cost will come from a conventional lender (your bank). You and your lender will determine the conditions of that loan, including the amount.  This loan is the first mortgage.
40% of the project's total cost will come from a CDC (Growth Corp) with a 10-year or 20-year fixed rate loan guaranteed by SBA. This loan is the second mortgage.
The remaining 10% of the project's total cost will come from you, the borrower. Certain types of facilities are classified as "single-purpose" facilities and may require additional equity, but most projects fall into the 50-40-10 split.
In 2021 alone, the 504 Loan Program provided over $9 billion in expansion financing guarantees.
Medical/Professional
Whether you're just opening your own practice, or are ready to open a second, third or even tenth office, we're here to help.  We've worked with thousands of professionals just like you and we understand the expenses that go into purchasing and furnishing high-end professional offices.  Many different types of professionals utilize the 504, such as:
Doctor's Offices
Veterinarian Offices
Dentists
Attorneys
Accountants
Chiropractors
Architects
Graphic Designers
Physical Therapists
Service Providers
From small, specialty stores to state-of-the-art health clubs, we've worked with them all and we understand the nuances and cyclical nature of the service and retail industry.  Your number one focus is on your customers and you don't have time for a lot of paperwork.  We get it.  That's why we've handled the process for thousands of service providers, such as:
Restaurants
Retail Stores
Health Clubs
Day Care Facilities
Car Washes
Farmers Markets
Boutiques
Auto Repair Shops
Convenience Stores
Manufacturing and Industrial
Whether you need to purchase a piece of highly specialized equipment, are expanding to a larger facility, or are looking to make energy efficiency improvements, we're here to help you.  We've been providing financing to manufacturing and industrial firms since 1989 on projects ranging from $200,000 to $20 million, such as:
Recycling Facilities
Food Manufacturing
Steel Production
Packaging Companies
Commercial Printers
Machine Shops
Freight and Transport
Wholesalers
Care Providers
Assisted Living Facilities
Independent Living
Nursing Homes
Alzheimer's Facilities
Drug and Alcohol Centers
Rehab Facilities
Special-Purpose Properties:
Bowling Alleys
Medical or Health Facilities
Sports Arenas
Wineries
Auto-Repair Centers
Car Washes
Funeral Homes
Other, Lesser-Known Uses of the 504 Loan Program:
Trucking Company Depots
Green Initiatives such as Energy Reduction or Renewable Energy
12 benefits that prove SBA 504 Loans were specifically designed to help businesses expand and prosper
SBA 504 Loans from Growth Corp feature:
Low down payments (10% in most cases)
Low, fixed interest rate on the 504 portion
Long loan terms
The ability to include furniture, fixtures and fees
An option for refinancing commercial debt
Payment stability
Preservation of working capital
Protection from balloon payments
The ability to include leasehold improvements
Up to $5 million for SBA portion of the loan, and no limit on the overall project size
The option of using the 504 Loan Program multiple times to continue expansion
The ability to keep your current bank/lender
By and large, use of the 504 Loan Program provides a financing solution that can ease business owners' expansion concerns.  And, with the lower fees in place for FY2022, the 504 is now more affordable than ever before.  For more information about who is a good candidate for SBA 504 Loans, download our guide:  Typical Users of SBA 504 Loans or contact any member of our Lending Team.