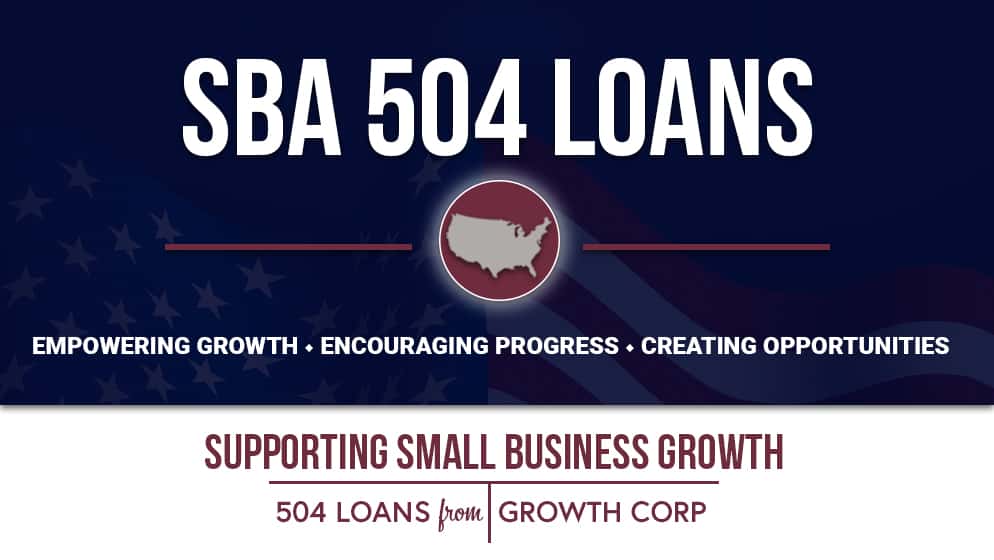 So, what type of borrower is a good candidate for 504 Loans?  "Well, essentially, the big national chains don't need us.  However, just about any other for-profit business owner who wants to build, buy, or improve a commercial property, purchase long-term equipment or refinance commercial mortgage debt will probably be a good fit."
SBA 504 Loans
The SBA 504 Loan Program is designed to help business owners be successful.  Funds can be used for purchasing land, purchasing existing buildings and construction/improvements (including grading, utilities, parking lots, landscaping, equipment or furniture/fixtures).  However, what people might not realize is that the 504 can also be used for the often "difficult-to-finance projects" as well.
There is plenty of money available for lending.  In fact, the SBA has recently displayed significant effort in making the 504 Loan Program available to even more businesses.  With higher loan limits, expanded eligibility standards, and a new debt refinance option, more businesses are now able to utilize the 504 than ever before.
Through the 504 Loan Program, banks can offer long-term financing to small business customers who might not otherwise be able to obtain the necessary financing to grow.
Almost All For-Profit Businesses Are Candidates
The 504 Loan Program is a financing tool for economic growth and development that provides small to medium sized businesses with long-term, fixed rate loans to help them acquire major fixed assets for expansion or modernization.  These loans are most frequently used to acquire land, buildings, machinery or equipment.
The loan itself is a partnership between you, your CDC (such as Growth Corp), and a local bank.  The breakdown typically looks like this:
50% of the project's total cost will come from a conventional lender (your bank). You and your lender will determine the conditions of that loan, including the amount.  This loan is the first mortgage.
40% of the project's total cost will come from a CDC (Growth Corp) with a 10-year or 20-year fixed rate loan guaranteed by SBA. This loan is the second mortgage.
The remaining 10% of the project's total cost will come from you, the borrower. Certain types of facilities are classified as "single-purpose" facilities and may require additional equity, but most projects fall into the 50-40-10 split.
Since 1996, the 504 Loan Program has facilitated over $151 billion in total expansion financing.
Medical/Professional
Whether you're just opening your own practice, or are ready to open a second, third or even tenth office, we're here to help.  We've worked with thousands of professionals just like you and we understand the expenses that go into purchasing and furnishing high-end professional offices.  Many different types of professionals utilize the 504, such as:
Doctor's Offices
Veterinarian Offices
Dentists
Attorneys
Accountants
Chiropractors
Architects
Graphic Designers
Physical Therapists
Service Providers
From small, specialty stores to state-of-the-art health clubs, we've worked with them all and we understand the nuances and cyclical nature of the service and retail industry.  Your number one focus is on your customers and you don't have time for a lot of paperwork.  We get it.  That's why we've handled the process for thousands of service providers, such as:
Restaurants
Retail Stores
Health Clubs
Day Care Facilities
Car Washes
Farmers Markets
Boutiques
Auto Repair Shops
Convenience Stores
Manufacturing and Industrial
Whether you need to purchase a piece of highly specialized equipment, are expanding to a larger facility, or are looking to make energy efficiency improvements, we're here to help you.  We've been providing financing to manufacturing and industrial firms since 1982 on projects ranging from $200,000 to $20 million, such as:
Recycling Facilities
Food Manufacturing
Steel Production
Packaging Companies
Commercial Printers
Machine Shops
Freight and Transport
Wholesalers
Non-Typical or Special Use

 
Agribusiness Projects
Grain Elevators
Irrigation Equipment
Warehousing and Processing Facilities
Operations and Fertilizer Plants
Livestock Feedlots
Dairy Farm Start-up and expansion
Livestock Arenas
Hog Farrow-to-Finish Facilities
Care Providers:
Assisted Living Facilities
Independent Living
Nursing Homes
Alzheimer's Facilities
Drug and Alcohol Centers
Rehab Facilities
Passive-Income Properties:
RV Parks
Campgrounds
Marinas
Mini Storage Facilities
Special-Purpose Properties:
Bowling Alleys
Medical or Health Facilities
Sports Arenas
Wineries
Auto-Repair Centers
Car Washes
Funeral Homes
Other, Lesser-Known Uses of the 504 Loan Program:
Trucking Company Depots
Green Initiatives such as Energy Reduction or Renewable Energy
12 benefits that prove SBA 504 Loans were specifically designed to help businesses expand and prosper
SBA 504 Loans from Growth Corp feature:
Low down payments (10% in most cases)
Low, fixed interest rate on the 504 portion
Long loan terms
The ability to include furniture, fixtures and fees
An option for refinancing commercial debt
Payment stability
Preservation of working capital
Protection from balloon payments
The ability to include leasehold improvements
Up to $5 million for SBA portion of the loan, and no limit on the overall project size
The option of using the 504 Loan Program multiple times to continue expansion
The ability to keep your current bank/lender
By and large, use of the 504 Loan Program provides a financing solution that can ease business owners' expansion concerns.  And, with recent program enhancements, the 504 is now able to help more businesses than ever before.  For more information about who is a good candidate for SBA 504 Loans, download our guide:  Typical Users of SBA 504 Loans or contact any member of our Lending Team.