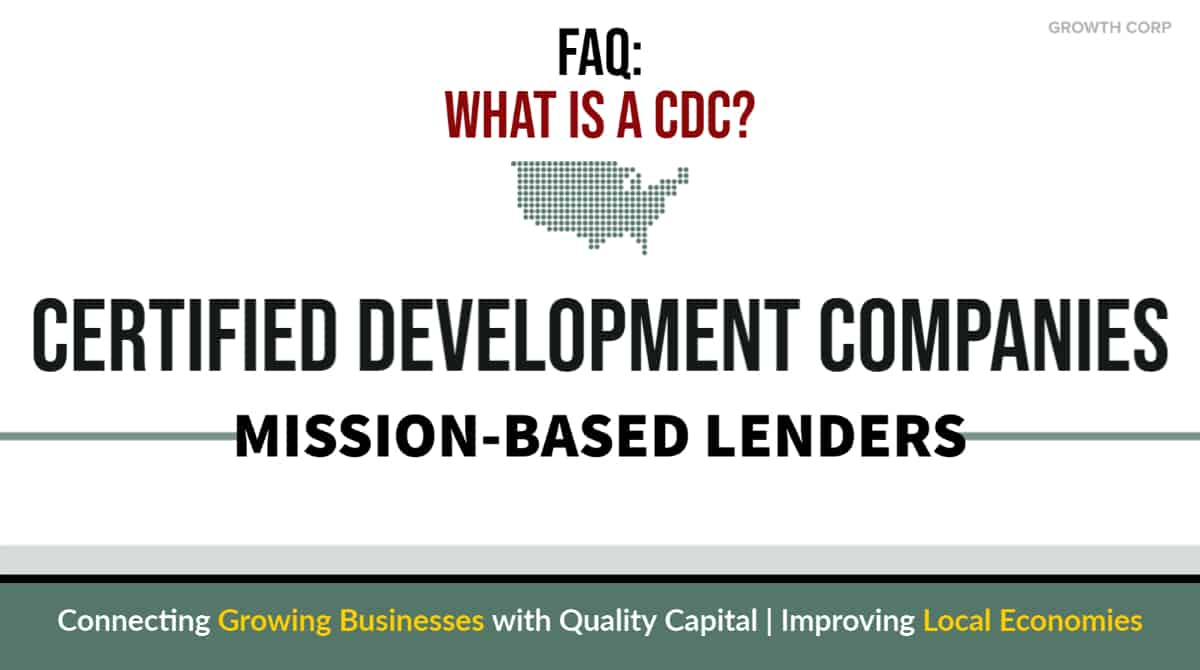 Those who have investigated the U.S. Small Business Administration's (SBA) 504 financing options have probably seen a reference to a Certified Development Company (CDC), but they may not be fully aware of what a CDC is or what role they play in the SBA 504 Loan process.
What is a Certified Development Company?
According to SBA, "A Certified Development Company (CDC) is a nonprofit organization that promotes economic development within its community through 504 loans. CDCs are certified and regulated by the SBA, and work with SBA and participating lenders (typically banks) to provide financing to small businesses, which in turn accomplishes the goal of community economic development."
Certified Development Companies are also sometimes referred to as mission-based lenders.  There are over 200 CDCs around the country, each with a specific regional focus.  Growth Corp is a Certified Development Company authorized to operate in all counties of Illinois, along with small portions of Missouri, Iowa, Indiana, and Kentucky.
What Makes A Certified Development Company a "Mission-Based Lender"?
Perhaps the most important aspect of CDCs is how tightly woven they are with the wider community, specifically the state in which they operate, and even the region surrounding the state in which they are headquartered. CDCs are designed to help strengthen local businesses by connecting them with quality financing for fixed asset investments (real estate or equipment), which, in turn, supports local economies, revitalizes neighborhoods, and breathes new life into local communities.
CDCs are designed to help strengthen local businesses by connecting them with quality financing for fixed asset investments (real estate or equipment), which, in turn, supports local economies, revitalizes neighborhoods, and breathes new life into local communities.
In addition to their focus on building and improving local economies and making it possible for small businesses to thrive, CDCs also focus on achieving specific public policy goals. For instance, they ensure that women and minority business owners are supported, while also providing help for veterans, and even offering advice and guidance for business owners.  CDCs are home to experts who have vast knowledge of the local economy and business environment, as well as the resources available to business owners.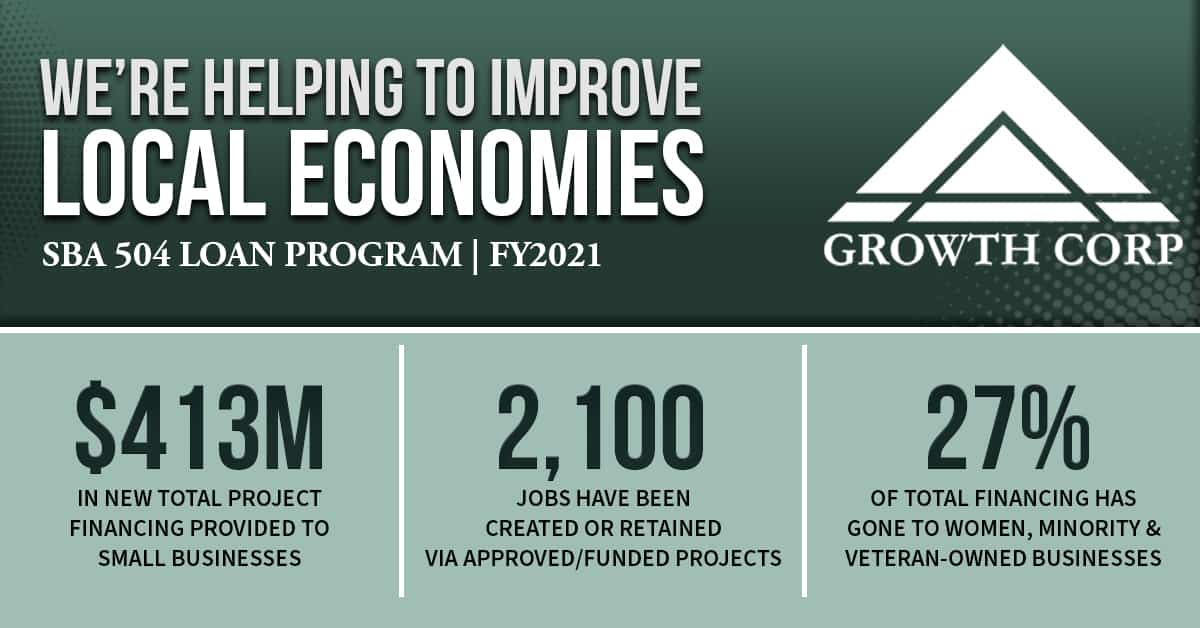 Not all Certified Development Companies Are the Same
While all Certified Development Companies have the same general mission, there are key differences you should be aware of.  These differences can make a huge difference in not only your overall experience during the 504 Loan process, but in whether your project even gets across the finish line.  Though your bank may lead the selection of a partner CDC, there are usually options available.  Below are some topics to discuss with your bank and any potential CDC.
Expertise and Staff
How knowledgeable is the CDC in terms of structuring SBA 504 Loans?  Is their focus on the 504 Loan Program or do they offer a wide array of financing programs?  Does the CDC have staff dedicated to ensuring your loan not only gets approved, but also gets closed and serviced properly? 
At Growth Corp, we know that when it comes to 504 loans, it's about much more than just getting an approval.  It's the ease-of-mind that comes from knowing Growth Corp's team has their finger on the pulse of the process from application to funding and even beyond into long-term servicing.  It's knowing you will be informed every step of the way by the point-person responsible for overseeing the closing of your loan.  It's knowing that, given Growth Corp's extremely low turn-over, you'll have the same experienced team members continuing to serve you year-after-year.  It's knowing that Growth Corp has one of the highest first-pass approval rates in the country.  What does that mean for you?  It means your application is structured correctly and accurately before it's sent to SBA.  This facilitates a quicker approval, a more reliable timeframe, and a more efficient process overall.
Experience, Accreditation, and First-Pass Approval Rates
How many years has the CDC been making SBA 504 Loans?  Does the CDC have experience with various industries and business types?  Has the CDC worked with a business of your size before?  Is the CDC an Accredited Lender (ALP) with SBA?  What are the CDCs first-pass approval rates for application packages submitted to SBA's processing center?
Growth Corp has been focused on SBA 504 Loans for 30 years.  Since 1992, we've proudly helped thousands of businesses facilitate expansion.  In fact, our existing portfolio is over $730 million…particularly impressive considering every dollar is tied to a small business in the Midwest.  We know small business.  It's our passion.  As the largest 504 Lender in Illinois, we have dedicated ourselves to making the 504 Loan Program as efficient and seamless as possible.  In fact, Growth Corp has long held Accredited Lender status with SBA.  This means, after a thorough review of our policies, procedures, and prior performance, SBA granted us increased authority to process and close 504 loans, which results in an expedited process for both our borrowers and our lending partners.
Accreditation with SBA, accuracy, and quick turn-around times are just some of the reasons why Growth Corp is a national leader for quality and service.
Relationships with Banks
Does the CDC have a track record of successful partnerships with the banks in your area?  Do the banks trust the CDC and its reputation?
During the 30 years Growth Corp has been serving the Midwest, we've had the pleasure of working with hundreds of local banks…from Chicago to Carbondale, St. Louis to DeKalb, and everything in between. In fact, it's because of these ongoing positive partnerships, we've been able to get 180 loans approved so far this year, for a total of $148 million.
Responsiveness
Does the CDC respond in a timely fashion to both you and your bank lender?  Will there continue to be a point-person at the CDC you can call long after your loan is approved?  Is the CDC diligent in dealing with SBA on behalf of your loan application?
It goes without saying that everyone prefers to work with people who respond in a timely, respectful fashion.  Not only that, but are their answers informative and specific to your project?  Growth Corp has a satisfaction rating of nearly 100% in terms of its delivery of service.  Your experience with us, and the continued trust of your bank lender, are our highest priority.
The Role of a Certified Development Company in SBA 504 Lending
Certified Development Companies work in conjunction (not in competition) with local banks to offer financing through the SBA 504 Loan Program.  CDCs package and process loan applications through the SBA, and then close and service those loans once they've been approved.  Small business borrowers gain expert advice from the CDC on SBA 504 Loan terms, rates, uses, and structures. These recommendations are all incredibly beneficial to small businesses that are looking to finance their company's growth and expansion.
Certified Development Companies work in conjunction (not in competition) with local banks to offer financing through the SBA 504 Loan Program.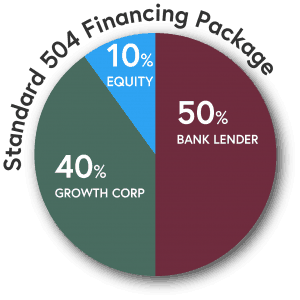 The 504 allows you to keep more of your working capital than most any other commercial loans on the market.  Through this loan program, your local lender offers 50% of the financing with favorable terms; 40% of the project costs are financed with a fixed-rate debenture secured with a junior lien (second mortgage) from a Certified Development Company, such as Growth Corp, and backed by a 100 percent SBA guaranty.  The borrower contributes a low 10% down payment, which is one of the big attractions of this program.
What are the main benefits of SBA 504 Loans for a small business?
Overall, the most useful benefit of a SBA 504 loan program offers is that the loan offers small business borrowers with quality, long-term, affordable financing while requiring a minimal down payment. Specifically, major benefits of SBA 504 loans include:
90% financing (in most cases)
Longer loan amortizations and no balloon payments
Low, fixed-rate interest rates (currently below market)
Minimal down payment
How can SBA 504 Loans be used?
SBA 504 business loan must be used for fixed assets (and certain soft costs) including:
Purchasing existing buildings
Purchasing land and land improvements such as grading, street improvements, utilities, parking lots and landscaping
Constructing new facilities or modernizing, renovating, or converting existing facilities
Purchasing long-term machinery
Refinancing existing commercial real estate debt
How can a small business become eligible for SBA 504 financing?
To be eligible for the SBA 504 loan program, a small business must operate as a for-profit business and fall within the size standards set by SBA, which is a tangible net worth under $15 million and an average net income of $5 million or less after federal income taxes for the preceding two years prior to application.
About Growth Corp
Small Business Growth Corporation (Growth Corp) is a nonprofit, mission-based lender dedicated exclusively to connecting small businesses with quality expansion capital through administration of the SBA 504 Loan Program. With a commitment to economic development, job creation and the small business sector, Growth Corp is ranked a Top 10 National CDC for SBA 504 loan volume and is Illinois' largest 504 loan provider.  In fact, Growth Corp's substantial portfolio ($740+ million) is particularly impressive because every dollar was utilized by Midwest entrepreneurs to open and expand their small businesses.  Contact any member of our lending team today!