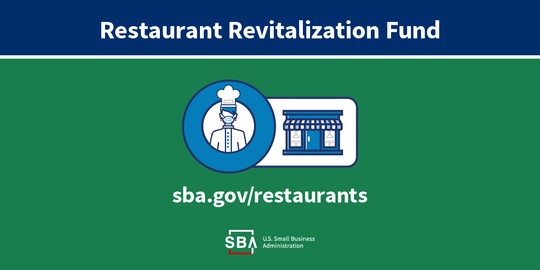 This program provides emergency assistance for eligible restaurants, bars, and other qualifying businesses impacted by COVID-19.
Restaurant Revitalization Fund (RRF) – Program Details
The American Rescue Plan Act established the Restaurant Revitalization Fund (RRF) to provide funding to help restaurants and other eligible businesses keep their doors open.  This program, administered by SBA, will provide restaurants with funding equal to their pandemic-related revenue loss up to $10 million per business and no more than $5 million per physical location.  Recipients are not required to repay the funding as long as funds are used for eligible uses no later than March 11, 2023.
Application Process
SBA Administrator Isabella Guzman announced the U.S. Small Business Administration will begin registrations on Friday, April 30, 2021, at 9 a.m. EDT and open applications on Monday, May 3, 2021, at noon EDT for the Restaurant Revitalization Fund.
For the first 21 days the program is open, SBA will prioritize funding applications from businesses owned and controlled by women, veterans, and socially and economically disadvantaged individuals.  All eligible applicants are encouraged to submit applications as soon as the portal opens.  Following the 21 days, all eligible applications will be funded on a first-come, first-served basis.
Get prepared
In preparation, SBA recommends qualifying applicants familiarize themselves with the application process in advance to ensure a smooth and efficient application experience, specifically by:
Register for an account in advance at restaurants.sba.gov starting Friday, April 30 at 9 a.m. EDT. If you are working with Square or Toast, you do not need to register beforehand on the application portal.
Review the sample application, program guide and cross-program eligibility chart on SBA COVID-19 relief options.
Attend one of the webinar trainings listed below. These will be recorded and later posted on SBA's YouTube channel. We will share the recording links via email and on SBA's social media channels.
Get assistance with the RRF application
For assistance preparing your application, you can access the following:
Call center support: 1-844-279-8898 (Hours: Monday-Friday 8am-8pm ET)
Contact the Illinois District Office at illinois.do@sba.gov.
Locate a Small Business Development Center at www.sba.gov/sbdc.
For more information, visit sba.gov/restaurants or in Spanish at sba.gov/restaurantes.