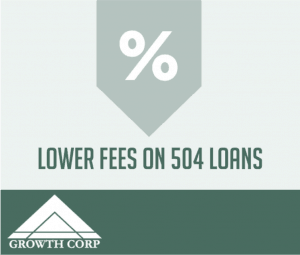 Each year SBA reviews certain fees associated with its loan programs to determine if any of those fees need to be adjusted to cover the estimated subsidy costs.  We're happy to report that on September 26, 2016, SBA issued SBA Information Notice 5000-1389, announcing lower fees for 504 loans approved on or after October 1, 2016!
SBA 504 Loan Fees are Lower for FY17:
The upfront guaranty fee that SBA is authorized to charge traditional 504 borrowers will continue to be zero.  However, the annual service fee has been reduced from 0.914% to 0.697%.  For the 504 Refinance Program, this fee reduction reduces the annual service fee from 0.958% to 0.731%.
This fee reduction, figured into the overall effective 504 interest rate, results in lower interest rates for small business borrowers.
Read SBA Information Notice 5000-1389 
If you have any questions about how you can take advantage of this reduction in fees, please don't hesitate to contact our Lending Team.