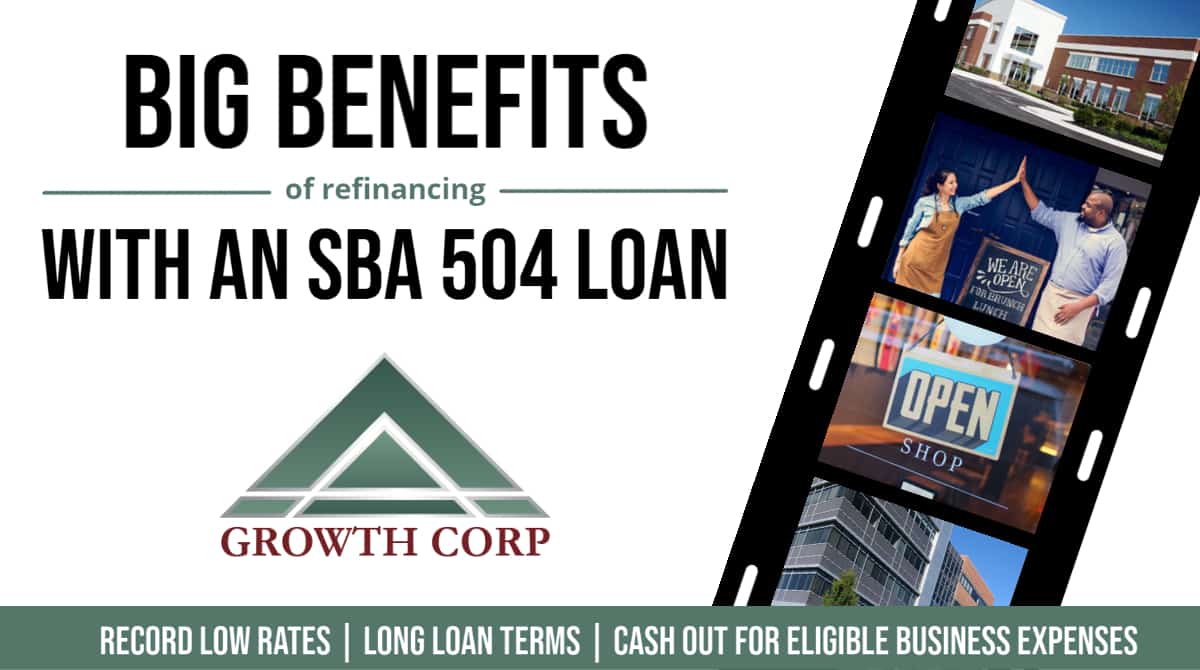 The new SBA 504 Refinance offers big benefits and more small businesses may be eligible.  The biggest changes were a reduction in the age of the debt to be refinanced and the ability to refinance existing loans with government-guarantees (i.e. existing 7(a) or 504 loans).  Check out what has and has not changed in our reference guide: 504 Debt Refinance Enhancements.
The SBA 504 Refinance Loan is government-backed financing that comes with three huge advantages. One, it offers business owners a below-market, fixed rate, and a repayment period of up to 25-years. Two, the down payment requirements are as low as ten percent and are often fulfilled by existing equity in the project. And three, borrowers can elect to get cash out for business expenses. Cash can be taken out for salaries, rent, repairs, maintenance, inventory, utilities, credit cards, lines of credit, etc.
Big Benefits of SBA 504 Refinancing
Low, fixed interest rate on 504 – check out the interest rate history
Long loan terms – up to 25 years
Refinance up to 90% of the appraised property value (if no cash-out)
Access cash in the building for salaries, rent, inventory, utilities, payables, etc.

If taking cash out for eligible business expenses:  refinance up to 85% of the appraised property value (business expenses are limited to 20% of appraised value)

The borrower's equity in the collateral often fulfills the down payment requirement
Payment stability
Protection from balloon payments
The ability to consolidate multiple loans
Up to $5 million for SBA portion of loan, no limit on overall project size
Keep your lender or allow us to match you with one of our lending partners
The fee eliminations and payment subsidies offered through the Economic Aid Act are still availabe for refinance loans approved by September 30, 2021 (subject to availability), – this offers small business owners a substantial savings
The New SBA 504 Refinance
On July 29, 2021, the U.S. Small Business Administration enhanced and expanded opportunities to refinance qualified debt.  This allows more small businesses to be eligible for SBA 504 refinancing.  The changes are as follows:
For 504 debt refinancing with expansion –
The amount of the existing indebtedness that may be refinanced as part of a 504 Project is increased from not more than 50% to not more than 100% of the project costs of the expansion.
For 504 debt refinancing without expansion –
Reinstates an alternate job retention standard – all existing jobs measured on a full time equivalent (FTE) basis can be counted as jobs retained by the refinancing project.
Qualified Debt must be at least 6 months old before the SBA application date to be eligible for refinance – reduced from 2 years
Allows the refinance of certain existing government guaranteed debt – formerly ineligible for refinancing
Eliminates the requirement that the borrower must be current on all payments due for not less than 1 year before the SBA application date.  Please note:  in accordance with prudent lending standards, SBA still expects the CDC to consider whether the applicant is current on all payments due and the applicant's history of delinquency in its credit analysis.
Nationwide, SBA 504 lending activity is up compared to the previous five years.  The record low interest rates and long loan terms make the New SBA Refinance Program hard to beat in the current market.
How Does SBA 504 Refinancing Work?
A 504 refinance loan is set up in the same way as the standard 504: It offers low, fixed rates on loans with 20- or 25-year terms that are fully amortized.  A commercial bank provides a 1st mortgage and the SBA (through Growth Corp) provides a second mortgage.  As the small business, your contribution is typically as low as 10%, which is often covered by the equity from the property itself. If that's not possible, cash or other assets can be used.
You can refinance up to 90% of the current appraised value of the property. If eligible business expenses are being refinanced along with property, the maximum proportion is 85%. Another option available is cashing out up to 20% of the building's value for business expenses, such as operating costs, employee wages and inventory.
Cash Out for Working Capital 
The SBA 504 Loan Program offers business owners the opportunity to secure below-market, fixed interest rates, amortized over 25 years, for up to 90 percent of the appraised value of commercial real estate property.
Loans are administered by a Certified Development Company (CDC) such as Growth Corp and granted in conjunction with a conventional lender (usually a bank).  That way, with the 504, the borrower's equity injection is typically much lower than traditional business loans and can help you keep more of your cash in the business rather than tied up in real estate.  Plus, existing equity in the collateral often fulfills the down payment requirement.
504 Loans:  A Powerful Tool for Strengthening and Growing Your Business
Refinancing your commercial mortgage with an SBA 504 loan can help you free up trapped capital and enjoy lower monthly payments due to the low, long term, fixed interest rate.  An SBA 504 loan can also be used to:
purchase land or buildings
construct, upgrade or renovate buildings
purchase equipment with a service life of ten years or more
SBA 504 loans are a very powerful tool, yet they remain under-utilized because many small business owners just aren't aware this financing option exists.  In FY2020, 504 loans helped fuel $5.8 billion in new capital investments for 7,000 businesses throughout the U.S.
Small businesses can refinance debt, reduce a line of credit or payables and obtain working capital using a 504 Refinance Loan
Will My Project Qualify?
If you answer "yes" to the following questions, your project will likely qualify for the 504 Refinance Program.
Is the loan to be refinanced at least 6 months old?
Is the property being refinanced at least 51% owner-occupied or long-term equipment?
Was the debt to be refinanced originally used for the purchase/improvement of fixed assets?
Why Growth Corp?
We know your success depends on having access to expansion capital that is both affordable and accessible.  Our experienced staff takes pride in making a difference in the lives of small business owners and their employees.  Start-ups to seasoned businesses and everything in between can benefit from working with Growth Corp.  Here's why:
We're the #1 SBA 504 Lender in Chicago and Illinois.  Growth Corp also consistently ranks as one of the top ten SBA 504 Lenders nationwide.
We're the largest SBA 504 Refinance Lender in the country.
SBA recognized Growth Corp as an Accredited Lender after a thorough review of its policies, procedures and prior performance.  The prestigious ALP status grants Growth Corp increased authority to process and close 504 loans, which provides expedited processing of loan approvals and closings.
We simplify the loan approval process.  Our team coordinates the entire process from application through closing, funding and servicing, making it seamless for you and your bank lender.
We are SBA 504 Experts.  Our responsive and educated staff focuses almost exclusively on SBA 504 loans.  We've got the process down to a science!
We've worked with thousands of businesses, spanning various industries.  That means, there's not much we haven't seen.  Your goals, project structure and business type will likely be familiar to us and we'll understand your unique situation.
Our mission is to advocate for small business.  We love our communities and believe small business is the foundation of their economic prosperity.  We will do all we can to support you and your business goals.  Connect with someone from our lending team today!