"National Small Business Week is a time to honor and celebrate America's entrepreneurs and innovative startups. This year's theme, 'Building a Better America through Entrepreneurship,' celebrates the resiliency and tenacity of America's entrepreneurs who are doing their part to power our nation's historic economic comeback," said SBA Administrator Isabella Casillas Guzman. "We are on a path toward building a better, more competitive American economy centered around families, workers, and small businesses".
As a national leader in SBA 504 lending, Growth Corp encourages consumers to support entrepreneurs this National Small Business Week (NSBW) by patronizing small businesses in their local communities. Taking place May 1 to May 7, NSBW celebrates America's tenacious small businesses and the critical contributions that they make to local communities and the national economy.
According to the U.S. Small Business Administration, more than half of Americans either own or work for a small business, and those businesses create about two out of every three new jobs in the U.S. each year.  So, by taking the time to support a small business, you're not only boosting the local economy but you're also investing in the community by keeping your neighbor on the payroll.
Supporting Small Business is Our Mission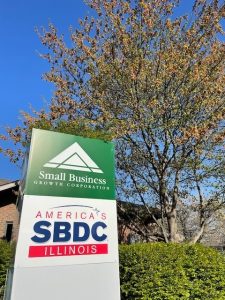 Growth Corp's support of small businesses extends beyond National Small Business Week…and even beyond SBA 504 Lending.  Growth Corp has been designated as the new host organization for the Illinois SBDC for Central Illinois.  This organization offers assistance to individuals and small businesses by providing confidential business guidance, seminars, business resource materials, and an impressive roster of business advisors.  In helping entrepreneurs define their path to success, the Illinois SBDC for Central Illinois positively impacts the community, strengthens economic development, helps create and retain new jobs, and encourages new investments.  The Illinois SBDC also makes a concerted effort to reach members of socially and economically disadvantaged groups such as minorities, veterans, women, and the disabled.
Funded in part through a cooperative agreement with the U.S. Small Business Administration (SBA), the State of Illinois Department of Commerce and Economic Opportunity, and Growth Corp, nearly all the SBDC's programs and services are free to those needing assistance.
The financial contributions provided by Growth Corp are used by the Illinois SBDC as matching funds for its grant application, covering all facets of operation.  Last year, Growth Corp increased its annual investment by 30%, which, because those funds are matched by state and federal partners, allowed the Illinois SBDC to increase its total budget by over 60%, bringing more services to small business owners in the ten counties the Center serves.
Douglas Kinley, President of Growth Corp, said he is proud to see Growth Corp serve as a catalyst to SBDC's continued development of new and growing business in central Illinois.  "Growth Corp's mission as a Certified Development Company is to be a vehicle for economic development, particularly within the small business sector.  Because the mission of the Illinois SBDC is consistent with, and vitally important to, our mission at Growth Corp, we remain eager to increase our support. The services of the Illinois SBDC are desperately needed in our community, and we want to do whatever we can to boost the Center's capacity to deliver assistance to local small businesses."
National Small Business Week Proclamation
Small businesses do so much for us. They create jobs, drive innovation and foster local economies to keep our communities thriving. To quote the President in his Proclamation on National Small Business Week, "This National Small Business Week, let us renew our commitment to supporting our Nation's small businesses.  From local "mom and pop" shops to innovative start-ups, small businesses are pillars of our communities and the engine of our economy.  By rebuilding our economy from the bottom up and middle out, we can maintain our global competitiveness and build a stronger Nation where everyone can succeed."
About Growth Corp
Small Business Growth Corporation (Growth Corp) is a nonprofit, mission-based lender dedicated exclusively to connecting small businesses with quality expansion capital through administration of the SBA 504 Loan Program. With a commitment to economic development, job creation and the small business sector, Growth Corp is ranked a Top 10 National CDC for SBA 504 loan volume and is Illinois' largest 504 loan provider.  In fact, Growth Corp's substantial portfolio ($750+ million) is particularly impressive because every dollar was utilized by Midwest entrepreneurs to open and expand their small businesses.  Contact any member of our lending team today!