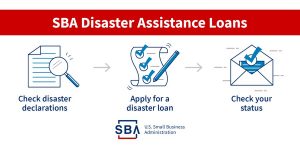 Illinois has been added to the list of Presidential and SBA Agency Declared Disaster States.  Illinois businesses and non-profits statewide are now eligible to apply for disaster assistance loans via the SBA Economic Injury Disaster Loan (EIDL) program, a program providing low interest loans of up to $2M to businesses and private non-profits. These loans may be used to pay fixed debts, payroll, accounts payable and other bills that can't be paid because of the disaster's impact. Loan rates are expected to be 3.75% for businesses and 2.75% for non-profits with long-term repayments in order to keep payments affordable. Terms will be determined on a case by case basis.
Not an Illinois business?   To see if your state has been declared a disaster, check the running list of Presidential and SBA Declared Disasters on SBA's website.
On March 27, 2020, President Trump signed into law the CARES Act, which provided additional assistance for small business owners and non-profits, including the opportunity to get up to a $10,000 Advance on an Economic Injury Disaster Loan (EIDL). This Advance may be available even if your EIDL application was declined or is still pending and will be forgiven.
If you wish to apply for the Advance on your EIDL, please visit www.SBA.gov/Disaster as soon as possible to fill out a new, streamlined application. In order to qualify for the Advance, you need to submit this new application even if you previously submitted an EIDL application. Applying for the Advance will not impact the status or slow your existing application.
What's Needed for Illinois Businesses to File
If you have questions related to SBA's EIDL loans, contact the SBA disaster assistance customer service center at 1-800-659-2955 or by email at disastercustomerservice@sba.gov
Eligible Uses of Funds
These working capital loans may be used to pay the following:
fixed debts
payroll
accounts payable
other bills that could have been paid had the disaster not occurred
Ineligible Uses of Funds
EIDL loans are not intended for:
replacing lost sales or profits
expansion
refinancing of existing debt
Criteria for Loan Approval
Applicants must have a credit history acceptable to SBA
SBA must determine the applicant business has the ability to repay the loan
Concerns/Questions about Existing 504 Loans
If you have questions/concerns about your existing 504 Loan, we're here to help.  Feel free to reach out to Growth Corp's Servicing Team at 217-241-3000, or contact any member of our Servicing Team:
Becky Minett | 217-241-4638 | minett@growthcorp.com
Randy Neumann | 217-241-3636 | neumann@growthcorp.com
Braden Pope | 217-241-3635 | pope@growthcorp.com
Growth Corp is Open for Business
It's important to note, SBA Loans continue to be available and no disruption in lending is expected. Growth Corp is open for business and we do not foresee any interruptions in service. However, we have asked our staff to limit face-to-face meetings. Email and virtual meetings will be utilized as much as possible during these uncertain times.
Thank you for your continued trust in Growth Corp. While the situation is rapidly evolving, we're taking all proactive measures to support and assist our clients. Keep in mind, there will be more news in the coming days about other ways to support your operations through the coming months. Go to our website for a list of additional resources: https://www.growthcorp.com/.