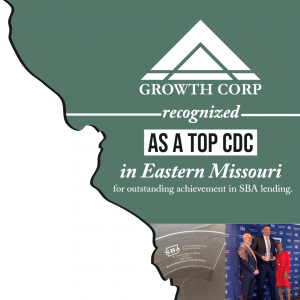 In celebration of Small Business Week, the Small Business Week of Eastern Missouri committee recognized outstanding efforts made by top SBA Lenders.  Growth Corp was honored to be recognized as one of the top 504 Lenders in Eastern Missouri.  This awards ceremony was held on Monday, May 6, 2019, in St. Louis, Missouri.
About the 504 Loan Program
The 504 Loan Program is an economic development tool that provides small businesses with long-term, fixed-rate financing coupled with down payments as low as 10%.  Certified Development Companies (CDC's), such as Growth Corp, are authorized by SBA to partner with local banks, credit unions and other lending institutions in providing 504 financing to small businesses.  The program enables these lenders to provide eligible small businesses with long-term financing to acquire and improve major fixed assets for owner-occupied commercial real estate and heavy machinery.
About Growth Corp
Small Business Growth Corporation (Growth Corp) is a nonprofit, mission-based lender dedicated exclusively to connecting small businesses with quality expansion capital through administration of the SBA 504 Loan Program. With a commitment to economic development, job creation and the small business sector, Growth Corp is ranked a Top 10 National CDC for SBA 504 loan volume and is Illinois' largest 504 loan provider.  In fact, Growth Corp's substantial portfolio ($700+ million) is particularly impressive because every dollar was utilized by Midwest entrepreneurs to open and expand their small businesses.  Contact any member of our Lending Team for more information.