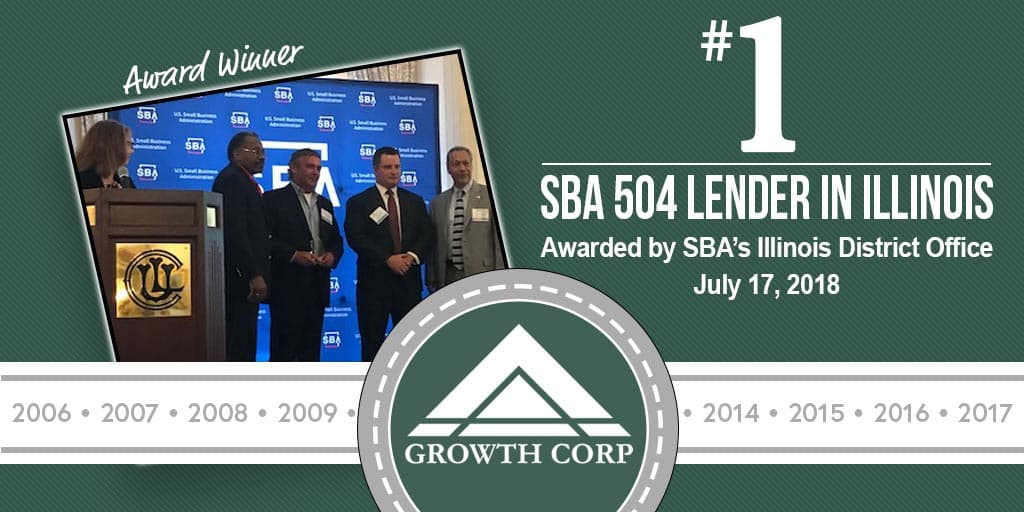 Growth Corp has been named Illinois' 504 Lender of the Year by SBA.  This prestigious award represents Growth Corp's continued support and extraordinary contribution to the small business community.  Douglas Kinley, President of Growth Corp, and Joel Herscher, Vice President of Growth Corp, accepted the award during the Illinois Awards Luncheon on July 17, 2018, in Chicago, Illinois.  Kinley has consistently been recognized for his leadership and dedication to the advancement of small business.
About the 504 Loan Program
The 504 Loan Program is an economic development tool that provides small businesses with long-term, fixed-rate financing coupled with down payments as low as 10%.  Certified Development Companies (CDC's), such as Growth Corp, are authorized by SBA to partner with local lenders in providing 504 financing to small businesses.
About Growth Corp
Small Business Growth Corporation (Growth Corp) is a not-for-profit organization empowered by the U.S. Small Business Administration to marshal the 504 lending program to small businesses throughout the entire state of Illinois, and parts of Missouri, Indiana, Iowa, and Kentucky.  Growth Corp is focused exclusively on local economic development and job creation.