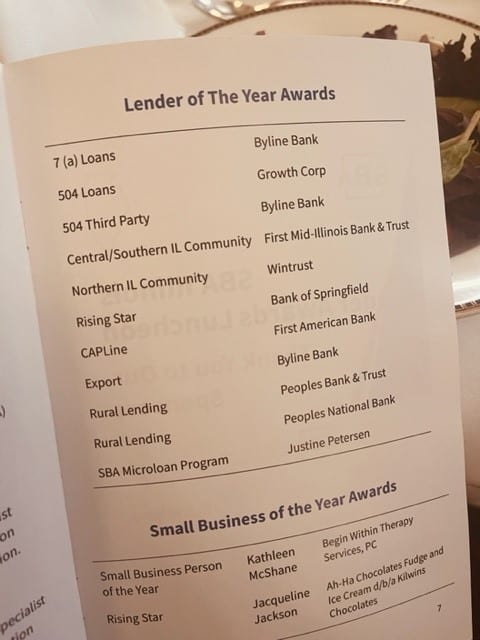 (July 18, 2023) – Growth Corp was named Illinois' 504 Lender of the Year by the U.S. Small Business Administration (SBA).  This prestigious award recognizes Growth Corp's commitment to economic development and job creation through facilitation of the 504 Loan Program.  Doug Kinley, President of Growth Corp, accepted the award during a July 18, 2023, Lender Awards Luncheon held at the Union League Club in Chicago.
In 2022 alone, Growth Corp helped facilitate $706 million in business expansion investments, including $262 million in 504 loans.  This financing fueled growth for hundreds of businesses, which in turn, created and/or retained more than 2,300 jobs.
The 504 Loan Program is SBA's premier economic development tool.  Essentially, 504 loans put expansion dreams within reach for growing businesses by offering low, long-term, fixed interest rate financing. The structure of 504 loans is also attractive, offering lower down payments than most conventional loans.  Essentially, there are three parties involved –a local bank or credit union; a Certified Development Company (CDC), such as Growth Corp; and the small business owner.  With this structure, as much as 90% of the total project is financed from sources outside of the business owner's pocket.
About Growth Corp
Growth Corp is a nonprofit, mission-based lender dedicated exclusively to connecting small businesses with quality expansion capital. Recognized as an Accredited Lender with SBA, a distinction only given to CDCs with exceptional performance as it relates to loan processing; servicing; portfolio growth; and compliance with SBA regulations, Growth Corp is the largest 504 lender in the Midwest and a top 10 CDC nationwide.  Every dollar of Growth Corp's impressive portfolio is extraordinary because it was utilized by Midwest entrepreneurs to grow their business.