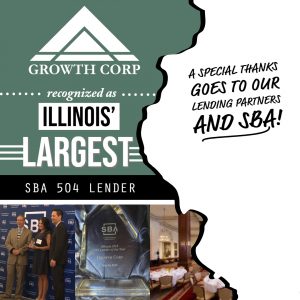 Growth Corp has been named Illinois' 504 Lender of the Year by the U.S. Small Business Administration (SBA).  This prestigious award represents Growth Corp's continued support and extraordinary contribution to the small business community.  Sara Vanhala accepted the award on behalf of Growth Corp during the 2019 Small Business Week Awards Luncheon on May 16, 2019, in Chicago, Illinois.  Growth Corp has consistently been recognized for its leadership and dedication to the advancement of small business.
In 2018 alone, Growth Corp assisted hundreds of businesses with the 504 Loan Program, totaling approximately $278 million in total real estate financing, $111 million of which was 504 capital.  These projects directly created and/or retained more than 2,700 jobs.  While many of these projects directly impact economic development in the Greater Chicago area, Growth Corp is also contributing to the economic advancements of many rural communities throughout the state as well.
About the 504 Loan Program
The 504 Loan Program is an economic development tool that provides small businesses with long-term, fixed-rate financing coupled with down payments as low as 10%.  Certified Development Companies (CDC's), such as Growth Corp, are authorized by SBA to partner with local banks, credit unions and other lending institutions in providing 504 financing to small businesses.  The program enables these lenders to provide eligible small businesses with long-term financing to acquire and improve major fixed assets for owner-occupied commercial real estate and heavy machinery.
About Growth Corp
Small Business Growth Corporation (Growth Corp) is a nonprofit, mission-based lender dedicated exclusively to connecting small businesses with quality expansion capital through administration of the SBA 504 Loan Program. With a commitment to economic development, job creation and the small business sector, Growth Corp is ranked a Top 10 National CDC for SBA 504 loan volume and is Illinois' largest 504 loan provider.  In fact, Growth Corp's substantial portfolio ($700+ million) is particularly impressive because every dollar was utilized by Midwest entrepreneurs to open and expand their small businesses.
For more information, please call 877-BEST 504 or contact any member of our Lending Team!