Whether your business is product or service-based, having the necessary equipment is vital to maintaining smooth operations.  Replacing, upgrading or purchasing new equipment for the first time can put a serious pinch on your cash flow though.  However, with the right financing, you can get the equipment your business needs without making a substantial dent in your bottom line.
Replacing, Upgrading or Purchasing New Equipment
Many business owners and manufacturers don't know this, but heavy machinery and equipment can be financed with the SBA's 504 Loan Program either as a stand-alone project or as part of a real-estate transaction.  So, whether you're just replacing a piece of existing equipment, or you're buying a new facility and stocking it with all new equipment, the SBA 504 is your answer.  The range of equipment covered by the SBA 504 Loan Program is pretty broad, so long as the equipment has a useful life of 10 years or more.  This includes:
X-Ray/Digital Imaging Machines
Forklifts
Manufacturing equipment
Dry-Cleaning Equipment
Commercial Printing Machines
Food Processing Machinery
Calibrated Machines
SBA 504 Loan Program Basics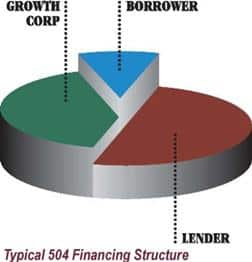 The SBA 504 Loan Program annually facilitates billions of dollars in commercial real estate transactions as well as improvements and equipment purchases.  In a typical 504 loan there are three players:
A bank providing a first mortgage for 50% of the total project costs
A Certified Development Company (such as Growth Corp), providing a second mortgage for 40% of the total project costs
The borrower providing 10% equity
Since conventional loans usually require a 20-30% equity contribution from the borrower, the upfront savings resulting from the 504's 90% financing is reason enough for choosing the 504.  However, there's more.
The Benefits of Using the SBA 504 Loan Program 
The Small Business Administration (SBA) developed the 504 Loan Program to offer business owners a more affordable and accessible way to grow and expand their business.  In fact, this financing offers:
Long loan terms of 20 years for real estate and 10 years for equipment.
Low, fixed interest rates for the life of the 504 loan
Manufacturers may be eligible for up to $5.5 million per project on the SBA second mortgage portion of the loan.  There is no limit overall on project size.
There is no limit on the number of SBA 504 loan projects allowed to manufacturers.  So a growing, small manufacturer could use the program to purchase a new facility, finance various pieces of new equipment and open an additional facility.  Funds for small manufacturing projects are not limited by SBA's lending limits of $5 million per borrower.
SBA financing is total project cost financing.  This means it includes land, construction/renovations, equipment, furniture/fixtures, soft costs and closing costs.  Financing total project costs is a clear advantage as it allows borrowers to preserve capital and use it to grow their business in other ways.
The SBA 504 Finances Total Project Costs
Let's face it, the true bottom line of an expansion project, no matter the size, is often far more than the just the cost for brick and mortar or equipment.  Soft costs and closing costs can add up.  Most conventional bank loans do not include soft costs in the financing, leaving borrowers to pay for them out of their own pocket.  However, the SBA 504 Loan Program finances total project costs.  Total project costs include not just the cost for land and building, hard construction or equipment, but also the soft costs like moving your equipment, furniture, fixtures, closing costs and professional fees.
SBA 504 Financing Can Include:
Furniture and Fixtures
Lighting
Office Furniture
Partitions
Shelving Units
Menu Boards
Leasehold Improvements
HVAC, Flooring, Electrical, Plumbing
Landscaping
Parking Lots
Other Costs
Appraisals
Attorney Fees
Building Permits
Environmental Reviews
Design/Architectural Fees
Inspections
Interim Interest
What Businesses Qualify?
To qualify for the SBA 504 Loan Program, the business must:
have fewer than 500 employees
if a manufacturing company, meet the definition of a small to mid-sized manufacturer as classified in the North American Industry Classification System, sectors 31-33.
be located in the United States
be a for-profit business
have a tangible net worth of not more than $15 million and average net income after taxes (two years prior to application) of not more than $5 million
be owner-occupied
504 Case Study Example
A widget manufacturer was just awarded a multi-million dollar contract, but needs to purchase a new piece of equipment to keep up with their growing demand.
| | |
| --- | --- |
| Purchase Equipment | $800,000 |
| Real Estate | $0 |
| Purchase Furniture & Fixtures | $0 |
| Soft Costs* | $0 |
| Total | $800,000 |
Unlike real estate, terms for equipment loans vary greatly.  Depending on the nature of the borrower's lending relationship with the bank and how much equity they have in any existing equipment, the terms could run anywhere from three to ten years, a three to seven year range for the balloon and up to 20% down payment.  However, utilizing the 504 Loan Program, up to 90% of the project costs can be financed.  The bank lends up to 50%, thereby reducing its risk and corresponding interest rate.  Growth Corp lends up to 40% at a fixed rate for 20 years, with a down payment of only 10% from the borrower.
| | | |
| --- | --- | --- |
| | Conventional | With 504 |
| Bank | $640,000 | $400,000 |
| Growth Corp | $0 | $320,000 |
| Borrower | $160,000 | $80,000 |
| Total | $800,000 | $800,000 |
As shown, the borrower's equity injection can be reduced by $80,000, thereby conserving cash and providing the necessary working capital to support continued growth.  Additionally, cash flow is improved as a result of the longer maturity and potentially lower interest rates.
Typical 504 Financing Structure
 Project Costs
Source
Lien
Funding Limits
Rate
Term Real Estate
Term Equipment
50%
Financial Institution
1st
No limit
Market
10 years or longer
7 years or longer
40%
Growth Corp 504
2nd
$5 to $5.5 million
Fixed
20 years
10 years
10%
Applicant/Borrower
Download Growth Corp's Commercial Buyers Guide – SBA 504 Loan Program
The Bottom Line
An SBA 504 loan is one of the first types of financing you should consider if you plan to purchase commercial real estate or long-term equipment.  The low interest rates, long repayment terms and low down payment requirements takes the pressure off business cash flow and instead preserves it for working capital.  Plus, the process is not much different than that of a conventional loan.  Contact us today to get started.