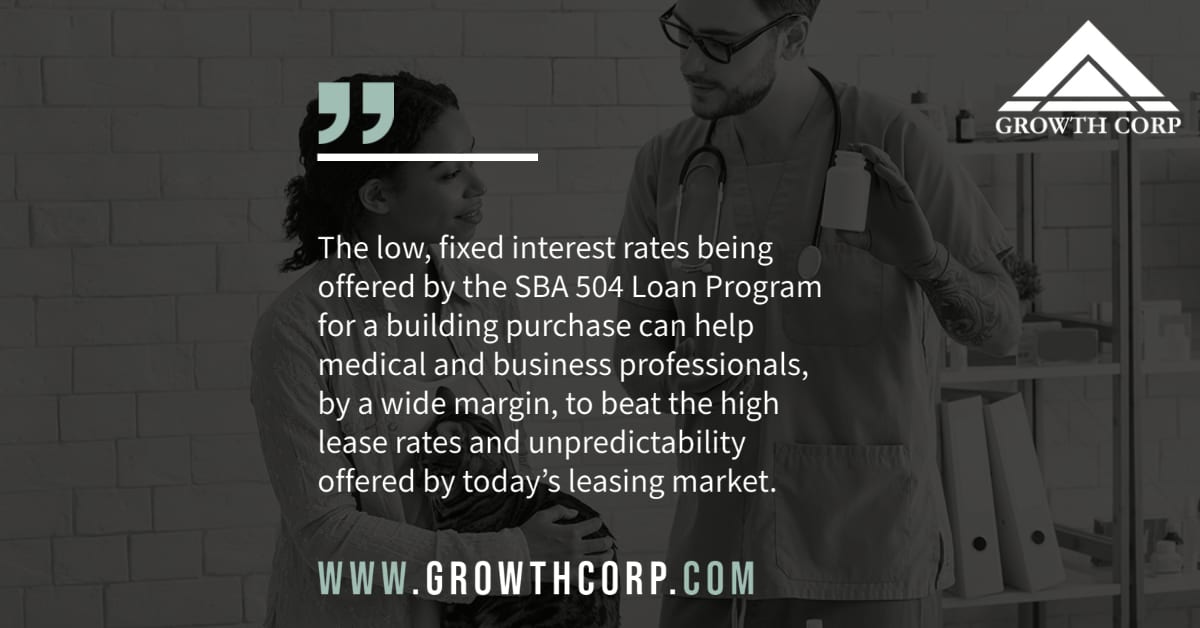 Many small business owners may wonder if expanding into multiple locations is possible using the SBA 504 Loan Program. The answer is yes!  SBA 504 financing can actually be leveraged several times simultaneously, up to SBA's lending limits.  This is a smart move considering the 504 provides long-term, fixed rate, low down payment financing.
When the Time Comes to Expand Again, Utilize the Best Financing Option for Small Businesses
Working with a variety of businesses every day has given us a unique vantage point and understanding of how one expansion often leads to the need for another. For instance, moving into a new facility can create the need for new equipment. Or, new equipment can create the need for additional warehouse space. That's why we see so many repeat borrowers with the 504 Loan Program. Honestly…facilitating continued growth is what this program was created to do and the mission of our non-profit organization is to advocate for small businesses. We know it's not the big-named corporate businesses making the biggest impact on the economy…it's you, the hard-working entrepreneurs serving our local communities!
What is the SBA 504 Loan Program?
If you are a small business owner, you are probably familiar with the U.S. Small Business Administration (SBA), and may have even used one of their loan programs before.  The SBA established the 504 Loan Program over 30 years ago.  This program works in conjunction with your bank to allow business owners to receive up to 90% financing for the acquisition, construction, improvement or expansion of commercial property or for acquiring heavy machinery or equipment.
The program essentially consists of three key elements:  50% of the project's total cost is provided by a lending institution, usually a bank; 40% is provided through the SBA's 504 Loan Program; and 10% equity is provided by the borrower.  (Start-up businesses and single-purpose facilities require a slightly higher equity contribution.)
By requiring a smaller down payment, the 504 can help the business conserve their operating capital, while the structure of the program makes it attractive to financial institutions.  Plus, the fixed rate and long loan term insulates borrowers from rising interest rates and future balloon payments or call provisions.  The portion of the loan funded by the SBA is some of the least expensive financing available to businesses.  In addition, the 504 rate is locked in for up to 25 years.
12 benefits that prove SBA 504 Loans were specifically designed to help businesses expand and prosper
SBA 504 Loans from Growth Corp feature:
Low down payments (10% in most cases)
Low, fixed interest rate on the 504 portion
Long loan terms – up to 25 years
The ability to include furniture, fixtures and fees
An option for refinancing commercial debt
Payment stability
Preservation of working capital
Protection from balloon payments
The ability to include leasehold improvements
Up to $5 million for SBA portion of the loan, and no limit on the overall project size
The option of using the 504 Loan Program multiple times to continue expansion
The ability to keep your current bank/lender
What are the Benefits of Multiple SBA 504 Loans?
More stability. One part of running a successful business is to keep overhead, or day-to-day expenses, as stable as possible. Since SBA 504 loans offer long-term fixed rates, you'll know your exact monthly payment every month for the life of the loan. This adds a layer of predictability in your business operations, allowing you to forecast and plan more accurately as a business owner.
Long-term savings. This type of loan can also translate to savings. If you're using an SBA 504 loan to finance a commercial building, you may find that your monthly mortgage payment can actually be lower than what you're currently paying in rent. What's more, you won't be at the mercy of a landlord, who can raise your rent, or worse, decide not to renew your lease.
No Future Balloon Payments or Call Provisions.  A balloon loan mortgage, common in commercial real estate, is usually a short mortgage that requires a large one-time payment at the end of the term.  This can mean your payments are lower in the years before the balloon payment comes due, but you will either owe a lump sum at the end or be required to refinance the balance.  This can lead to another round of building appraisals and credit approvals to endure.  However, unlike conventional commercial real estate loans, a 504 Loan has no balloon payments.
Call provisions are similar to balloon payments in that, with a conventional loan, you may be required to maintain a specific debt-service coverage ratio as a way for lenders to lower their risk.  If you fail to meet that provision, the bank can "call in" your loan.  This means you would either have to pay off the balance, or refinance it.  The SBA 504 Loan Program has no covenants or call provisions either.  What you get is a long-term, fixed rate loan offering secure, predictable monthly payments for the life of the loan.
Financing includes Furniture, Fixtures and Fees. Let's face it, the true bottom line of an expansion project, no matter the size, is often far more than the just the cost for brick and mortar or equipment.  Soft costs and closing costs can add up.  Most conventional bank loans do not include soft costs in the financing, leaving borrowers to pay for them out of their own pocket.  However, the SBA 504 Loan Program finances total project costs.  Total project costs include not just the cost for land and building, hard construction or equipment, but also the soft costs like moving your equipment, furniture, fixtures, closing costs and professional fees.
SBA 504 Financing Can Include:
Furniture and Fixtures
Lighting
Office Furniture
Partitions
Shelving Units
Menu Boards
Leasehold Improvements
HVAC, Flooring, Electrical, Plumbing
Landscaping
Parking Lots
Other Costs
Appraisals
Attorney Fees
Building Permits
Environmental Reviews
Design/Architectural Fees
Inspections
Interim Interest
Who Uses Multiple SBA 504 Loans?
Whether you're just buying your first location, or are ready to open a second, third or even tenth location, we're here to help.  We've worked with thousands of professionals just like you and we understand the expenses that go into purchasing and furnishing professional/medical offices, retail facilities and many other types of businesses.
Doctor's Offices
Veterinarian Offices
Dentists
Attorneys
Accountants
Chiropractors
Architects
Graphic Designers
Physical Therapists
Restaurants
Retail Stores
Health Clubs
Day Care Facilities
Car Washes
Boutiques
Auto Repair Shops
By and large, use of the 504 Loan Program provides a financing solution that can ease business owners' expansion concerns…particularly when expanding into multiple locations  And, with recent program enhancements, the 504 is now able to help more businesses than ever before.  For more information about who is a good candidate for SBA 504 Loans, download our guide:  Typical Users of SBA 504 Loans or contact any member of our Lending Team.