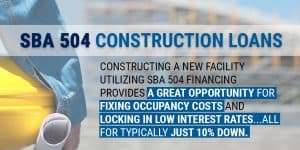 Are you in the market for commercial construction loans?   Maybe your business has grown and it's time to move into your own building.  Maybe you've even looked at commercial real estate for sale or lease, but you just haven't found what you're looking for.  The location is wrong.  The size is wrong.  Or, the building would require costly remodeling to make it suit your needs.  However, owning your business property is beneficial in many ways.  Consider this:
Equity: every payment made is an investment in your future.
Occupancy costs are stabilized: rent increases no longer apply and the SBA 504 payment is fixed.
Preserves cash: in most cases, the monthly payment to own is less than a rent payment.  The savings can be used to hire additional employees, buy inventory or invest in other growth strategies.
Should you construct your own facility?
Constructing a new building is an exciting venture.  Plus, building ownership allows you to build equity into your businesses.  And, by constructing your own facility, you'd be able to customize the building to meet both the current and future needs of the business.  The building could be exactly what your business needs to perform at its best.  And that's a very good thing!
Where to start
There are many ways to go about it, but the fastest path is to first figure out how much financing you qualify for.  Once you've scoped out some ballpark project cost figures and have some basic project information assembled, meet with a local commercial lender to discuss your financing options.  This way you have a solid understanding of what you can afford, how much cash you'll need for the down payment and other important financial details including the bank's construction loan guidelines.  These guidelines vary, but following them from the beginning prevents time-consuming delays when you're ready to close.
SBA 504:  Your Best Financing Option for Commercial Construction
Business owners thinking of constructing an owner-occupied building from the ground up, or expanding an existing facility, to allow for the continued growth of their business should consider the U.S. Small Business Administration's (SBA) 504 Loan Program.  The 504 allows you to keep more of your working capital than most any other commercial loans on the market.  Through this loan program, your local lender offers 50% of the financing with favorable terms; 40% of the project costs are financed with a fixed-rate debenture secured with a junior lien (second mortgage) from a Certified Development Company and backed by a 100 percent SBA guaranty.  The borrower contributes a low 10% down payment, which is one of the big attractions of this program.
A Closer Look at The 504
The 504 Loan Program offers other favorable terms including longer amortizations (20 years) and additional loan proceeds for furniture, fixtures, closing costs and other soft costs.  Let's take a closer look:
The SBA 504 allows business owners to put less money down than they would have to with conventional financing. This means you retain more of your capital for use in other parts of your business during the construction process.
The SBA 504 allows for business owners to finance construction costs, closing costs and soft costs, including architectural fees, engineering fees, surveys, title insurance and more within the loan. Furniture, fixtures, landscaping, signage, parking lots and equipment can also be included.  This also allows you to retain more of your capital on hand for other expenses during the construction process.
The SBA 504 offers low, long-term interest rates without balloon payments or call provisions. These payments are fully amortized over 20 years.  Smaller monthly payments have less impact on your cash flow and you won't have another round of appraisals and refinancing to worry about in the near future.
The SBA 504 allows business owners to build a larger facility than they currently need to occupy, as long as it satisfies the owner-occupied provisions of SBA financing. So you can rent out extra space and generate additional rental income to assist in meeting the monthly loan payments.  However, if you need that space later for additional business expansion, you've got it available.
Construction Loans – The Financing Process
Let's face it, the construction process can be time-consuming.  You should start the process early, choose a proactive lender and seek a qualified contractor to ensure a smooth underwriting, closing and funding process.  After you've had your initial meeting with a lender to create a construction budget, discuss the goals of the project and determine creditworthiness, you'll be asked to provide common financials, such as personal tax returns, profit and loss statement for the business, construction cost estimates, full project plans and more.  Once loan underwriting is complete and both the bank and SBA have approved your loan, you'll receive a checklist outlining the documents that must be provided prior to closing.
A Great Opportunity
Overall, constructing a new facility utilizing SBA 504 financing provides a great opportunity for fixing occupancy costs and locking in low interest rates, all for typically just 10% down.  Plus, with the 504, you pay for your new custom-designed facility over the long term thus avoiding the risky call-provisions and balloon payments of conventional loans or rising lease rates if you were to rent.
What will you build with financing from the 504 Loan Program?  Call (877) BEST 504 to schedule a consultation with one of our Loan Officers.