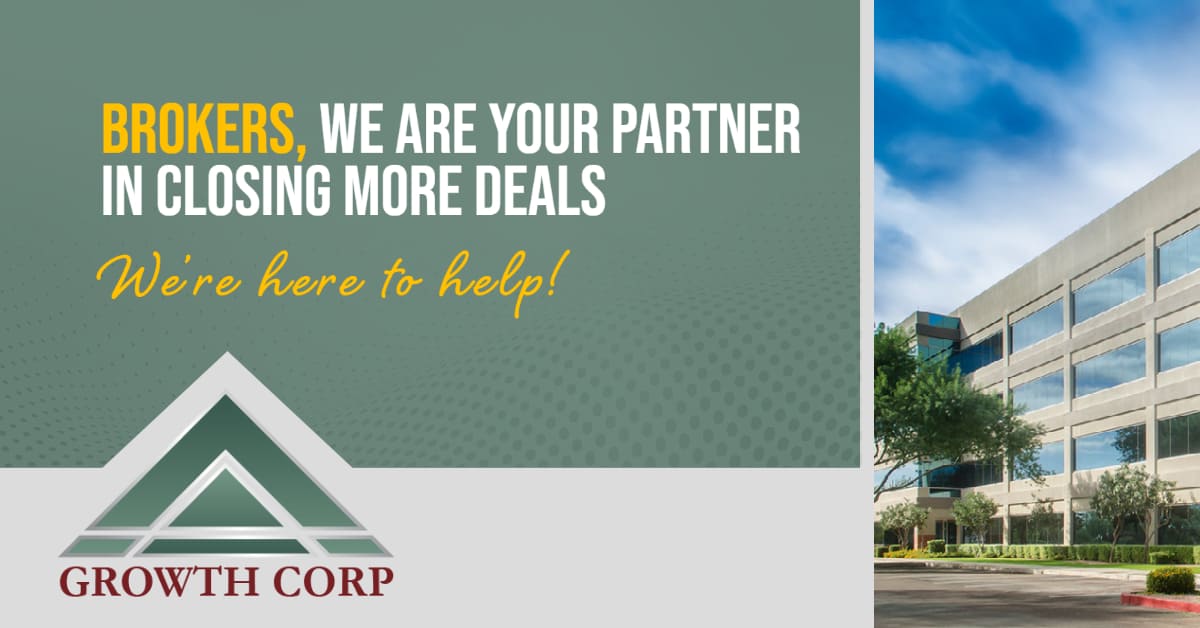 Brokers, when it comes to commercial real estate, we are your partner in closing deals!  We've specialized in owner-occupied commercial real estate financing for 35 years. Growth Corp's Lending Team has worked with thousands of businesses spanning every industry, so we have the expertise to properly structure real estate loans and close deals.
We are Illinois' largest 504 Lender and we specialize in commercial real estate loans.  So let's work together to close more deals.
Growth Corp is your partner in securing SBA 504 loans for your clients—and we ensure they are processed and closed with accuracy and efficiency.
Help your clients preserve cash.  Earn revenue from renting out a portion of their owned space. Leverage the benefits of property ownership.
The U.S. Small Business Administration's (SBA) 504 Loan Program was designed for businesses to invest in commercial real estate…whether that be purchasing real estate, buying or constructing buildings, and/or modernizing facilities. With below-prime rates and long loan terms, there is simply no better commercial financing option.
Brokers and SBA 504 Loans
The SBA 504 Loan Program's low down payments and affordable terms can make commercial real estate ownership a reality for business owners, allowing commercial brokers to get more clients into their own commercial buildings. Here are seven ways SBA 504 Loans are beneficial to commercial brokers:
Make a deal happen that might not have worked with conventional financing
Offers low down payments so clients can preserve their cash
Attracts more buyers with access to 25-yr fixed terms
The financing can include parking lots, renovations, soft costs, fees, landscaping, FF&E, street improvements, etc.
Can assist clients looking to finance multiple locations
Clients find the benefits of a 504 Loan make purchasing a more attractive option than leasing
Invest in your future – Realtors can use the 504 to buy or build their own office space
What Can SBA 504 Loans Be Used For?
Purchasing land and its improvements (including grading, street improvements, utilities, parking lots, and landscaping)
Construction of new facilities
Modernizing, renovating, or converting existing facilities
Purchasing machinery/equipment
Proceeds can also be used to refinance existing qualified debt
Is Your Commercial Real Estate Project a Fit for the 504 ?
Does it involve CRE? Is your client looking to purchase land and/or buy or build a commercial property?
Will the property be owner-occupied? Will the client occupy at least 51% of the project property (60% of new construction)
Is it a for-profit business? Is the client a for-profit business located in the United States?
Is it size eligible? Does the business have a tangible net worth less than $15 million and 2-yr average after tax profits of less than $5 million?
Remove Common Barriers to Selling Commercial Real Estate
How the 504 Helps with Liquidity Issues
Low down payments – typically just 10%
Equity in land can count toward the down payment
25-year terms = lower payments
Fully amortized for the life of the loan
Financing can include renovations, soft costs, closing costs, equipment, etc.
How the 504 Helps with Hesitations to Buy
Occupancy costs are stabilized with fixed monthly payments
Mortgage payments are often less than a lease payment
Builds equity
Customize/Retrofit the building – improvements can be financed
Unused space (up to 49%) can be rented out to generate additional income
How the 504 Helps with Credit Issues
Participation with SBA enhances the credit
Bank lowers their risk to only 50% loan-to-value
Bank gets first lien position
Bank sets the pricing for its first mortgage
May help the bank fulfill its Community Reinvestment Act (CRA) goals
SBA 504 Case Study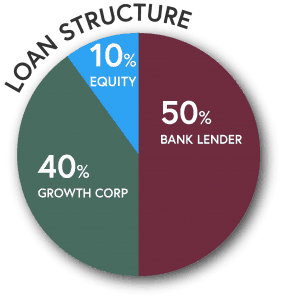 The Challenge: A manufacturing firm had outgrown their leased facility and needed to move to a larger building. While purchasing the real estate made sense, allocating the cash for a down payment was a problem.
The Solution: Utilizing the 504 Loan Program, 90% of the project costs were financed thereby conserving the company's cash and preserving the necessary working capital to support continued growth.
The Result: The combined monthly payment on the acquisition of their new building is actually less than their leased payment was and the company was able to stay local. In addition, with more space, they were able to expand production and add 5 new, full-time jobs.
Make Purchasing the More Attractive Option…
The SBA 504 Loan Program offers buyers:
Low down payments – usually just 10%
Low, fixed interest rates
Long loan-terms (10-, 20-, or 25-year terms)
The ability to include FF&E
An option for refinancing commercial mortgage debt
Payment stability – no rent or interest rate increases
Protection from balloon payments
Preservation of working capital
No limit on total project size
Up to $5 million for the SBA 504 portion
The freedom to use the 504 multiple times (so long as the aggregate SBA portion remains below the $5 million limit)
The ability to keep current bank/lender relationships
About Growth Corp
Small Business Growth Corporation (Growth Corp) is a nonprofit, mission-based lender dedicated exclusively to connecting small businesses with quality expansion capital through administration of the SBA 504 Loan Program. With a commitment to economic development, job creation and the small business sector, Growth Corp is ranked a Top 10 National CDC for SBA 504 loan volume and is Illinois' largest 504 loan provider. In fact, Growth Corp's substantial portfolio ($850+ million) is particularly impressive because every dollar was utilized by Midwest entrepreneurs to open and expand their small businesses. Contact any member of our lending team today!