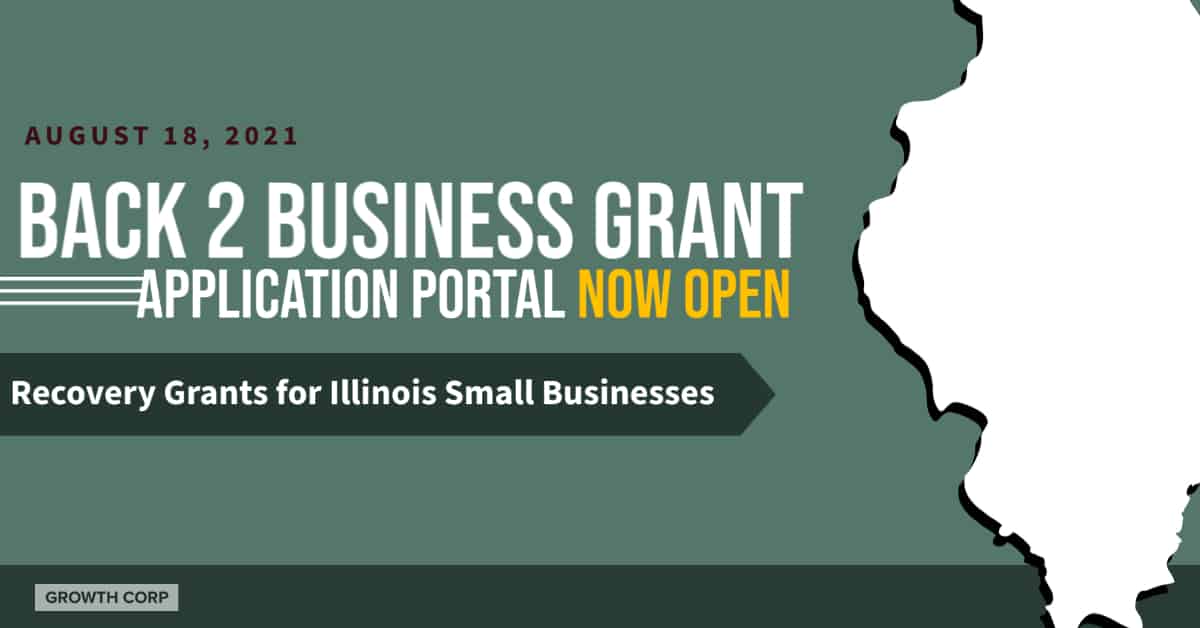 August 18, 2021 – As part of Governor JB Pritzker's overall economic recovery strategy, the $250 million Back 2 Business (B2B) grant program aims to deploy small businesses recovery grants for those hit hardest by the COVID-19 pandemic. The B2B grant program builds on the success of last year's Business Interruption Grant (BIG) program – an equity focused business relief program, which directed $290 million to 9,000 businesses in 98 communities across Illinois. B2B is a key component of the Governor's $1.5 billion economic recovery plan, aimed toward a swift and equitable deployment of American Recovery Plan Act (ARPA) funds that have been designated for Illinois to assist in recovery from the COVID pandemic.
To assist small businesses with the B2B application process and other upcoming or ongoing economic recovery grant programs offered at the State or federal level. DCEO has invested $9 million in support of Community Navigator organizations working in every region of the state.  These organizations will provide technical assistance to businesses, with a focus on underserved businesses including minority, rural, veteran and women-owned businesses.
 Back 2 Business Funding Available:
$250 million to small businesses across the state that experienced losses in 2020 due to COVID-19, including the following set-asides.

$100 million – Businesses located in Disproportionately Impacted Areas (DIAs). (See DIA Map below)
$30 million – Arts and Entertainment businesses that didn't receive Shuttered Venue Operators grants
$25 million – Restaurants and taverns that didn't receive the Restaurant Revitalization Fund
$25 million – Hotels
$25 million – Businesses that didn't receive a BIG grant due to exhaustion of funds

Grants will range from $5,000 to $150,000 per business and can be used to cover a wide range of operations/staff/overhead costs

Up to $250,000 for hotels
 Back 2 Business Eligibility Requirements:
Businesses with revenues of $20 million or less in 2019 and a reduction in revenue in 2020 due to COVID-19 (35 million or less for hotels)
Priority will be given to the following categories:

Hard-hit industries (see eligibility guidelines for a full list of priority industries and their definitions)
Hard-hit areas – DIAs comprising of 176 zip codes
Businesses who have yet to qualify for state funding or federal assistance (including the Paycheck Protection Program (PPP), Restaurant Revitalization Fund (RRF), business Interruption Grant (BIG), Shuttered Venue Operators Grant (SVOG), and more)
Businesses that had less than $5 million in revenue in 2019
Learn about eligibility guidelines
How to apply:
Application Portal now open 

Applications can be tracked in real-time
Allies for Community Business (A4CB), DCEO's grant administrator, will began accepting applications on Wednesday, August 18, 2021

Documentation needed:

Business owner ID (ITIN business owners eligible)
Business's 2019 AND 2020 Federal tax returns
Two (2) business bank statements – one from the period April through December 2020, and most recent statement

Prepare for the application process early by learning about the information and documents required

Application is also available in: Spanish, Polish, Chinese, Hindi, and Arabic (coming soon)

List of Frequently Asked Questions
Need help? Application assistance and webinars
Over 100 community navigators providing 1:1 regional support service for small businesses. Find a community navigator with the B2B search tool.
About Growth Corp
Small Business Growth Corporation (Growth Corp) is a nonprofit, mission-based lender dedicated exclusively to connecting small businesses with quality expansion capital through administration of the SBA 504 Loan Program. With a commitment to economic development, job creation and the small business sector, Growth Corp is ranked a Top 10 National CDC for SBA 504 loan volume and is Illinois' largest 504 loan provider.  In fact, Growth Corp's substantial portfolio ($740+ million) is particularly impressive because every dollar was utilized by Midwest entrepreneurs to open and expand their small businesses.  Contact any member of our lending team today!