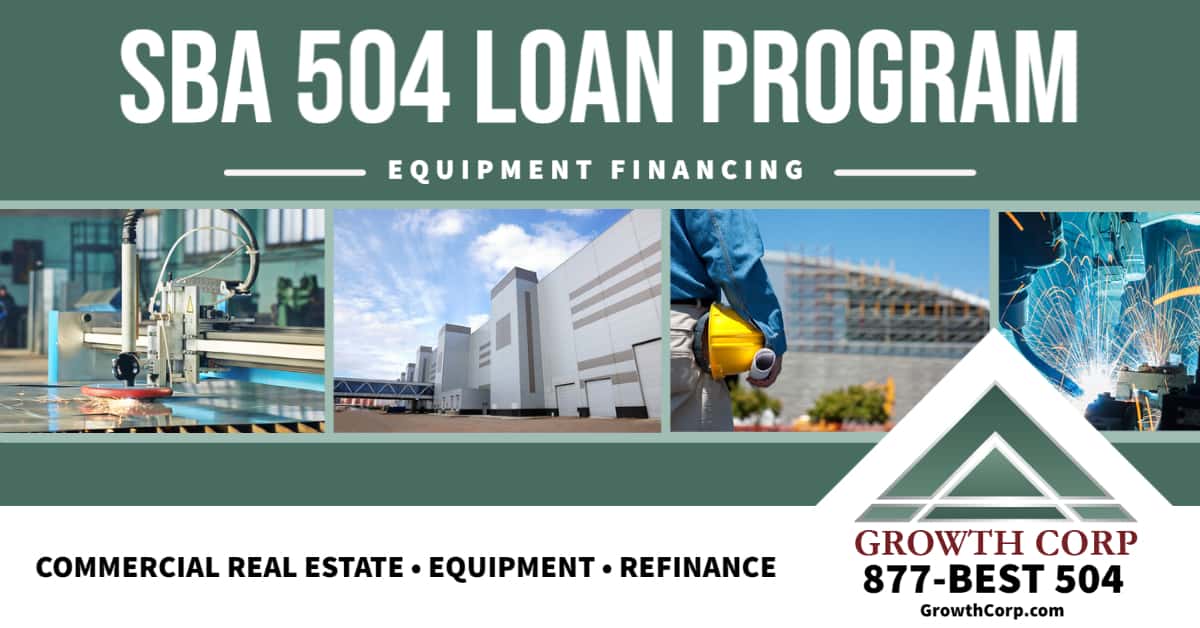 Most know that the #SBA504 program can finance equipment projects (typically 10-year debenture) and/or real estate projects (typically 20- or 25-year debentures). However, did you know that equipment can be included in a 20- or 25-year real estate project?
When the total project includes both real estate and equipment, the maturity of the 504 loan will be based on the asset category that constitutes the majority of loan proceeds. A 20- or 25-year debenture can be issued when the real estate portion of the project comprises the majority of the project.
The ability to amortize large equipment purchases over 20- or 25- years can greatly improve cash flow for growing manufacturers!
The SBA 504 Finances Total Project Costs, Including Equipment
Let's face it, the true bottom line of an expansion project, no matter the size, is often far more than the just the cost for brick and mortar or equipment.  Soft costs and closing costs can add up.  Most conventional bank loans do not include soft costs in the financing, leaving borrowers to pay for them out of their own pocket.  However, the SBA 504 Loan Program finances total project costs.  Total project costs include not just the cost for land and building, hard construction or equipment, but also the soft costs like moving your equipment, furniture, fixtures, closing costs and professional fees.
SBA 504 Financing Can Include:
Furniture and Fixtures
Lighting Office Furniture Partitions Shelving Units Menu Boards
Leasehold Improvements
HVAC, Flooring, Electrical, Plumbing Landscaping Parking Lots
Other Costs
Appraisals Attorney Fees Building Permits Environmental Reviews Design/Architectural Fees Inspections Interim Interest
SBA 504 Machinery and Equipment Loans
Uses
For the purchase and installation of new or used, fixed, long-life machinery and equipment.
Examples
X-Ray or Digital Imaging Machines
Manufacturing Equipment
Dry-Cleaning Equipment
Commercial Printers
Food Processing Machinery
Highly Calibrated Machines
Equipment that generates renewable energy
Options
Whether you're just replacing a piece of existing equipment or buying a larger facility and stocking it with all new equipment, the SBA 504 has flexible financing options.
Machinery and equipment can be financed independent of real estate
Or, machinery and equipment can be financed in conjunction with a commercial real estate purchase
Loan terms of 10-, 20- or 25-years are available (term length is limited to the useful life declaration provided by the manufacturer)
What Else Can 504 Loans Be Used For?
SBA 504 Loans can be used for fixed asset projects such as purchasing land and improvements (including existing buildings, grading, street improvements, utilities, parking lots and landscaping); construction of new facilities; modernizing, renovating, or converting existing facilities; or for refinancing existing qualified debt.
How Does It Work?
The 504 program offers financing that covers 90% of a project's total cost, as opposed to the 70%-80% offered with most conventional loan programs. The typical breakdown of the funds in a 504 loan is:
50 percent from a bank or other private lender,
40 percent from the SBA, and
10 percent from the borrower
Business owners can reduce their initial capital outlays by as much as $1 million in some circumstances by leveraging the 504 Program's 90 percent loan-to-cost financing.
504 Benefits
SBA 504 loans are attractive to borrowers because they offer a great opportunity for fixing occupancy costs with a long-term, fixed-rate loan and a minimal down payment.  More and more borrowers are seeing the up-side to buying commercial properties or equipment for their business, or refinancing in to long-term, fixed-rate loans, while interest rates are still low.
Low down payment (10% in most cases)
Low, fixed interest rate
Payment stability
Long loan terms
Protection from balloon payments
High lending limits
Can include leasehold improvements, soft costs and equipment installation
Most Businesses Qualify
To qualify for the SBA 504 Loan Program, the business must:
have fewer than 500 employees
be located in the United States
be a for-profit business
have a tangible net worth of not more than $15 million and average net income after taxes (two years prior to application) of not more than $5 million
be owner-occupied
if a manufacturing company, meet the definition of a small to mid-sized manufacturer as classified in the North American Industry Classification System, sectors 31-33.
Growth Corp is the largest provider of SBA 504 commercial real estate financing in Illinois.

 
Growth Corp is a non-profit development company certified by the U.S. Small Business Administration (SBA) to originate SBA 504 loans in Illinois and its surrounding areas.  Driven by a passion for helping small businesses grow, Growth Corp is the largest SBA 504 Lender in Illinois and one of the top ten Certified Development Companies in the country.  With a current portfolio in excess of $800 million, Growth Corp has helped thousands of small and medium-sized businesses get the financing they need.
Why Growth Corp?
We know your success depends on having access to expansion capital.  We offer affordable and accessible expansion capital to grow your business.  Our experienced staff takes pride in making a difference in the lives of small business owners and their employees.  Start-ups to seasoned businesses and everything in between can benefit from working with Growth Corp.  Here's why:
We're the #1 SBA 504 Lender in Chicago and Illinois.  Growth Corp also consistently ranks as one of the top ten SBA 504 Lenders nationwide.
SBA recognized Growth Corp as an Accredited Lender after a thorough review of its policies, procedures and prior performance.  The prestigious ALP status grants Growth Corp increased authority to process and close 504 loans, which provides expedited processing of loan approvals and closings.
We simplify the loan approval process.  Our team coordinates the entire process from application through closing, funding and servicing, making it seamless for you and your bank lender.
We are SBA 504 Experts.  Our responsive and educated staff focuses almost exclusively on SBA 504 loans.  We've got the process down to a science!
We've worked with thousands of businesses, spanning various industries.  That means, there's not much we haven't seen.  Your goals, project structure and business type will likely be familiar to us and we'll understand your unique situation.
Our mission is to advocate for small business.  We love our communities and believe small business is the foundation of their economic prosperity.  We will do all we can to support you and your business goals.
If you run a small to medium sized business in and need financing to purchase machinery/equipment or construct/purchase a new building, Growth Corp's team of professionals will work with you directly to provide the best financing strategy for reaching your goal.  Contact any member of our Lending Team today!