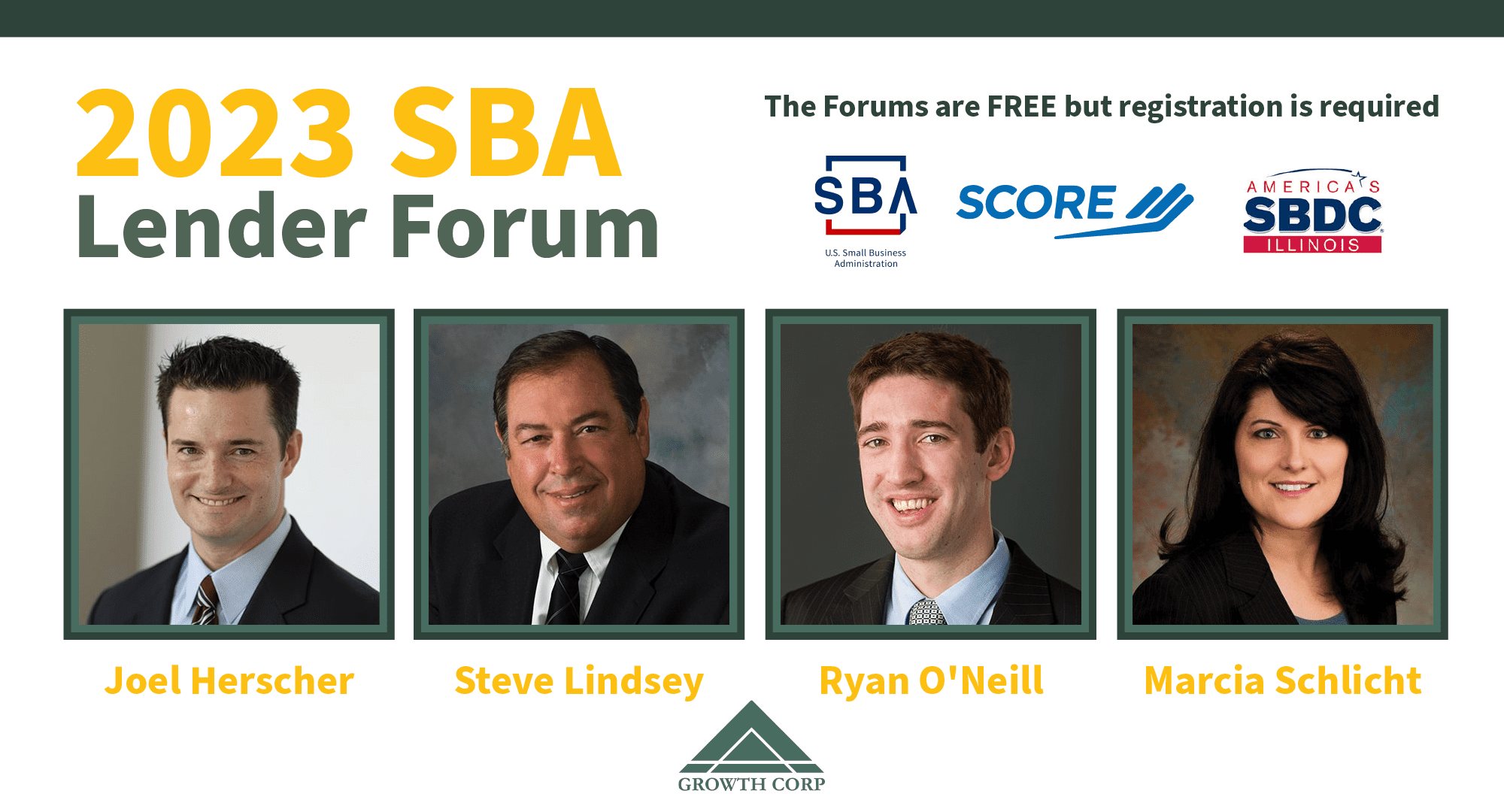 SBA's Illinois District Office, SCORE and Illinois' SBDC Network are holding a series of free forums to update commercial lenders on agency programs and services. Topics will include SOP 50 10 changes, new Fiscal Transfer Agent (FTA), and upcoming SBA training opportunities. SBA staff, 504 corporations, SBDC representatives, and SBA microlenders will present at the event.
The forums are free, but registration is required to attend, so that each lender attending can receive an information packet containing material from all presenters. Reasonable arrangements for persons with disabilities will be made if requested at least two weeks in advance. Contact the host Small Business Development Center to make arrangements.
The forums have been developed in cooperation with the U.S. Small Business Administration, SCORE, and the Illinois Department of Commerce and Economic Opportunity Small Business Development Center Network as a service to Illinois small businesses.
Illinois Lender Forums
All lender forums will be held from 9 a.m.-12 p.m. CT. To register, click on the date you wish to attend.
*Highlighted sections indicate the dates/locations Growth Corp is presenting.
DATE
CITY
LOCATION
HOST
Wednesday, April 19, 2023
BLOOMINGTON
Minor Myers Welcome Center
1211 Park Street
Bloomington, Illinois 61701
Illinois SBDC
at Illinois Wesleyan University
1402 Park St
Bloomington, IL 61701
Phone: 309-556-3101
Email: sgliege@iwu.edu
Tuesday,
April 25, 2023
CHICAGO
SBDC at Bronzeville Incubator
*10:00 am start
5055 S. Prairie Ave.
Chicago, IL 60615
Illinois SBDC at Build Bronzeville
(773) 891-4688
Email: sbdc@buildbronzeville.com
Wednesday, April 26, 2023
CHICAGO 
featuring Ryan O'Neill
SBDC at Rogers Park Business Alliance
7056 N. Clark St.,
Chicago, IL 60626
Illinois SBDC at Rogers Park Business Alliance
(773) 508-5885 x 9
Email: croeschley@rpba.org
Monday,
May 1, 2023
(email to register)
CARBONDALE
 TBD
Illinois SBDC at SIU-Carbondale
1740 Innovation Drive
Carbondale, IL 62903
Phone: 618-536-2424
Email: sbdc@siu.edu
Wednesday, May 3, 2023
AURORA
featuring Joel Herscher
Waubonsee Community College
18 S. River St, Room 244
Aurora, IL 60506
Illinois SBDC
at Waubonsee Community College
(630) 906-4143
Email: hparker@waubonsee.edu
Thursday,
May 4, 2023
DANVILLE
Illinois SBDC at Danville Area Community College Bremer Center (located in the back of campus)
Illinois SBDC Danville Area Community College
2000 E Main St
Danville, IL 61832
Phone: 217-442-7232
Email: sbdc@dacc.edu
Thursday,
May 11, 2023
PROSPECT HEIGHTS
Harper Learning Center
1375 S Wolf Rd
Prospect Heights, IL 60070
Illinois SBDC at William Rainey Harper College
(847) 925-6520
e-mail: sbdc@harpercollege.edu
Thursday,
May 11, 2023
HARRISBURG
featuring Steve Lindsey
Southeastern Illinois College 3575 College Drive Building G, Room 120, Harrisburg IL 62946
Workforce and Illinois SBDC at Southeastern
3575 College Road
Harrisburg, IL 62946
618-252-5400 Ext: 2312
Tuesday,
May 23, 2023
CHICAGO
SBDC at Chicagoland Chamber of Commerce
410 North Michigan Ave. Suite 900
Chicago, Illinois 60611
Illinois SBDC at Chicagoland Chamber
(773) 970-2495
Email:  amcfarland@chicagolandchamber.org
Wednesday, May 24, 2023
SPRINGFIELD
featuring Marcia Schlicht
Community Access Project (CAP) 1908
Social Innovation Center
1100 South Grand Avenue East
Springfield, Illinois 62703
Illinois SBDC for Central Illinois
2401 W White Oaks Dr
Springfield, IL 62704
Phone: 217-522-2772
Email: sbdc@cisbdc.com
Thursday,
May 25, 2023
PEORIA

 

Peoria NEXT Innovation Center
801 W Main Street
Peoria

Illinois SBDC and ITC at Bradley University
Business & Engineering Convergence Complex Suite 1130
1501 West Bradley Avenue
Peoria, IL 61625
Phone: 309-677-2992
Email: illinoissbdc@bradley.edu
Tuesday,
June 6, 2023
CHICAGO
SBDC at Polsky Exchange
1452 E. 53rd St.
Chicago IL 60615
Illinois SBDC at Polsky Exchange
(773) 834-0812
Email: aingram@uchicago.edu
Thursday,
June 15, 2023
MCHENRY
SBDC at McHenry County College
4100 W Shamrock Ln
McHenry, IL 60050
Illinois SBDC at McHenry County College
(815) 455-6098
Email:  mpiekos@mchenry.edu
Thursday,
June 29, 2023
VERNON HILLS
featuring Ryan O'Neill
College of Lake County, Southlake Campus
1120 S Milwaukee Ave, RM V336-V340
Vernon Hills, IL 60601
Illinois SBDC and ITC at College of Lake County
(847) 543-2750
Email: mbienvenue@clcillinois.edu
About Growth Corp
Growth Corp is the largest provider of SBA 504 commercial real estate financing in Illinois. 
Growth Corp is a non-profit development company certified by the U.S. Small Business Administration (SBA) to originate SBA 504 loans in Illinois and its surrounding areas.  Driven by a passion for helping small businesses grow, Growth Corp is the largest SBA 504 Lender in Illinois and one of the top ten Certified Development Companies in the country.  With a current portfolio in excess of $850 million, Growth Corp has helped thousands of small and medium-sized businesses get the financing they need.
We know your success depends on having access to expansion capital.  We offer affordable and accessible expansion capital to grow your business.  Our experienced staff takes pride in making a difference in the lives of small business owners and their employees.  Start-ups to seasoned businesses and everything in between can benefit from working with Growth Corp.  Here's why:
We're the #1 SBA 504 Lender in Chicago and Illinois.  Growth Corp also consistently ranks as one of the top ten SBA 504 Lenders nationwide.
SBA recognized Growth Corp as an Accredited Lender after a thorough review of its policies, procedures and prior performance.  The prestigious ALP status grants Growth Corp increased authority to process and close 504 loans, which provides expedited processing of loan approvals and closings.
We simplify the loan approval process.  Our team coordinates the entire process from application through closing, funding and servicing, making it seamless for you and your bank lender.
We are SBA 504 Experts.  Our responsive and educated staff focuses almost exclusively on SBA 504 loans.  We've got the process down to a science!
We've worked with thousands of businesses, spanning various industries.  That means, there's not much we haven't seen.  Your goals, project structure and business type will likely be familiar to us and we'll understand your unique situation.
Our mission is to advocate for small business.  We love our communities and believe small business is the foundation of their economic prosperity.  We will do all we can to support you and your business goals.
If you run a small to medium sized business in and need financing to buy or construct a building or to purchase machinery/equipment, Growth Corp's team of professionals will work with you directly to provide the best financing strategy for reaching your goal.  Contact any member of our Lending Team today!