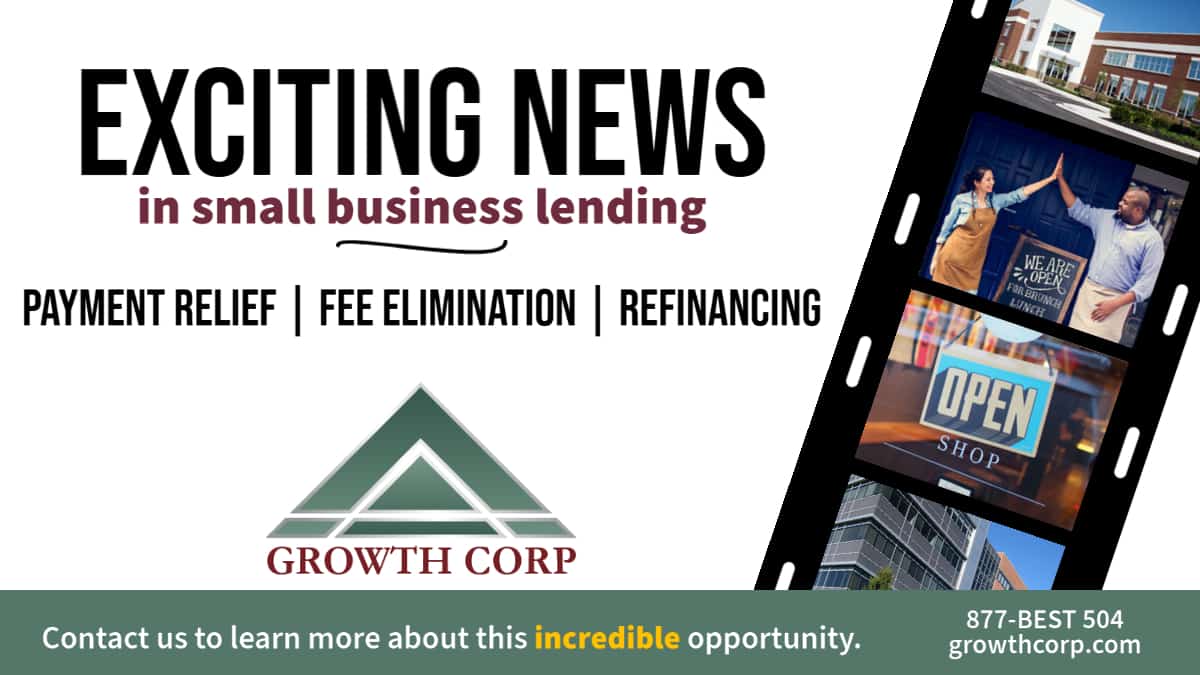 We have exciting news! The 504 Loan Program just got even better! New 504 Loan applications approved between February 1, 2021, and September 30, 2021, could see massive savings.  Key provisions in the Economic Aid Act allow for SBA payment subsidies, fee eliminations and expanded opportunities for refinancing, all of which are intended to help alleviate economic hardship. We're still waiting for some of the key guidelines for how all of this will be implemented, but the information we've received so far indicates this will be a huge, once-in-a-lifetime opportunity in small business lending.  
On March 27, 2020, the Coronavirus Aid, Relief and Economic Security Act (CARES Act) was enacted to provide emergency and immediate national economic relief and assistance across the American economy, including to small businesses.  Section 1112 of the CARES Act authorized SBA to pay, for a six month period, the principal, interest and associated fees that borrowers owe on covered 504 loans, 7(a) loans and Microloans.  The initial availability of this debt relief expired on September 27, 2020 (hereafter "First Round Section 1112 Payments").
With the enactment of the Economic Aid Act on December 27, 2020, Congress amended section 1112 to authorize a second round of Section 1112 payments, which will cover the principal, interest, and associated fees that borrowers owe on covered loans, subject to availability (hereafter "Second Round Section 1112 Payments").  The terms and eligibility are case-specific, so please refer to SBA Procedural Notice 5000-20095 for more details, or refer to our SBA Payment Relief page.
Key Points on Payment Subsidies:
Loans approved between February 1, 2021 and September 30, 2021, will receive three months of payment subsidies
Payment subsidies have also been extended for eligible existing 504 borrowers – check your eligibility on our SBA Payment Relief page
The payment relief is not a loan or a deferment.  The payments made by SBA will be forgiven.
For 504 Loans, the debt relief only applies to the 504 portion of the financing.  The first mortgage loan is through a bank, so borrowers should contact their lender if they need assistance with the first mortgage.
Any past or future payment subsidies made on behalf of borrowers will not be treated as taxable income for federal tax purposes.  However, borrowers are advised to check with their tax advisors, particularly regarding any possible state tax implications.
Economic Aid Opportunities Still to Come:
Temporary Fee Elimination – pending SBA guidance
Enhanced and expanded opportunities to refinance qualified debt – pending SBA guidance
SBA's payment subsidies, combined with the pending fee eliminations, will result in significant savings for new borrowers looking to buy, build, or refinance.  Don't miss your chance…this unheard of opportunity will only be available for new loans approved until September 30, 2021, subject to availability!
3 Ways to Grow, Strengthen and Recover While Utilizing These Incentives
Let's face it, the U.S. Small Business Administration (SBA) and its loan programs have always played a crucial role in the advancement of small businesses.  However, one of their key players, the 504 Loan Program, is playing an even bigger role in helping businesses grow, strengthen and recover.
1.  Improve Cash Flow
Improved cash flow is of vital interest to all businesses.  Business owners faced with high-interest mortgages or upcoming balloon payments can greatly benefit from the SBA 504 Refinance Program.  SBA 504 Loans provide access to equity a borrower has built up in real estate while re-amortizing with a low, long-term, fixed interest rate product.
The SBA 504 Refinance Loan is government-backed financing that comes with three huge advantages.  One, it offers business owners a below-market, fixed rate and a repayment period of up to 25-years.  Two, the down payment requirements are as low as ten percent and are often fulfilled by existing equity in the project.  And three, borrowers can elect to get cash out for business expenses.  Cash can be taken out for salaries, rent, repairs, maintenance, inventory, utilities, credit cards, lines of credit, etc.
To qualify for refinancing, the mortgage(s) to be refinanced must be at least two years old and originally used for the purchase or improvement of fixed assets.  Payment history is important too…no late payments of 30+ days in the past year.  Keep in mind…loans that currently have a government guarantee (7a, USDA, 504, etc.) do not qualify for a 504 refinance.
2.  Control Overhead Costs
Entrepreneurs typically start their business in a leased facility. In fact, many small business owners think financing a commercial real estate purchase isn't even an option because they fear the down payment requirements will be too high.  However, buying or constructing a new facility with 504 provides a great opportunity for fixing occupancy costs and locking in low interest rates.  Other benefits include:
Builds equity: each payment is an investment in the future
Occupancy costs are stabilized: rent increases no longer apply and the SBA 504 payment is fixed
Preserves cash: in most cases, with the 504, the monthly payment to own is less than a rent payment
By locking in a low rate, which is fully amortized for up to 25 years, borrowers see predictable monthly payments.  Plus, 504 Loans have no future balloon payments.
SBA 504 loans also allow borrowers to roll closing costs, soft costs and other fees into the loan, thus preserving cash.  Not to mention, the cost of equipment, furniture and fixtures, parking lots, architectural fees, etc. can also be rolled into the loan.
3.  Streamline or Increase Production
Whether your business is product or service based, having the necessary equipment is vital to maintaining smooth operations.  However, replacing, upgrading or purchasing new equipment can put a serious pinch on cash flow.  A 504 Loan offers business owners a more affordable way to get needed equipment without making a substantial dent in the bottom line.
504 Loans are perfect for the purchase and installation of new or used, fixed, long-life machinery and equipment, such as:
X-Ray or Digital Imaging Machines
Manufacturing Equipment
Dry-Cleaning Equipment
Commercial Printers
Food Processing Machinery
Highly Calibrated Machines
Equipment that generates renewable energy
Machinery and equipment can be financed independent of real estate or in conjunction with a commercial real estate purchase.  Loan terms of 10-, 20- or 25-years are available, which is determined by the useful life declaration provided by the manufacturer.
Growth Corp is a Non-Profit Organization Focused Exclusively on Small Businesses
Whether we are fulfilling our critical role as a provider of quality capital to America's growing businesses, working shoulder-to-shoulder with clients to help them overcome challenges and capitalize on opportunities, or contributing to the communities in which we live and work, our impact has never been greater.  We'd love to sit down with you and discuss your challenges and opportunities.  Contact any member of our Lending Team to get started.